Arturia Releases MiniBrute Compact Analog Synthesizer
Arturia has unveiled the MiniBrute, a new, compact, analog synthesizer. The pure analog, multi-wave oscillator combined with a Steiner-Parker multi-mode filter, and wide range of modulation capabilities provide plenty of sound sculpting possibilities. MiniBrute, housed in a rugged metal enclosure, feature Ultrasaw, Metalizer, Brute Factor, Arpeggiator, LFO with sample & hold, full USB/MIDI/CV connectivity and much more.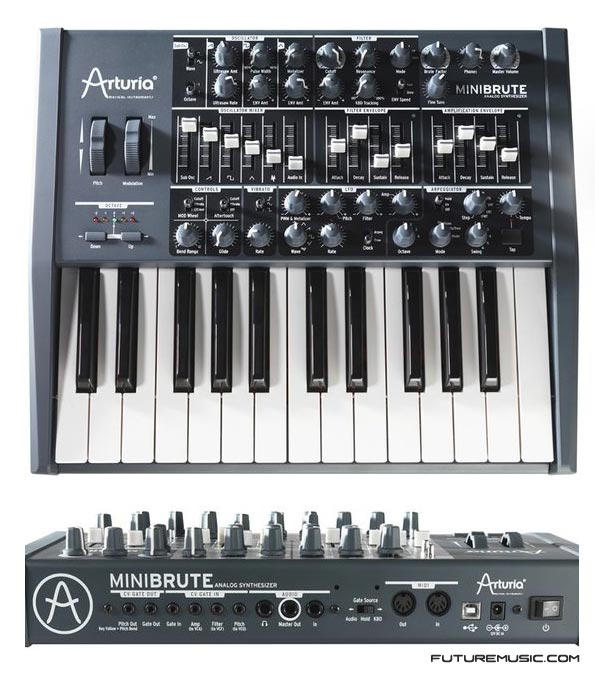 Features:
» Monophonic synthesizer
» 100% analog audio signal path
» Steiner-Parker multimode filter
» Voltage Controlled Oscillator
» Oscillator Mixer with sub-osc, sawtooth, square, white noise, triangle, audio in.
» LFO1 with 6 waveforms and bi-polar modulation destinations
» LFO2 with 3 vibrato modes
» Brute Factor delivering saturation and rich harmonics
» Ultrasaw generating shimmering sawtooth waveforms
» Metalizer bringing extreme triangle harmonics
» Two ADSR Envelope Generators
» 25-note keyboard with aftertouch
» Pitch-bend with 1 octave range, Modulation wheel
» External analog audio input
» CV In controls: Pitch, Filter, Amp
» CV Out controls: Pitch
» Gate In/Out, MIDI In/Out, USB MIDI In/Out
» 1/4" audio output, 1/4" headphone output
» Full function Arpeggiator:
— 4 modes of arpeggiation
— 4-octave range control
— 6 time divisions
— Swing control



The Arturia MiniBrute costs $549 / €499.
Arturia