Algoriddim Debuts Djay iPad App
Algoriddim have officially released their new djay for iPad App. The app, which was sneaked to the press a couple of weeks ago, takes advantage of the enhanced audio capabilities of iOS 4.2 and leverages iPad's innovative Multi Touch interface.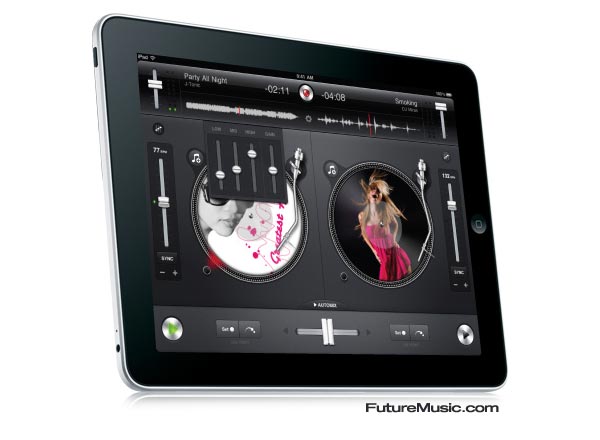 The app directly links the user to their iTunes music library, and helping to blur the line even further between touchscreen and vinyl is the App's low latency, providing a responsive scratching experience. Furthermore, the app offers waveforms that allow users to mix their songs visually as well as automatic detection of a song's tempo and rhythm for easy synchronization and seamless, beat-matched transitions between songs.
Features:
» Direct Access to a User's iTunes Music Library
» Automix Mode: Blends an iTunes music playlist into a continuous mix with automatic transitions
» Live Recording: Capture your mix
» Seamless AirPlay Audio Integration: Stream your mix wirelessly to Apple TV, AirPort Express station, or any AirPlay-supported speaker dock, AV receiver, and stereo system
» Visual Mixing with Waveforms: Mix music visually
» BPM Sync: djay's automatic beat and tempo detection allows users to easily match the playback speed of two songs
» Pre-Cueing: Preview and prepare the next song with headphones (requires optional split output adapter)
» Auto-Cut Scratching: Lets you scratch in sync with the song's beat and rhythm while djay operates the crossfader automatically
» Multi-Tasking: Run djay in Automix mode and listen to a continuous mix running in the background
The Future: Is it us, or does Algoriddim seem like the perfect Apple acquisition target?
Algoriddim's djay for iPad App is available now for $19.99 from the Apple iTune Store. More information on djay for iPad.