Roland has partnered with the mad-analog-scientists at Studio Electronics to bring you the SE-02, the first product of Roland's new Boutique Designer Series. The SE-02 uses authentic discrete analog circuitry to create a synthesizer with a reportedly vintage sound and modern programming options.
With the analog revival in full-swing, one of the major gripes about Roland's Boutique series is the high price for basically a digitally-modeled emulation. Responding to this, Roland has partnered with California's Studio Electronics to lend their expertise to the SE-02, a monophonic synthesizer, which features three voltage-controlled oscillators, a voltage-controlled 24 dB low-pass filter, and a dual gain-stage amplifier. The oscillators have six different kinds of waveforms with the warmth and complex character associated with true analog VCOs, but stabilized with automatic tuning. It has three types of cross modulation (XMOD), a filter feedback loop, a tempo-syncing LFO with nine waveforms, envelope sweeping and inverting, oscillator sync, a noise generator, and a tempo-syncing delay.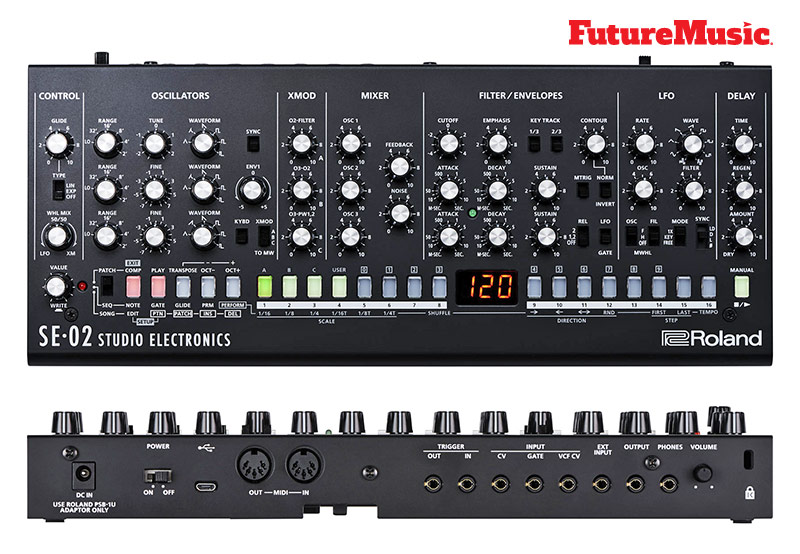 Roland Studio Electronics SE-02 Features
» Discrete analog circuitry with knob-per-function interface
» Three voltage controlled oscillators with six waveforms
» Three types of cross modulation (XMOD), feedback loop, and noise generator
» Tempo-syncing LFO with nine waveforms
» Save and recall sounds with 384 preset and 128 user locations
» 16-step sequencer with song mode
» Mono Output
» Headphone Output
» Connectivity
— MIDI In/Out
— USB
— CV, Gate
» Dimensions: Width: 11.81″ x Height: 6.75″ x Depth: 1.81″
» Onboard Mixer
» Delay Effects
The SE-02 includes a 16-step sequencer to add motion and dimension to your sounds. It can sync to external tempo via MIDI, USB, or trigger input, and per-step gate time, adjustable glide, tempo, and patch number are stored with each sequence. Creative performance features allow you to set shuffle, scale, direction, and first/last steps on the fly. Even synth parameters can be automated by sequencing changes—just press a step and move a control. You can store 128 sequence patterns and construct 16 songs, each with up to 16 parts. There are CV inputs for both pitch and filter frequency, as well as trigger in and out, so the SE-02 works with modular setups and other vintage gear. You can route external audio signals through the filter section, and there are even USB audio and MIDI capabilities to seamlessly integrate with computer-based setups.



Studio Electronics has been blazing a trail in analog synthesizer design since 1988. If you're not familiar with their gear, including the SE-1, ATC-1, MidiMini, Omega 8, CODE 8 and Tonestar, hit the link at the bottom of the page, or you can check out our Studio Electronics Boomstar review. Angelina Lynn Cruz spoke with Greg St. Regis about the collaboration:
Question: What was your experience working with Roland on the SE-02?

Working with Roland was a beautiful thing. It was a true collaboration of ideas, passion, and experience. We had the complete freedom to design a voltage controlled analog sound board to our specifications. We married the MidiMini to the SE-1 and threw in a few new tricks to deliver a very powerful and expressive musical instrument. We worked extremely well together on the overall operation of the SE-02. A lot of good technology came over from previous Boutiques. In particular, we wanted the SE-02 to have a capable and very usable sequencer. There were many hours of hard work by Roland's lead engineer, Keigo Minamiya and his team, on the SE-02's sequencer to get the functionality and layout just right. Getting all the functions assigned to the buttons in a sensible and workable manner was the challenge. I think we were very successful in doing just that.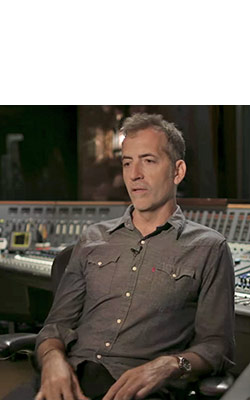 Question: How did the collaboration on the SE-02 come about?
Our great friend, Scott Tibbs, Roland International Product Coordinator (And awesome product demonstrator. —Ed.), had the dream of bringing SE to Roland. He was with us every step of the way from meetings to contract negotiations, synthesizer/sequencer functionality, layout, manual creation, patch/sequence programming, and product videos. He was the man, making sure everything went smoothly. His friendship and personal relationship with Atsuo Yukawa (Ace), president of RPG was the key to making this all happen. The camaraderie and good food and at Superba, El Segundo might have helped to seal the deal…
Question: Did the end result meet your expectations?
All throughout the design process, we were in constant communication, each side pushing the other to get the best possible result. I will say this and it's probably obvious, Roland has the best of the best people, from the top all the way down. Their professionalism is at the highest level.
This is a dream come true. We've had the pleasure of working and becoming friends with many people at Roland US and Roland RPG Japan. And for the bean counters, because in the end it's all up to them, I think the collaboration will be a very successful one. I can see the SE-02 a useful musical tool for many years to come. When wouldn't you ever need the lovely analog sounds it makes?



The SE-02 packs a lot of heat into its Roland Boutique format, which fits the K-25m or DK-01 accessory docks, allowing users to add an integrated 25-key mini keyboard or have various tilt options for preferred workflow. It definitely has that punchy Studio Electronics sound, and with the cross modulation action, you can wrestle some new exciting timbres from its diminutive size. For many industry-watchers, it's the first Boutique series that really warrants the price point and this should help make it a success at retail.



Roland and Studio Electronic's SE-02 costs $499 and will be available this fall.

Studio Electronics
Roland