Studio Electronics recently introduced a new range of five stand-alone analog synth modules dubbed, the Boomstars. Each micro-box features pretty much the same innards and interface, save for five different classic filters, including the 5089 – a Moogy 24dB; the 4075 – ARP 2600; the SEM, based on an Oberheim 12dB SEM; the 3003 – you guessed it, the Roland TB-303, and the SE80, emulating the Yamaha CS-80.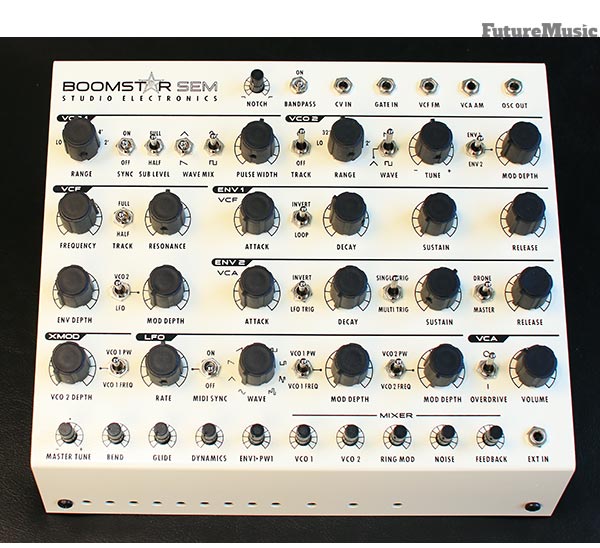 Studio Electronics Boomstar SEM takes the Oberheim filter into new realms of sonic exploration

Each Boomstar synth is housed in a tall, metal chassis and features an analog engine with MIDI or CV/Gate controlled, twin-VCO's, a fast envelope, and a single, software LFO. Oscillator cross modulation, ring modulation, feedback, overdrive, filter FM, Pulse Width Modulation and oscillator sync are also on hand for sound-shaping duties via 31 knobs, 18 switches and two rotary switches. The standardization is obviously a way for Studio Electronics to reduce costs in their manufacturing with basically only the color aesthetic and filter changing between models, as well as small differences to certain tweakables for each model. We reviewed the cream-colored SEM version (our evaluator's impressions in quotes below) and the controls specific to this model are a notch filter with a nice bandpass option to limit frequencies within a certain sweepable range.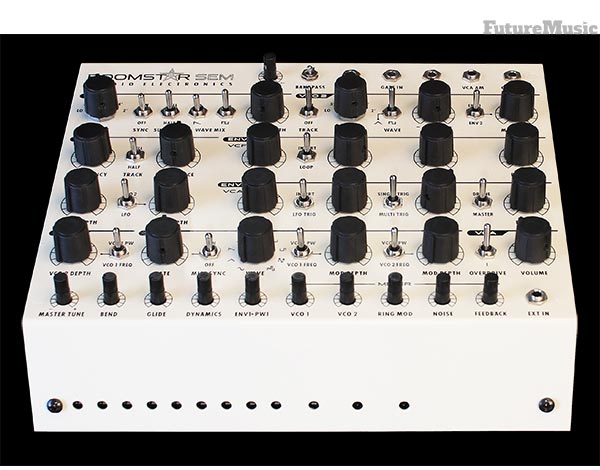 The unmarked holes in the front are calibration pots that directly access the motherboard for tuning the oscillators

A New Packaging Of The SE Formula
The two oscillators are based on the same design that Studio Electronics has been using for years. However, the Boomstars incorporate a slightly different approach using temperature compensating resistors on the transistor array ICs to assist in stabilizing the tuning, instead of discrete transistors.
Each VCO has six switchable frequency ranges including a 'LO' option (subsonic), and VCO 1 has four available wave shapes selected from two switches for mixing a sawtooth or triangle with a sine or square. The Square's Pulse Width wave can be adjusted manually for VCO 1 to increase depth. Our evaluators all praised the sonic character of the oscillators and were able to "love up the PWM to get that thick, warm throb."
In addition, the VCO 1 features a third, square wave sub-oscillator for even "more beef" – one octave below. One of our testers commented, "a designated volume control would have a sweet addition, instead of Full On, Half On or Off, which didn't provide enough adjustment for me." However, most felt "thrilled SE included the sub-osc."
You Have The Nicest Pair Of VCO's
VCO 2 can be synced to VCO 1, and its waveform can be switched between sawtooth or square/triangle (no sine). A Tune control detunes this oscillator in relation to VCO 1, and its frequency can be modulated by filter and amp envelopes.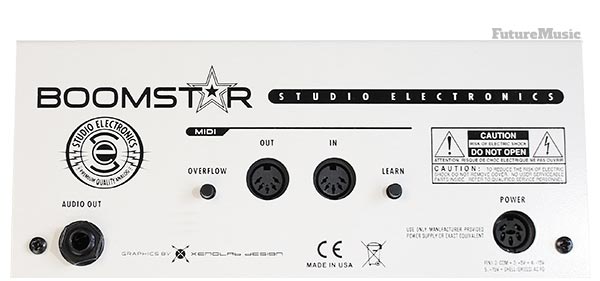 The Boomstar SEM's rear panel features a Learn button to quickly set the unit's MIDI channel

Although the "pencil knobs were not [the] favorite" of one of our reviewers, most "liked the layout of the SEM," which allowed an "organic workflow by moving from one oscillator section to another…and using the mixer section to balance the sound." The "skyscraper form factor of the SEM was somewhat awkward to get used to at first, compared to other standalone monophonic synths that I own, but having two or three of the Boomstars next to each other in the studio, or on stage, would look wicked."
Studio Electronics Boomstar Features:
» Construction: steel chassis, 31 pots, 2 rotary switches, 18 toggle switches – 15 three way for expanded functionality – AC power triple output desktop adaptor (15, -15 Volt Auto-Switching Supply).
» Dimensions: Height: 2.05″ (52.07 mm) at front, 3.625″ (92.075 mm) at back, Width: 8.7 " (220.98 mm), Depth: 7.05″ (179.07 mm).
» Sound Generation: Analog circuity, with the exception of the software LFO. Hand matched transistors in filter and amplifier.
» Oscillator 1
— 6 position rotary range switch
— Two center off toggle switches select combinations of sine, triangle, saw and square waveforms
— Pulse width for square waveform
— Sub oscillator with center off toggle switch for half and full level positions
— Sync oscillator 2 to oscillator 1 switch
» Oscillator 2
— 6 position rotary range switch
— Three position toggle switch to select triangle, saw or square waveform
— Fine tune pot
— Mod depth pot with center off toggle switch to select modulation by envelope 1 or 2
— Keyboard tracking on-off switch
» Filter / Envelope 1
— Frequency and resonance pots
— Center off toggle switch to select half and full keyboard tracking
— Envelope mod depth pot
— Additional mod depth pot with center off toggle to select modulation by oscillator 2 or the LFO. Envelope 1: Attack, decay, sustain, and release pots
— Center off toggle switch to select envelope invert or envelope loop
» Available Filter Types: 5089—classic Moog 24dB ladder, 4075—classic ARP 2600; SEM—classic Oberheim 12dB SEM; 3003—classic Roland TB-303; 700—classic MiniKorg; SE80—classic Yamaha CS-80.
» Envelope 2: Attack, decay, sustain, and release pots; Center off toggle switch to select envelope invert or LFO gate trigger; Single or multiple triggering switch; Center off toggle switch to select drone and envelope 1 as master. With master selected, envelope 2 is the modulator for both the amplifier and filter frequency. Envelope 1 remains active for oscillator 2 frequency and oscillator 1 pulse width modulation.
» XMod: Oscillator 2 mod depth pot with center off toggle switch to select modulation of oscillator 1 pulse width or oscillator 1 frequency.
» LFO: Rate pot; MIDI sync on-off switch; Waveform pot: sine, triangle, saw up, saw down, square, offset square 1 and 2, random and slew random waveforms; Mod depth pot with center off toggle switch to select oscillator 1 frequency or oscillator 1 pulse width; Mod depth pot with center off toggle switch to select oscillator 2 frequency or oscillator 2 pulse width
» Amplifier: Center off toggle switch to select two levels of overdrive; Volume pot
» Tuning: Master tune pot
» Bender: Bend range pot.
» Glide: Hardware exponential glide time pot
» Dynamics: (routes MIDI keyboard) Dynamics to filter frequency pot
» Envelope 1 to Pulse Width 1 (ENV1> PW1) (routes) Envelope 1 to Oscillator 1 pulse width pot
» Mixer
— OSC: Oscillator 1 level pot; Oscillator 2 level pot
— Ring Mod: Hardware Ring Modulator level pot
— Noise: Noise level pot
— Feedback: (routes the synth's output back through the filter) Feedback level pot.
» Front Panel I/O: CV in, Gate in, Filter frequency modulation in, Amplifier modulation in, Oscillator out, External signal in.
» Back Panel I/O: MIDI In, MIDI Out, 1/4″ Audio out, Traveller input (SE80 model only), DC power input.
» Back Panel Switches: Learn switch (very cool!): Selects MIDI channel
» Overflow Switch: For chaining together multiple Boomstars together via MIDI overflow.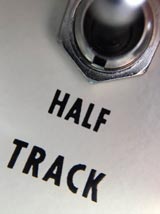 The SEM is not a pure emulation of the the 12dB multi-mode filter used in the original Oberheim, but "it does capture its essence" while "pushing it in new directions." Our evaluators certainly praised the dynamics of the SEM with the unit being able to create soft, delicate tones, thanks to the band pass selection having its own switch instead of being embedded into the notch control, as it was designed in the original Oberheim. But it can also "growl like an angry Grizzly" and "deliver deep tones with enough viscosity to stand up to the thickest engine oils." You can even elicit subtle acid tones out of the SEM by working the notch and feedback settings, demonstrating "a world of sonic possibilities at your fingertips with just enough patience and coaxing."

The SEM's sound also has "a little more dirt under its fingernails than most modern takes on classic synths," remarked one tester as a positive. "I can see industrial, gritty EDM acts and rock keyboardists who are looking for some edge and bit to find a lot to like about the SEM."
MIDI Challenged, But Can Learn
The Studio Electronics SEM has two avenues of connectivity with MIDI and CV/Gate action. The SEM's MIDI has a "how-come-nobody-thought-of-that-before" way of setting the channel. Simply send a few notes to the SEM, while holding down the Learn button on the rear, and it automatically sets the MIDI channel based on what was received. Simple. However, the buck pretty much stops there as far as implementation. The Mod Wheel is hard-set to vibrato, aftertouch to filter cutoff, filter envelop depth to velocity and CC7 to Volume. And that's it. None of the knobs send or receive CCs.
Limited MIDI implementation is not the only negative our evaluators uncovered in our extended test. There's also no way to store your patches. Come up with something hot? Better leave the puppy on until your finished with your track. And even then, its never going to be the same. All of our evaluators found that the SEM has a "ghost in the machine" with the unit going through serious random "mood swings." The culprit? The SEM appears to have some drift issues with dialed-in sounds "suddenly dropping or bumping an octave," "weird tune-ins and tune-outs," and other "unpredictable" artifacts, which was summed up by one reviewer as "this thing is like my girlfriend during that special time of the month."
That said, the variable nature of the SEM, as well as the entire Boomstar architecture, with its 1985 MIDI implementation, no memory slots and and somewhat volatile sound engine, its exactly what makes it so special. You'll be hard-pressed to discover a software synth, or even most virtual analog hardware offerings, that are going to provide the sheer amount of fun and joy the SEM brings. Exclaimed one reviewer, "I can't believe how many hours, maybe even days at this point, have evaporated experimenting with the SEM…I can't remember having this much fun with a hardware synth in a long, long time, and it's just a little box!"
With several new hardware sequencers, including Arturia's new Beatstep Pro, ready to make their debuts any day now, Studio Electronics may find another wave of analog enthusiasts knocking at their door. The SEM, as well as the entire Boomstar lineup, is just screaming to be tweaked live in a custom flight-case.
Conclusion
Greg St. Regis and the rest of the Studio Electronics team have raised the bar on the original Oberheim SEM, while remaining true to the essence of this classic. For its demur size, the SEM certainly packs a sonic punch with a rich, full dynamic range, plenty of fat, beefy tone and just enough bite to make this synth cut through the din of complex modern music. Recommended.
The Future
Advanced MIDI implementation is certainly at the top of our list. We'd follow this with a few memory slots for saving patches for live gigs. And figuring out what's haunting the SEM to stabilize the drifting issues, would take the SEM to the next level. Our reviewers also found the power supply connection to the synth had a tendency to dismount with even the slightest nudge; SE needs to develop a more secure solution.






Cheers:

+ Build Quality

+ Sound Quality

+ Lot's Of Fun

+ Notch Architecture

+ MIDI Learn

Jeers:

– No Memory Slots

– Drifting Away

– Basic MIDI

– Power Supply Dismounts

– Pricey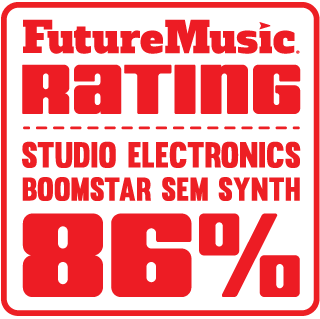 Studio Electronics Boomstar SEM costs $949 and is available now.
Studio Electronics