V-Moda has upgraded their Crossfade Wireless Over-Ear headphones to version 2.0. Building on the success of V-Moda's excellent Crossfade M-100 and Wireless headphones, the new model provides several new features and enhancements to keep the Italian company ahead of the pack.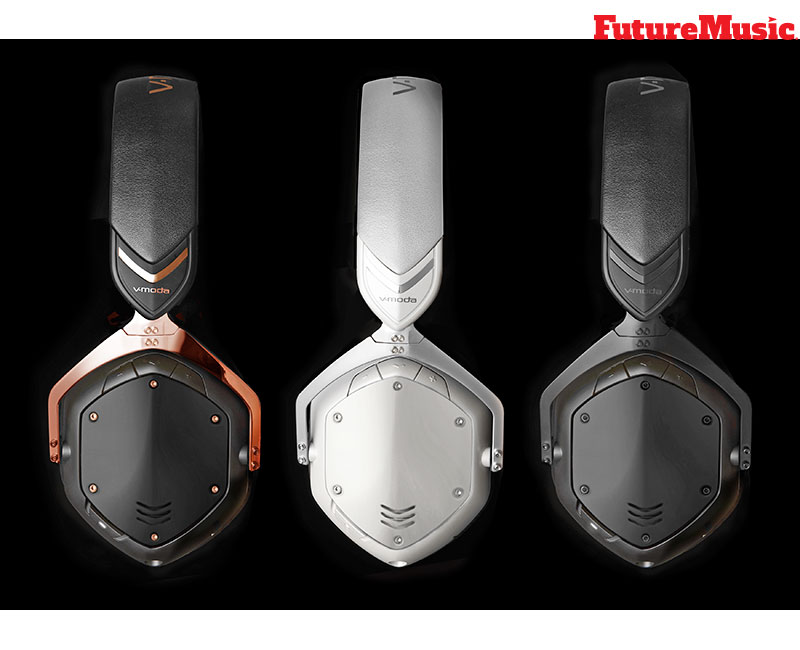 The new features include the addition of V-Moda's brilliant CliqFold mechanism, originally found on their stellar XS over-ear model, which earned a FutureMusic PowerAward in our review. The CliqFold allows the Crossfade 2's to fold up even smaller than the original for supreme portability.
Battery life has been extended to 14+ hours, thanks to a 15% larger rechargeable lithium-ion battery. in our preliminary tests, we were able to replicate this claim, which means long delays during connecting flights are no problem for the Crossfade 2 Wireless. When you do need to juice the included V-Micro USB flat cable can fully recharge in around two and a half hours. This is an improvement over version 1.0, which took much longer to reboot. The cans have 50mm Dual-Diaphragm drivers, a patent-pending proprietary design with a claimed frequency response of 5 – 40,000 Hz.
Unlike most Bluetooth headphones, the V-Moda Crossfade 2 Wireless has the ability to utilize a regular 3.5mm audio cable, bypassing the digital circuitry and instantly switching the headphones to pure analog mode. By deactivating all onboard electronics, V-Moda specifically tailors the sound for analog delivery, which is a different approach from other manufacturers and allows superior listening quality.
V-Moda Crossfade 2 Wireless Features & Specifications:
» Drivers: 50mm Dual-Diaphragm (patent pending)
» Frequency Response Wired: 5 – 40,000 Hz
» Headphone Sensitivity: 100 dB @ 1kHz 1mW
» Speaker Sensitivity: 107 dB @ 1kHz 1mW
» Microphone Sensitivity: -42 dB @ 1kHz
» Impedance: 32 ohm
» CliqFold mechanism
» Enhanced Ear Cushions
» Weight: 309g (with standard aluminum shields)
» Battery Capacity: 430mAh (up to 14+ hours music playback)
» Cable: 1-Button Reinforced SpeakEasy Microphone 3.5mm cable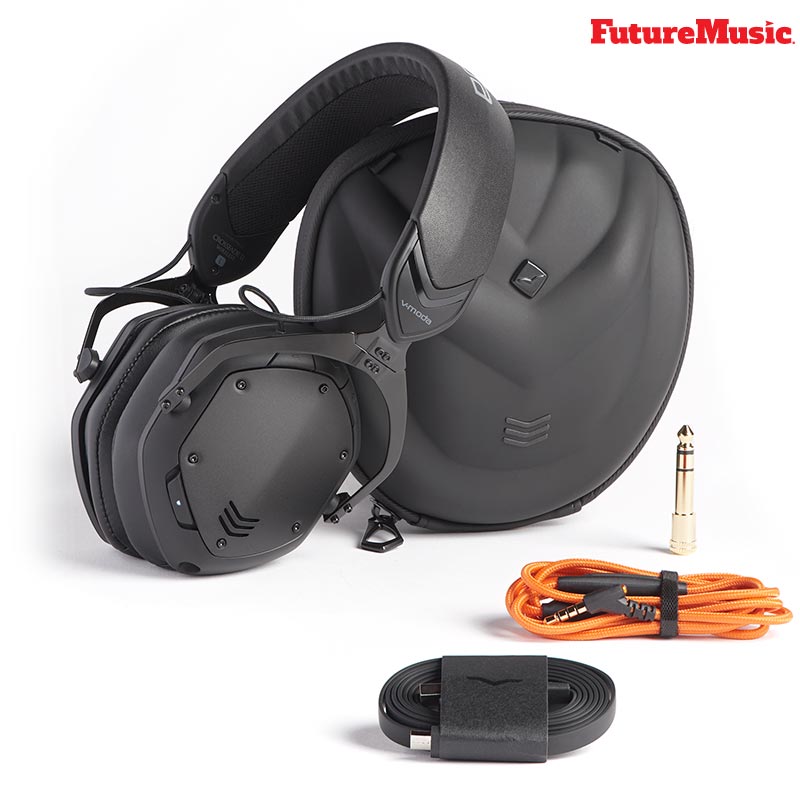 V-Moda's Crossfade 2 Wireless Includes:
» Crossfade 2 Wireless
» Exoskeleton carry case and 2 V-PORTs
» Carabiner clip
» 1/4 inch Pro Adapter
» Reinforced SpeakEasy Microphone & Mic cable
» Reinforced V-Micro USB Cable
» 1-Year Premier Warranty
» 50% Immortal Life Replacement Program
The new memory foam features enhanced comfort and size for all ears. Hundreds of prototypes with small variances were tested by V-MODA's CEO for over three months to perfect every fine detail of the cushions. With the new cushions, the Crossfade 2 Wireless naturally achieves analog noise isolation without resorting to the active noise cancellation that can pollute pure sound. Although active noise cancellation reduces the perceived background noise, it adds extra sound pressure at the expense of sound quality. Using larger, deeper cushions with an adjustable Steelflex headband that naturally contours to fit your head, Crossfade 2 Wireless provides solid isolation. The newly added vents, dubbed V-PORT, provides air flow to enhance circulation within the headphones.
The concealed microphone is optimized for phone calls and voice recognition, which is made easier still with the inclusion of a rugged Kevlar-reinforced SpeakEasy cable for wired use. Crossfade 2 Wireless can even pair with two sources at the same time, for example, if at work using laptop or smartphone, or working out using smartphone and smartwatch. The antenna is tuned to work with smartwatches' built-in Bluetooth music players.
As with all V-Moda's products, durability and material selection were paramount in the design. Crossfade 2 Wireless retains the combination of steel and metal materials along with improved vegan leather that lives up to the military standard MIL-STD-810G testing guidelines. The cables are tested and reinforced to bend over 1 million times, up to 100 times the industry standard.
The Crossfade 2 Wireless is compatible with V-Moda's awesome customization features, including their 3D printed and laser-engraved aluminum shields. (A MUST! —Ed.)
V-Moda's Crossfade 2 Wireless headphones are now available now in three flavors: Matte Black $330 / €330 / £300; Matte White $330 / €330 / £300; and Rose Gold featuring Qualcomm aptX $350 / €350 / £330 at major retailers. Customization only available via V-Moda.com