Val Kolton is clearly obsessed. As the CEO of V-Moda, Kolton's singular focus is headphones. His company is celebrating its ten year anniversary, a wild ride that started with Kolton peddling his single-color, headphones door to door on Los Angeles' famed Melrose Avenue…
"Why would anyone want yellow headphones?" Val recalls one vendor inquiring.
"They're not just headphones, they're fashion!"
"Huh?"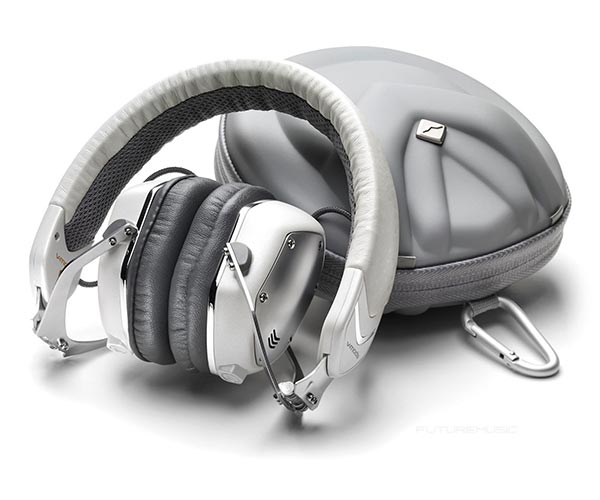 Once Apple's iconic white earbuds demonstrated that listening to music could be a vital personal statement, brands, both established and new, have rushed in to grab whatever marketshare they could garner. Stoic, black headphones instantly became a thing of the past (…your Daddy's headphones) and acclaimed brands such as Sennheiser, AKG and Sony found there was competition coming from all angles. Sony made an initial adroit move by coming out with the silver MDR-V700's, substantial cans that became a must have accessory for the burgeoning DJ scene. However, poor hinge quality made DJs quickly look for alternatives, including copy-cat designs by Audio-Technica (ATH-Pro700) and others. What became immediately apparent is the market was clearly in the mood for something more, well fashionable.

Headphones As A Personal Statement
Enter SkullCandy. This concern, founded in 2003 by Rick Alden, flashed onto the market with multicolored headphones with all sorts of flamboyant designs included Rasta and Camouflage, but were betrayed by extremely poor sound quality. However, the reality was that kids couldn't care less. They were already listening to heavy compressed music formats and it was obvious they rather their headphones look good, then sound good. This was the tipping point. The stage was set for more and more headphone manufacturers to enter the fray with their own take on headphones as fashion.



V-Moda's CEO, Val Kolton

However, to Kolton, these ventures were the farthest thing from real fashion. He envisioned his stark colored headwear on the runways of Milan, not the local mall. After finding some buyers for his headwear, he had a major set back when he received his first lot from China — extremely poor construction and sound quality. This wasn't a mere stumbling block, the entire shipment needed to be replaced, and with the market heating up and purchase orders waiting, it was do or die.


The Leonardo Da Vinci Of Headphones
Now other CEO's may have said, just ship them, we'll simply replace the returns if they come back, but not Kolton. He became obsessed with not just the sound, but every single aspect of the design and build quality. In our interview with Val, when he was introducing the new compact, over the ear XS headphone, he mentioned that he likes to think of himself as a modern day Leonardo Da Vinci. It wasn't stated in a boastful or arrogant manner, Kolton is enamored by Italian culture and design, and feels that Da Vinci and his fanatical nature are closely aligned to his own vision. While Da Vinci had painting and inventions to obsess over, Kolton has headphones.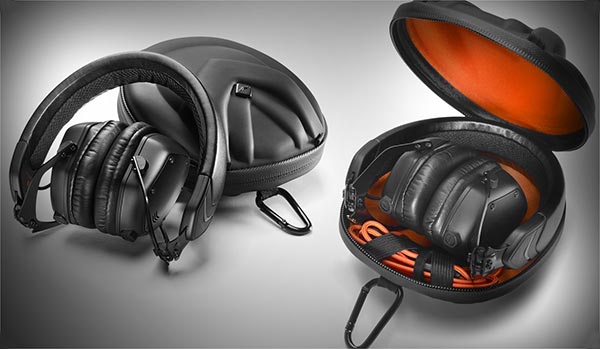 The "impossibly small" V-Moda XS exoskeleton hard carry case

Just a few minutes sitting down with Kolton, and his passion about his products is palatable. The XS, a slimmed down and compact version of their flagship Crossfade M-100, is quite the technological feat with a design that folds into an "impossibly small hard case" and many ingenious attributes that will bring a smile to the lips of any headphone connoisseur. We loved the first incarnation of the XS, dubbed the M-80 [see review], due to its phenomenal construction and solid sound, and it quickly became the first choice to many of our staffers as the ultimate commuter headphone. Whether on a bus or jetting to a gig, the M-80 meet any audio challenge thrown its way. The XS takes that concept to 11.
The addition of the Crossfade's folding ear cup hinge, dubbed "CliqFold," means that Kolton and his team were able to make the XS even more compact than the M-80. When encountering the XS housed in its hard case for the first time, every single one of our reviewers initial reaction was: "there's no way headphones can fit in there…" But they do, and it's not like you have to shoehorn them in there. They drop in and fit perfectly.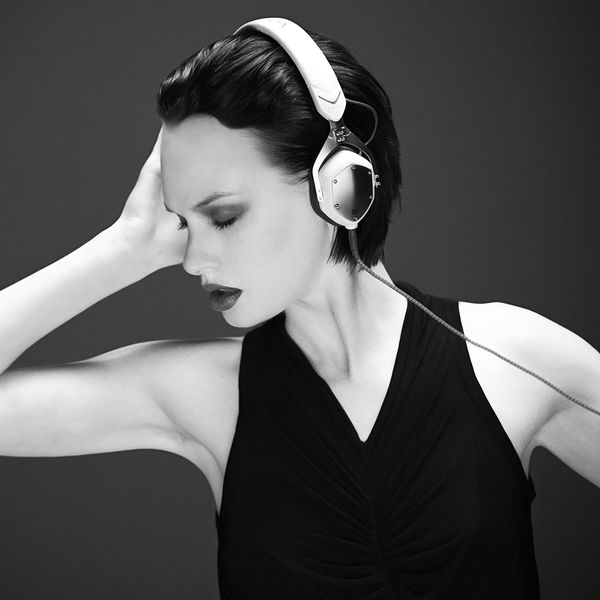 The compact XS headphones caused our most petite reviewer to declare: "this is the first headphone that actually fits my head"

Features:
» 60 Day Test Drive: Don't like 'em? Return them for a full refund within 60 days
» XS Exoskeleton hard carry case
» Kevlar reinforced SpeakEasy Microphone control cable
» Metal Shields: 10+ colors to remix your style
» Laser-Engraving: choose a template or design your own to customize the metal shields
» Kevlar-reinforced Cable: 1+ million bends for cables & 45 degree strain relief (100x industry standard)
» Concrete Drop: 70+ drops from 1.5m onto concrete
» Steelflex Headband: 10+ flat bends
» Environmental Weather: survives severe high/low temperatures, humidity, salt spray & UV rays
» Memory Foam Cushions
» 2-Year Premier Warranty
» Immortal Life Program: 50% off a replacement even if it's your fault
It's All In The Details
When you're the Da Vinci of Headphones, every single detail is scrutinized. Kolton is not satisfied with a feature just being good, it's got to be the best. To the finely-braided kevlar audio cord to the ultra-comfortable ear cup padding, everything on this headphone is world-class. Every reviewer who tested the XS raved about the fit of the XS, quite the accomplishment for an "on-ear" headphone that's got to adapt to a wide variety of head and ear shapes. Our petite female reviewer exclaimed, "this is the first pair of headphones that actually fits my head. The headband has the perfect pressure, not too compressed, not too loose and the ear cups perch nicely without overheating my ears." The truth is that Kolton and his team were uncompromising in their desire to remove the gap — the unsightly space between the headband and the head of the user. Of course, most individuals would have no idea what Kolton was referring to as "the gap" — but not V-Moda. For a headphone to be deemed fashionable headwear there cannot be, there will not be, a gap. Period.
The aforementioned folding ear cup CliqFold hinge was also cited by our reviewers, who were new to V-Moda. "I love the solid click when you open or close the hinge. It affirms the positioning in either state and feels substantial," exclaimed on reviewer. The ear cups extend downwards from the head band with notched sliding posts, which provide concrete placement. "Once you set up the fit of the XS, there's no flopping around, these headphones stay in position," another reviewer commented. None of this is lost on Kolton, who actually modified the initial design of the hinge to include the locking click. "I love the sensation of when something clicks into place," Kolton confirmed.
Besides fashion, Val Kolton's other big influence was DJ culture. From clubbing all over the world and having moments of epiphany on the dance floor at Space and Pacha in Ibiza, Kolton wanted V-Moda to be firmly aligned with electronic music. He's constantly soliciting feedback from electronic music audiophiles, as well as professional DJs to hone the V-Moda sonic signature. The crowdsourcing is most evident in V-Moda's Crossfade M-100, which were tuned by several prominent mixers. The dedication to sound quality allowed the M-100's to gain a solid following with many publications, including FutureMusic, giving the cans high marks [see review].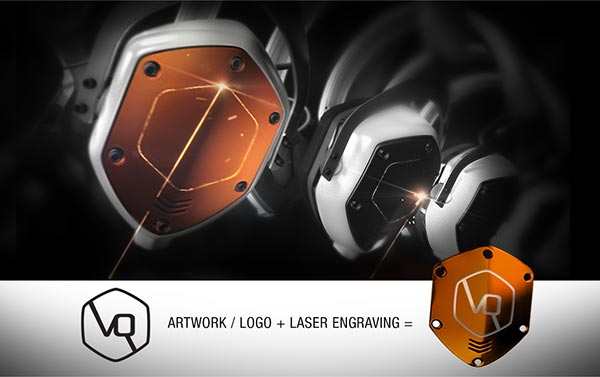 V-Moda's XS Headphones can be customized with your logo

Specifications:
» Type: On-Ear Supra-aural
» Drivers: 40mm Dual-Diaphragm High Fidelity (patent pending)
» Frequency Response: 5 — 30,000 Hz
» Sensitivity: 105dB @ 1kHz 1mW
» Microphone Sensitivity: 42dB @ 1kHz
» Impedance: 28.5?
» Weight: 195g (headphone only)
» Connection: 45 degree, 24k gold-plated 3.5mm (1/8″) stereo plug

The XS take their sonic cue from the M-100's, but with smaller 40mm Dual-Diaphragm metal drivers. The signature of the XS is more refined than the M-100 with less hyped bass and a detailed midrange. The top end adds a little more sparkle, a modification over the previous M-80, but it is "still smooth as silk." According to one reviewer, the "XS is one of the least fatiguing headphones I've ever worn, even with significant sound pressure." With the smaller drivers, the bass is obviously going to be less prominent than the M-100's, but with the XS the quality doesn't suffer. "I was surprised, and then super impressed, with the about of energy the XS 40mm drivers can deliver with distorting." However, the XS doesn't just pump the volume, the "astounding definition and details quickly revealed the inherent artifacts in compressed music," thus if you're going to listen to lossy formats on the XS headphones, "make sure you compress at the highest quality settings."

Conclusion
Besides the superb fit and tasty sound signature, the V-Moda XS has two more aces up its sleeve, the ability to customize the metal shields on either side of the cans with your own logo, name or number, and the best warranty in the industry. For DJs or anyone else who's representin' the $25 charge is a no brainer, for others who are looking to make the XS their own, it's a great option. The 2-year Premier Warranty married to the Immortal Life Program, 50% off a replacement no matter what you do to it, means that your investment, is just that, an investment that will continue paying off. Not that you'll need it..
In our long-term test utilizing five reviewers, the V-Moda XS doesn't even look worn. The Steelflex band still has the same elasticity that it had when it came out of the box, the memory foam pads barely show wear, and all the metal parts still look like new. V-Moda claims that the XS will survive over 70 drops onto concrete from about 5ft and the Kevlar-reinforced cable is good for more than a million savage bends. That's probably more abuse that even the clumsiest, ham-fisted teenager can dish out. Considering the sonic quality, comfort, build-quality and warranty, it's easy to see why the V-Moda XS cans were touted as "the best on-ear headphones on the market, bar-none."
:CODA
While time will tell whether the XS is Kolton's Mona Lisa, but the man behind V-Moda is certainly not resting on his Steelflex or Cliqfold laurels. V-Moda recently announced that it moving its design studio even closer to Di Vinci's home turf in Milano, Italy. In addition, Kolton is cooking up some new products, outside of the headphones vertical, which would position V-Moda for future success. A V-Moda flying machine?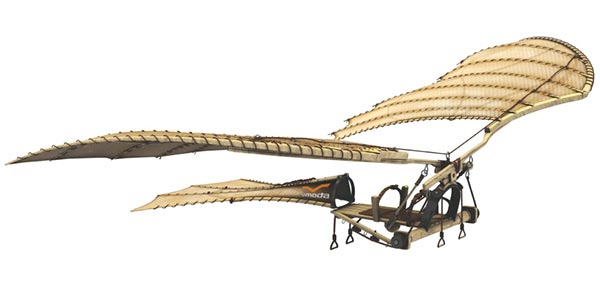 The Future
We'd love to see the inclusion of V-Moda's innovative SharePlay feature in the XS cable.
FutureMusic Rating: 100%
Cheers:
+ Huge Bang For The Buck
+ Detailed Sound Signature
+ Full Dynamic Range
+ Steelflex Bomfort Band
+ Cliqfold Hinge
+ Best Warranty On The Market
+ Customizable Metal Shields
+ Excellent HandsFree Mic
+ Impossibly Small Exoskeleton HardCase
+ Construction Quality
+ Can Take A Severe Beating
+ Optional Accessories

Jeers:
– Why no Banana Yellow color option?
Off The Record:
"It's not even close, the XS is the best on-ear headphone on the market, bar-none." —Dan Brotman
"V-Moda incorporated many of the M-100's dymanic features into the XS." —Greg Geller
"This is the first pair of headphones that actually fits my head." —Angelina Lynn Cruz
"I wish I didn't have to give them back." —Hunter Hawthorne
"Detailed, nuanced character without the smudgy, over-baked bass." —Garth Fields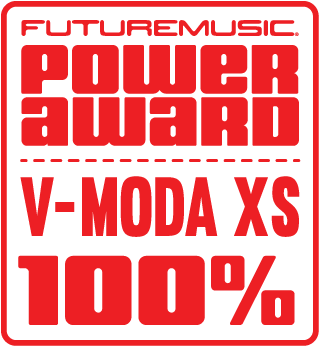 V-Moda's XS headphones cost $212 and are available now.
V-Moda