Touted as the big brother of the UC4, the Faderfox UC44 is a universal MIDI controller, featuring eight push-encoders, each with a 2-digit-display, 16 faders (60mm) and 35 buttons. The encoders (with detents) are switchable to 32 groups, allowing control of 512 control parameters.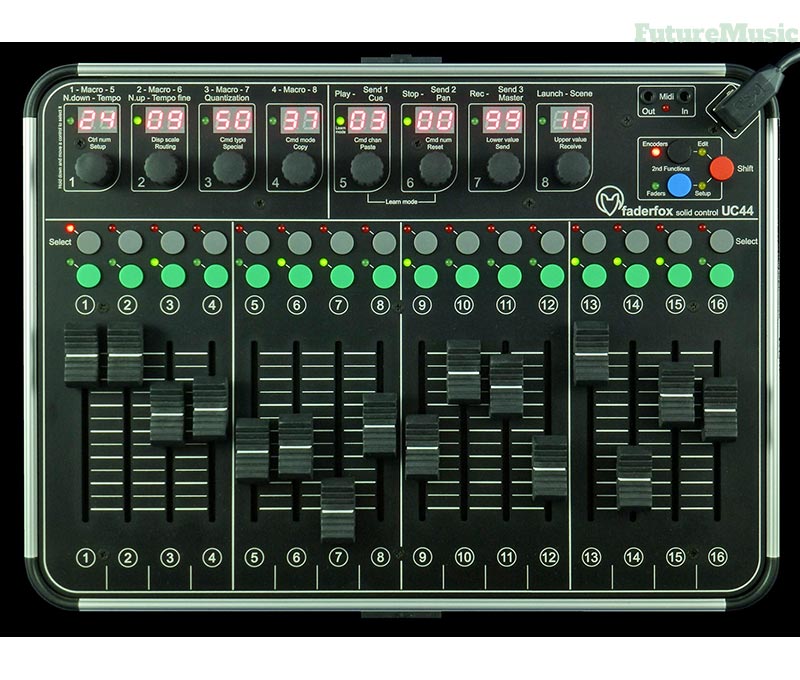 MIDI commands, such as program change, pitchbend, aftertouch and control change, in relative and absolute mode with different acceleration amounts and min/max values are possible. All these properties are fully programmable for each separate parameter. The encoders can work as high-resolution 14bit controllers as well (control change or pitchbend), which makes them suitable for sensitive parameters like resonating filter cut-offs or similar things. There are eight slots to save your custom setups, and backup / restoration of all settings by sysex dumps are possible too.
The flat box is also a great extension for your Ableton Live setup. There you can control all the continuous parameters like track volumes, rack macros, send amounts and switchable parameters like clip launch, mute and track select. A special control surface script for Ableton Live 8/9 with all necessary mappings to control 16 tracks simultaneously is enclosed in the package as a bonus.
Faderfox UC44 Features:
» Universal controller for all kinds of MIDI controllable hardware & software
» Free control surface script for Live 8/9 is shipped with the controller
» USB interface with powered bus
» Class compliant / no driver necessary (consumption < 300mA) » MIDI in and out ports with routing and merge functionality » Eight push encoders with detents (resolution about 30 pulses) » Encoder push buttons can send commands (fully programmable) » 32 buttons with LED for switchable parameters » 8 x 2-digit-display to show encoder values and programming data » 14 bit high-resolution encoder mode for sensitive parameters » Programmable value ranges with min/max values » Data feedback for encoders and faders avoid value jumps » All controls (incl. push buttons) fully programmable in the device by channel, type, number, mode » Different command types like control change (CC), pitch bend, aftertouch, program change,notes » Advanced programming functions like copy, paste and group sets » 32 independent groups for encoders » 2 independent groups for faders/buttons » About 608 commands per setup » Eight setups with backup/restore function contain all controller settings » Upgradable firmware by simple Sysex-dump » Very compact and solid design in a silver metal casing (size 290x220x55 mm, weight 1.6 kg) » System requirements: -- PC or Mac with a free USB port (1.0 or higher) or any USB hub -- IDI device with standard midi in/out ports -- SB power adapter (5V min 300mA) if you want to control only midi gear The Faderfox UC44 costs €599 (incl. VAT) and is available now.
faderfox