Erica Synths is getting down with their bad selves, after debuting the AcidBox II last month, by announcing their first modular set, the Erica Synths Black Classic System. At the heart of the system are two Polivoks-inspired Black Varishape VCOs with a waveform mixer, PWM circuit and transistor-based suboscillators.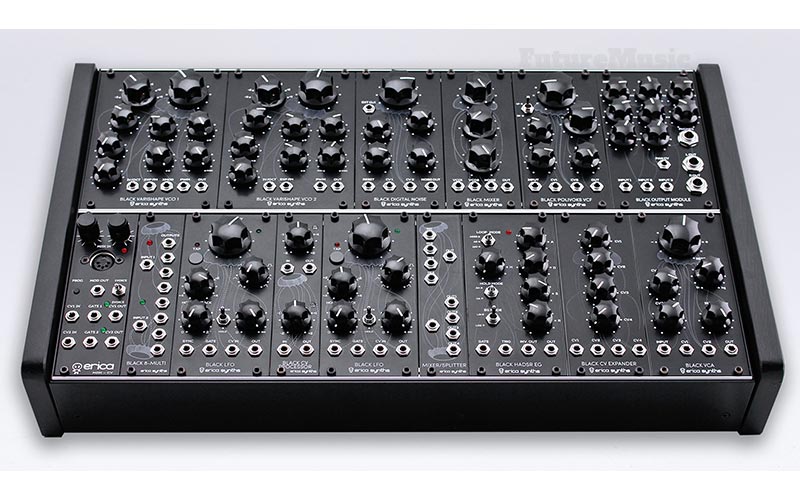 Shape sounds with the crunchy Black Polivoks VCF and Black VCA to produce resonance screams in self-oscillation, which according to the video demo now online (see below), should get Dr. Dre all hot and bothered to start composing the Chronic III. Erica claims that the versatile lin/log response VCA with CV bias control will provide great tremolo effects.



Black Digital Noise makes range of noise effects: from almost pure white noise to Atari console-like one bit noise and other more-less predictable noises. Its CV control over various parameters and clock sync will inspire sound designers and make Richard (Mr. Devine, if you're nasty) Devine soil his shorts.
The HADSR/AHDSR envelope generator contains an unique looping functions and CV control over each parameter and lin/log envelope option. The two Black LFOs feature a broad range of functions including 6 waveforms plus S&H, TAP tempo, sync, start on gate function and built in VCA with LFO amplitude hold/attack and decay function, as well as an envelope generator. The Black Output module has manual and voltage control panning, balanced outputs and headphone amplifier.
Last but not least, the monophonic/duphonic MIDI-CV interface which has analogue Glide, Master Tune, modulation CV, key velocity CV, CV IN (adds CV from MIDI controller to external CV for arpeggios). The beefy knobs and ergonomic layout makes the Black easy to play and get twiddling.
Erica Synths Black Classic System Features:
» Black Varishape VCO1
» Black Varishape VCO2
» Black Polivoks VCF
» Black VCA
» Black 8-multi
» 2 Black LFO
» Black Digital Noise
» Black Mixer
» Black Output module
» Black CV Processor
» Black Mixer/Splitter
» Black HADSR EG
» Black EG CV Expander
» MIDI to CV
» Eurorack skiff case
» External linear 1,25A PSU or built in 1,3A switching PSU of your choice
» Horizontal wooden side panels
» 20 Patch cables
The Erica Synths Black Classic System is not for the weak of wallet: €2222. Individual Black Sound modules cost: VCO1 + VCO2 + Mixer + Polivoks VCF = €646; VCO1 + VCO2 + Polivoks VCF = €612; VCO1 + Polivoks VCF = €399; VCO2 + Polivoks VCF = €399. All prices exclude VAT.

Erica Synths