Apple has debuted the iPad Pro, their new flagship tablet, featuring a 12.9-inch diagonal Retina display with 5.6 million pixels, and the new 64-bit A9X chip. The new larger iPad Pro debuted with two new accessories, sold separately, the Apple Pencil, and a new Smart Keyboard, which looks like its design was lifted from the Microsoft Surface Pro (The student has become the master…lol —Ed).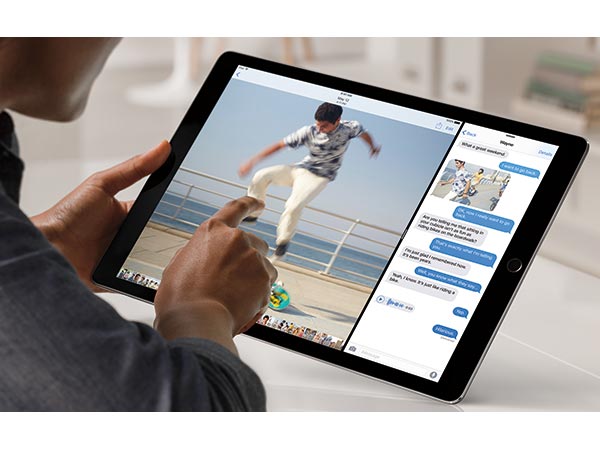 The Apple Pencil is an input device, which claims to make drawing and sketching "feel fluid and natural." The touch subsystem of the Multi-Touch display in iPad Pro has been redesigned to work with Apple Pencil to reduce latency and deliver accuracy for activities like fine art illustration and detailed 3D design. Advanced sensors in Apple Pencil measure both pressure and tilt, while a built-in Lightning connector makes for quick and easy pairing + charging. Apple Pencil also works with popular apps like Mail, Notes, Procreate and Office 365 for iPad.
Apple's new Smart Keyboard extends the utility of iPad Pro, offering a full-sized keyboard in a thin, durable design. The Smart Keyboard attaches to iPad Pro's Smart Connector port, eliminating the need for a separate battery, on/off switch or Bluetooth pairing. The Smart Keyboard is covered in custom woven fabric and features keys that provide the accuracy, stability and key feel of standard keyboards, but is also easily foldable and can transform into a Smart Cover. The Smart Keyboard also works seamlessly with new QuickType features in iOS 9 to make typing even faster and easier.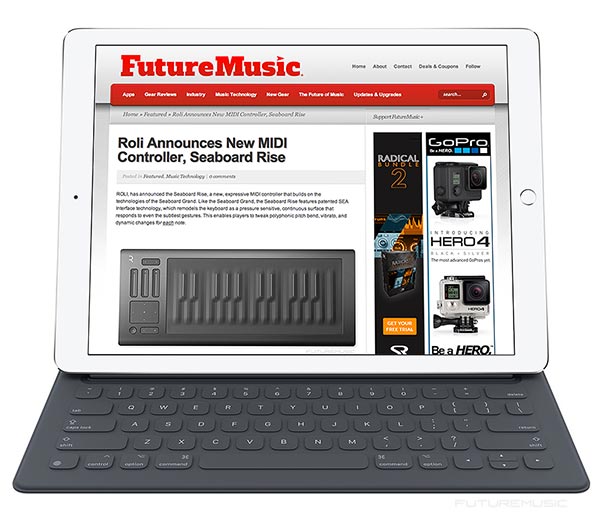 Apple claims the iPad Pro's 12.9-inch Retina display, with 5.6 million pixels and refined Multi-Touch technology, is the most advanced and highest resolution display ever in an iOS device. It delivers greater contrast, more uniform brightness and improved energy efficiency through photo alignment technology, oxide TFT and variable refresh rate. A new four-speaker audio design provides stereo sound, and a refined unibody enclosure of anodized aluminum gives iPad Pro a sturdy feel with a thin and light design that is easy to hold.
Features:
» Retina display
— 12.9-inch (diagonal) LED-backlit widescreen Multi-Touch display
— 2732-by-2048 resolution at 264 pixels per inch (ppi)
— Fingerprint-resistant oleophobic coating
— Fully laminated display
— Antireflective coating
» A9X chip with 64?bit architecture
» M9 motion coprocessor
» 8MP iSight Camera
— Autofocus
— ƒ/2.4 aperture
— Five-element lens
— Hybrid IR filter
— Backside illumination
— Improved face detection
— Exposure control
— Panorama (up to 43MP)
— Burst mode
— Tap to focus
— Photo geotagging
— Timer mode
» Video Recording
— 1080p HD video recording (30 fps)
— Slo-mo (120 fps)
— Time-lapse video
— Video image stabilization
— Improved face detection
— 3x video zoom
— Video geotagging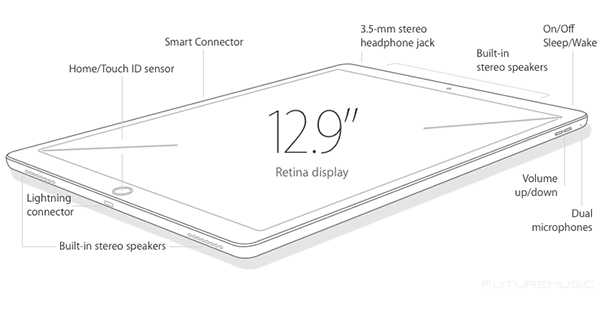 » FaceTime HD Camera
— 1.2MP photos
— ƒ/2.2 aperture
— 720p HD video recording
— Backside illumination
— Auto HDR photos and videos
— Improved face detection
— Burst mode
— Exposure control
— Timer mode
» Dual microphones for calls, video recording, and audio recording
» Sensors
— Touch ID
— Three-axis gyro
— Accelerometer
— Barometer
— Ambient light sensor
» Built-in 38.5-watt-hour rechargeable lithium-polymer battery
» Frequency response: 20Hz to 20,000Hz
» Audio formats supported:
— AAC (8 to 320 Kbps)
— Protected AAC (from iTunes Store)
— HE-AAC, MP3 (8 to 320 Kbps)
— MP3 VBR
— Audible (formats 2, 3, 4, Audible Enhanced Audio, AAX, and AAX+)
— Apple Lossless
— AIFF
— WAV
» User-con?gurable maximum volume limit
Apple's new 64-bit A9X chip, with third-generation 64-bit architecture, provides enhanced CPU performance and quality graphics. Wireless has been enhanced with 802.11ac Wi-Fi connectivity with MIMO technology, as well as support for a wide range of LTE bands and other speedy cellular network technologies (DC-HSDPA, HSPA+). Apple claims a 10-hour battery life – your mileage may vary.
The one big thing missing from the iPad Pro for music creation is Apple's new 3D Touch technology, which senses pressure on the screen (think aftertouch and other expressive control — see the new Roli Seaboard Rise for potential applications). Incorporating the 3D Touch technology into the new iPad would have certainly opened a lot of doors in terms of adding creative expressive to often static music apps, but this will eventually make its way into the iPad lineup at some point. In the meantime, we asked several industry insiders how they felt the new iPad Pro would impact mobile music production…
"The new iPad Pro is just what we've been waiting for," states Dan Rosenstark, developer of the popular MIDI Designer app. "More surface area for modulators, means more controls visible at once, and less page switching. Or even bigger controls with more accuracy. And we're ecstatic that the aspect ratio is the same as the iPad and iPad mini. As far as the Apple Pencil is concerned: we've got some new ideas that we are psyched to prototype."
"The evolution of mobile computing is continually making a great thing well, greater," reveals Al Joelson, Vice President of Sales & Marketing at iConnectivity. The iPad Pro, as well as the technological innovations it will deliver, bring the mobile and desktop worlds closer together. It's a big step. I look forward to connecting my own iPad Pro to an iConnectAUDIO4+ before year end!"
"I think this may be the iPad that inspires more high end Mac OS software to be ported over to iOS in the coming year," states Doug DeAngelis, composer and Conference Chairman of A3E. "Perhaps we'll see more full desktop DAWs running in the iOS environment. It would make the compatibility between mobile and studio environments much smoother, and make the most of all the amazing iOS FX and soft synth apps, if you could use them in your full featured DAW. Windows already offers that compatibility between the desktop and tablet because they both run the same operating system. I was a bit disappointed that it doesn't have the 3D Touch screen Apple added to the new iPhone 6s. I can see that being a real evolution in the ability to create a more expressive control surface for music apps. Perhaps we will see that in the next version."
"We started developing mobile controllers for the same reason Apple made the iPad Pro," declares Jay Smith, founder of Livid Instruments, "freeing yourself from wires, desktops, tables and chairs, inspires creativity. I switched to the [Microsoft] Surface recently for more power and versatility, the iPad Pro will hopefully compete and introduce professional music creation to mobile music."
"The iPad Pro brings a lot of opportunity to our space – with it's large display, the A9X processor, and focus on productivity, there is potential for truly expressive interfaces that can cater to musical creation and performance use cases," states Scott Hobbs, Senior Product / UX Designer at Native Instruments. "What's most exciting, is that this device begins to blur the lines between mobile and desktop."
Apple's iPad Pro will be available in Silver, Gold and Space Gray when it becomes available in November. The 32GB with Wi-Fi costs $799 and $949 for 128GM. The 128 GB iPad Pro with Wi-Fi + Cellular will set you back $1079.



Apple