ROLI, has announced the Seaboard Rise, a new, expressive MIDI controller that builds on the technologies of the Seaboard Grand. Like the Seaboard Grand, the Seaboard Rise features patented SEA Interface technology, which remodels the keyboard as a pressure­ sensitive, continuous surface that responds to even the subtlest gestures. This enables players to tweak polyphonic pitch bend, vibrato, and dynamic changes for each note.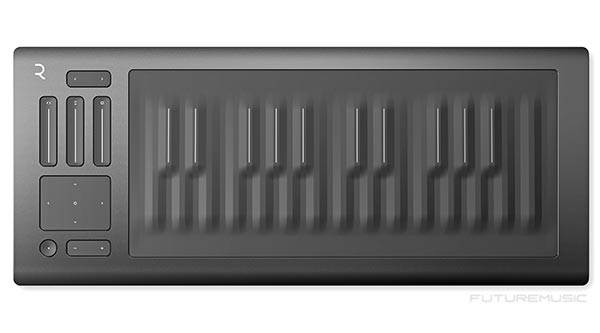 Playing on its unique keywaves, musicians shape notes by modulating the character of sound in real time with simple movements of the finger. The Seaboard Rise exemplifies a new category of hardware and software sometimes called Expressive MIDI (or Multidimensional Polyphonic Expression [MPE] devices, if you're nasty). The category's products, which include the Linnstrument and the Haken Continuum, focus on delivering acoustic­ level electronic expression by enabling each individual note to be modulated in multiple ways in real time.


The Seaboard Rise's five dimensions of touch are easily mapped and can be controlled directly from its unique touch faders: Strike – Glide – Slide – Press – Lift

The Seaboard Rise is the first Expressive MIDI device to offer an easy ­to­use multi­platform synth, the first with an integrated user control panel, and the first to perform wirelessly with an integrated battery and Bluetooth over MIDI. It comes bundled with Equator, ROLI's own software synthesiser designed exclusively for Expressive MIDI instruments. In Equator, the Seaboard RISE's five primary dimensions of touch and gestural control – strike, press, glide, slide, and lift – are easily and independently mapped to a wide variety of sound parameters. Sliders on the left ­hand control panel regulate the extent to which these parameters of gestural modulation are utilized, allowing the Seaboard Rise to behave like anything from a conventional keyboard controller – in easy­to­use "piano mode" – to a completely open -ended interactive surface.
CEO and inventor of the Seaboard, Roland Lamb, states "finally, musicians have at their fingertips an affordable and accessible tool that lets them create authentic instrumental simulations in real time."
Jordan Rudess [Dream Theater] and paid endorser states, "The Seaboard is not only making waves in the music industry. It is poised to be the most significant evolution of a musical instrument in the last 300 years. I'm personally excited about the release of the Seaboard Rise, and beyond my own obvious passion I expect to see it fully embraced by music makers everywhere."



Roli's Seaboard Rise costs $799 and is available for preorder. It is expected to start shipping sometime in October.

Roli