Squarp Instruments, a new company based in Paris, France, and consisting of just three engineers, has recently announced their first hardware product, Pyramid, a standalone music sequencer. Squarp feels that Pyramid addresses a need in the marketplace for an ergonomic, creative and reasonably priced sequencer — with a few tricks up its sleeve. After two years of research and development, the team is set to unleash Pyramid into the wild this June.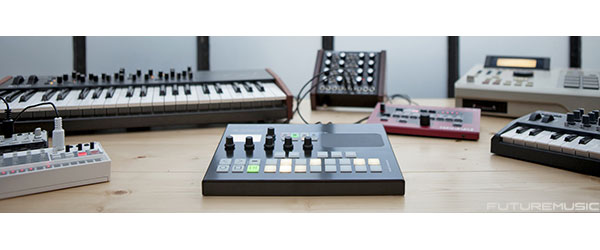 Pyramid is a standalone sequencer which allows the musician to record polyphonic sequences by playing them live, with the integrated keyboard, with an external controller, or by using the onboard step-by-step/euclidean sequencer. It offers several real-time MIDI effects, a mode to manage tracks and a sequence chaining tool. Its complete workflow, based on four modes, has been conceived for both stage and studio use. Pyramid can handle MIDI, CV/Gate and USB, for range of connectivity options. Pyramid allows the creation of polyrhythmic and polymeric sequences, and it can be customized, via the touchpad, the accelerometer, or any encoder to a wide range of controls for optimal user workflow.







We caught up with Tom Hurlin, Squarp Instruments' R&D engineer to learn more about this compelling new product…


Can you tell us more about the genesis of Squarp Instruments?
Well, the three of us are originally engineers. Jean and I started the project while we were enrolled in university for electronics. When he became my roommate, we started making music together, mostly with hardware gear. We started to notice the lack of hardware sequencers on the market, as we were searching the perfect gear for our setup. The majority of sequencers were on DAWs (Digital Audio Workstations), which we didn't like because of their unergonomic workflows, latency, and other issues. The second option was to try and find old beasts like Roland MC50, Alesis MMT8 and so on. These are often very limited in terms of memory and interface, even if there were very good things in terms of workflow. From this point, we started to grind our gears to imagine a nice combination of these two worlds (DAWs and hardware seq). The year before graduating from school, we built a few prototypes, and talked about them with our friends, did a lot of trial and error.
At the end of the year, we had a pretty complete technical specification, and then we asked ourselves what we were going to do with it. We were working in big industrial groups at the time and the perspective of building a career in these corporate environments wasn't very appealing, so we decided to start working full-time on this project. At this point we invited Benoit to join the team, as he is an engineer too, but specialized in embedded systems. It was the perfect combination of hardware and software skills, and thus Squarp was born.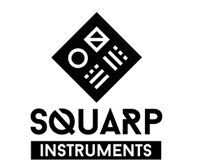 What was your inspiration for creating a hardware sequencer?
The main purpose was originally to create a hardware sequencer in sync with the new electronic music that is written nowadays. There was a huge gap in the market regarding this particular instrument, which is kind of weird because all popular music between the early 80s until late 90s was produced using these types of machines. Hip-hop music initially originated from the MPC sequencer, it was a real revolution in all kinds of music, from Madonna to Brian Ferry to Whithney Houston. How come these machines were suddenly replaced by the computer?
From this perspective, we felt that we had to create a machine that you could really feel, and that could satisfy any musician from any musical background. We wanted to have nice and playful controls like the multipoint touchpad (mostly inspired by the Korg Kaosspad/Kaossilator) and to be able to go from basic Four On The Floor house beat to very experimental stuff. The important thing is that if you go from the computer to Pyramid, you don't feel frustrated. The machine should able you to do exactly what you had in mind when you started it, but also to make happy accidents happen, if you start tweaking!

What unique competitive advantages will the Pyramid offer over other sequencers currently on the market?
The most remarkable feature must be the fact that all tracks can play in polyrhythmically (different time signatures at the same time. For example: 13/8 against 3/4) and in polymetry (different and very precise lengths for each track). This is a very rare feature, plus the fact that tracks can be very long in terms of number of steps.





The fact that we integrated all sorts of MIDI effects in the sequencer is also pretty unique. It's like having a MIDI pal and a powerful sequencer in the same box. It will allow you to play your most basic synth in totally new ways, for example arpeggiating a DX7 or make granular type of sounds, using the microstep mode, out of let's say an Arturia Minibrute. Very interesting in terms of experimentation.
Appart from that, you'll find your basic composition modes, but each time with little twists that make it way more fun in unexpected ways.

The live mode behaves like a MIDI looper, but we've added some composition tools, like chord generators, scales, or note repeat, each time accessible directly with dedicated pads (smartpads). Of course you can play it live (without recording), using the relatch mode, which enables you to operate the other instruments of your live set hands free. And with all the effects being real time, you can apply on your live performance. The step mode works like a basic step mode, but the workflow is slightly different from other hardware sequencers. You can always zoom in (up to 1600%) to edit very precise steps, or zoom out to visualize your entire track.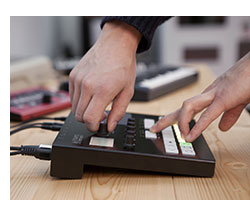 We added a few shortcuts to navigate easily between notes and pages. You also have an Euclidean Mode, which once again is rarely implemented these days. Also, the step-by-step mode is polyphonic (each step can handle multiple notes, so you can program chords!). Every parameter, like effect parameter or MIDI CC messages, can be allocated to one of the five assignable encoders, to the touchpad or to the accelerometer, to add live tweaks in your projects. For connectivity, we have implemented MIDI and CV outputs, to match every type of synth/grooveboxes that you want to play or control with automation.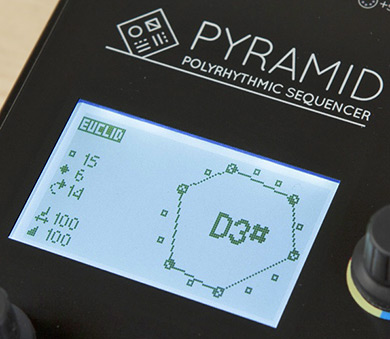 Pyramid offers one algorithmic Euclidean Sequencer engine per track, auto generating dynamic, provocative and rich rhythmic patterns. Almost all traditional rhythms from across the world can be generated with this tool. Change the number of total steps, the number of filled steps, the step width, rotate the pattern, all of this on the fly.
The displayed Euclidean Circle helps you to visualize the pattern.

Specifications:
Modes
» Live mode: improvise and record notes and automations with the transposable keys, the touchpad or with an external controller on one of the 16 track. Use the smartpads to play chord progressions, scales and repeated notes. Use the Hold & Relatch tools. The maximum track length is 64-bar.
» Step mode: create and arrange rhythms and melodies with the full-real-time step-by-step sequencer on one of the 16 track. A step can be a note, a chord or a CC MIDI message. Zoom the track to surgically edit the track with the piano roll view and the automation view. Use the euclidean graphic sequencer to easily create outstanding rhythms.
» Track mode: set, manage and control up to 16 tracks. Mute/unmute tracks on the fly, change in real-time the resolution, the length, the time signature, the midi channel. Build your sequences (a set of 16 muted/unmuted tracks).
» Seq mode: launch your sequences on the fly or link them to each other to create a complete song.
Managers:
» Effect manager: combine up to 4 real-time MIDI effects per track.
» Assign manager: link an effect parameter or a CC message to the touchpad, the accelerometer or any of the five encoders at your disposal.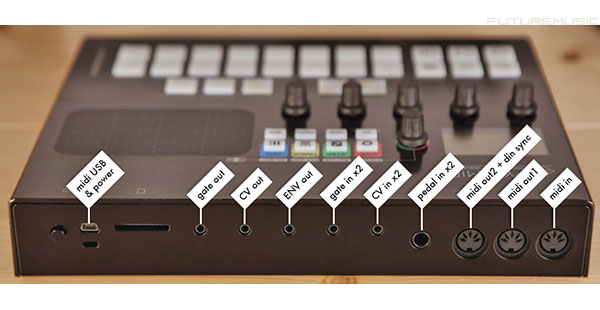 Connectivity:
» MIDI in (to control Pyramid with a MIDI controller)
» MIDI out (x2)
» DYN sync out
» CV+GATE in (x2) [0 to 5V]
» CV+GATE out [0 to 5V]
» ENV out (assignable CV envelope, e.g. to sequence filters) [0 to 5V]
» PEDAL in (x2)
» Plug and play MIDI USB out
» SD card slot to save an unlimited number of projects and upgrade the OS.
User Interface:
» 35 backlit silicon pads
» Menu clickable encoder to control everything
» 5 assignable clickable encoders
» Assignable multi-finger touchpad
» Assignable accelerometer
» White backlit LCD graphical screen
Hardware:
» Mini USB bus powered (power supply included)
» Kensington security lock
» 206mm x 268mm x 44mm Aluminium chassis

What has been the biggest challenge in bringing the Pyramid to market to date?
I think the code was the hardest part. We had to manage all this real-time informations to handle the polyrhythms, while keeping the clock steady. The beginning of the project has been very research oriented. Apart from that, the electronics was not too difficult, since it was our major at the university, so it went pretty smoothly. For now, everything is going really well, and each problem eventually finds its solution. We will be in time for delivering in June!

With all the options on the market for sequencing for consumers, who do you feel the Pyramid will appeal to most?
Well, we designed Pyramid to be very functional so everyone could use it. Of course, you have to own a few sound modules to sequence, but from Indie Rock to Techno to Deep House, everyone should be able to find their own special workflow. We often see "X0X type" sequencers used for House, and the MPC for Hip-Hop and Acid Jazz, so we tried to sum up all these types of workflows to suit the majority of users. I guess the future will say if we were right! (We hope so! —Ed.)



Squarp Instruments' Pyramid Tabletop Sequencer costs €699 and is available for pre-order.