Arturia has released a Special Edition of the MicroBrute in three groovy colors, white, blue and orange. From the video (see below) it looks like they've been watching a lot of Target commercials for inspiration, but we like the vibe (and Arturia's new website!).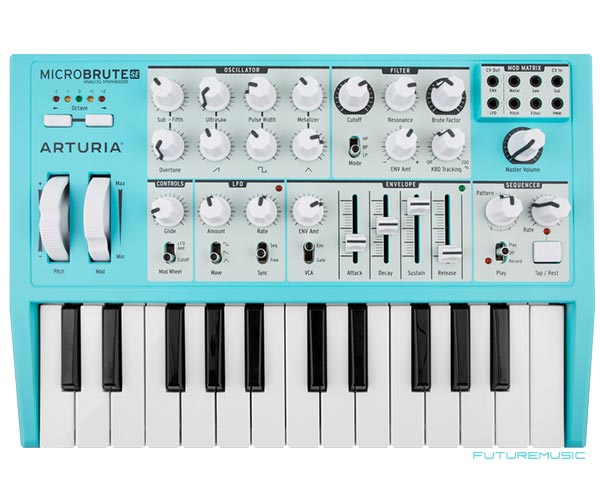 Highlights:
» No presets, no menus, nothing to get between you and the ability to sculpt your sound live. Not only does MicroBrute SE give you the means to create, perform and be completely original every time you power up, it does so with astounding sound quality.
» Sawtooth, Pulse, Triangle waves with unique modifiers. Ultra Saw makes for huge sounds, Metalizer adds complex harmonics to the triangle wave. Sub Osc will rattle the house.
» Beefy filter with Low Pass, High Pass and Band Pass modes. Resonance can be pushed into self oscillation.
» Modulate the sound of the MiniBrute SE by connecting modulation sources and destinations. You can also use it to connect with external gear. With the MicroBrute SE's stackable jack cables, you get even more modulation possibilities!
» You get 8 sequences with up to 64 steps each to create multiple musical phrases.
» ADSR Type Envelope generator that allows for the sharpest attacks or for extra long release times.
» The LFO supplies three waveforms and can run in sync to the Sequencer.
» The MicroBrute SE uses 100% analog VCO's. Although these are super stable, you may sometimes need to tune your instrument.
» Connect your MicroBrute SE with your vintage analog gear.
» Process audio through MicroBrute SE; connect it to your favorite devices thanks to its Jack Input and Output as well as MIDI Input.
» Control MicroBrute SE from your DAW or use it as a master keyboard.
» A solid and customized transport bag a is provided. New stackable cables are also included to boost the already brutal sound of this Micro-Monster.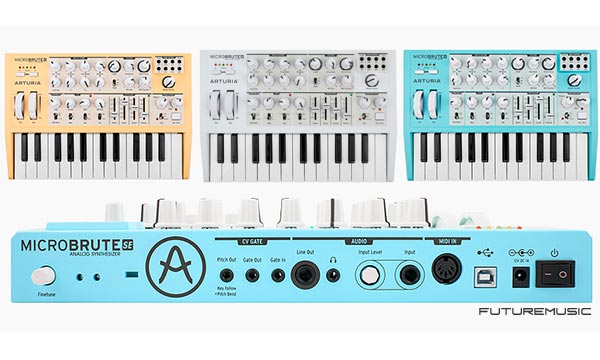 Features:
» Monophonic synthesizer – 100% Analog Audio Signal Path
» Steiner-Parker 2 pole Multimode Filter (Low Pass, Band Pass, High Pass)
» Analog Voltage Controlled Oscillator
» Oscillator Mixer (Overtone, Sawtooth, Square, Triangle, audio in)
» Overtone sub oscillator/5th generator
» Signal Enhancers:
— Pulse Width Modulation
— Ultrasaw generating fat sawtooth waveforms
— Metalizer bringing extreme harmonics
— Brute Factor delivering saturation and rich harmonics
» LFO with 3 waveforms (Sine, Sawtooth, Square)
» LFO clock syncable to Arpeggiator (Arpeg, or free).
» ADSR Envelope Generator
» Keyboard Tracking on the VCF Cutoff
» 25 note minikey keyboard
» Mod Wheel (assignable to Cutoff, or LFO amount)
» Pitch Wheel (with selectable bend range via software)
» Octave selector from -2 to +2 octaves
» External Analog Audio Input
» CV In jacks: Pitch, Filter, sub-harmonics, pulse width, metalizer, saw animator
» CV Out jacks: pitch, envelope, LFO
» MIDI Inwith 5 pin DIN connector
» USB MIDI In/Out
» 1/4" Audio Output and 1/8" Headphone Output
» Full Function step sequencer:
— 8 memories
— up to 64 steps per memory
— tap tempo
— rate control
— step divisions (via software)
— trigger modes (via software)
» MIDI Sync
» Steel bottom panel
» 12V DC 1A power supply




Arturia's MicroBrute SE costs $379 and is available now. Each model has a limited run of 1500. And then they're gone*


Arturia



*Unless they're a huge hit, then we'll see more, but in other colors…like Chrome (Please!)