V-MODA Crossfade M-100 Review – 2013 Gear Of The Year Winner – Headphones
FutureMusic has spent considerable time evaluating V-MODA's Crossfade M-100 headphones over the past several months, utilizing five different reviewers. V-MODA's flagship cans are world-class in practically every category, except for one small detail that some DJs may find disappointing. However, the minor deficit certainly wasn't enough to take away from the fact it stood head and shoulders over other 2013 debuts to earn our Gear Of The Year award for the headphone category.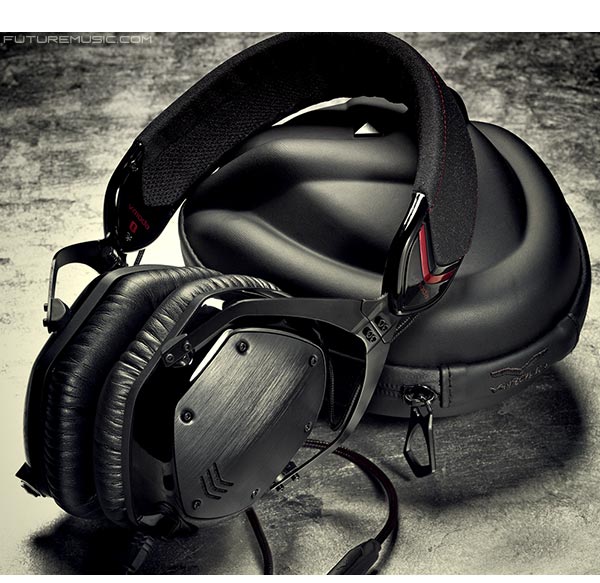 Five different evaluators reviewed the headphones (their comments in quotes below) putting them to work in many different environments and applications. The M-100's are not neutral phones for studio headphone monitoring, they have a carefully crowd-sourced, sonic signature perfect for contemporary, hip-hop and electronic music. Overall the "bass tones are warm and round" without being "domineering" or "fatiguing" and the high frequencies are "present, but smooth and cashmere soft." With patent-pending, 50mm dual-diaphragm drivers, the M-100's "can certainly crank" up the volume, but "exceedingly loud pressure is not where the Crossfade's shine, even know it's nice to know they've got the juice when you need it." Instead, four out of the five reviewers found the over-the-ear design to excel at moderate sound levels were you can "let the creamy colorization envelop you in a velvet blanket."
Features & Specifications:
» 50mm Dual-Diaphragm Driver (Patent-Pending): Inner and outer rings separate the bass from bleeding into the mids and highs
» Audio Tuning: Crowd-sourced development of the sonic character
» Over-the-dear earcup designed for exterior noise isolation
» Driver Quality Control: The Crossfade M-100's sound is quality tested at 6 frequencies to maintain stricter consistency
» Robust construction and quality components
— STEELFLEX Headband
— Steel Frame and Interchangeable and Customizable Aircraft Grade Metal Shields
— Tested Beyond Military-Level Quality MIL-STD-810G Test Standards
– Kevlar Reinforced Cable/Plug Bend: Cables and 45-degree plug can bend over 1 million times (100x industry standard)
– Concrete Drop: Survives 70+ drops on concrete from 6 feet (10 times the industry standard)
– Headband Bend: STEELFLEX can bend 10+ times flat
» BLISS Memory Foam Cushions: Naturally forms to your ears to provide ergonomic comfort and noise isolation for extended listening sessions
» CliqFold Hinge: Patent-pending, spring-loaded hinge mechanism folds the headphones into the size of a softball
» Exoskeleton case: Internal V-STRAP Cord-management system and exterior Carabiner
» Custom Shield Kits: Laser engrave your logo on the shield color of your choice (Brilliant! —Ed.)
» SpeakEasy Mic Cable: Specially tuned for voice recognition and calls in the noisiest environments, the button control universally works with all 3.5mm smartphones and tablets including Apple, Android, Windows, Kindle and Blackberry
» SharePlay Audio Cable: Share your music on a ride or DJ tandem without adapters
» Optional BoomPro microphone, CoilPro coiled DJ cable and 3-Button mic cable in a variety of colors
» Frequency Response: 5 – 30 kHz
» Sensitivity: 103 dB @ 1kHz 1mW
» Microphone Sensitivity: -42dB @ 1kHz
» Impedance: 32?
» Weight: 280g
» Two-Year Warranty
» V-MODA Immortal Life Program – 50% off a replacement for a lifetime
» V-MODA 60-day test drive guarantee


The Shadow (left) & White Silver (right) color options for the M-100 headphones


All this loveliness does came at the price of the lower mid-range, which "tends to get a little washed out." The perceived mid-range dip was only a small blemish on "a stellar sound stage" and something that you "wouldn't normally notice when listening to most forms of modern music."
V-MODA reportedly developed the M-100's with input from DJs, musicians and audiophiles to create an aural colorization that would play nice with most forms of contemporary music, but it appears DJs had the most influence in the decision making process. In fact, four out of our five reviewers stated that they would use the M-100's over their current cans for "long nights in the booth." However, it wasn't just the sound quality of the M-100's that give them the nod for Gear Of The Year.


V-MODA's exoskeleton headphone case "is worth the price of admission alone."


As with other V-MODA products, there is an obsessive attention to detail. Everything from the construction materials, to the color palette, to the customizable side plates to the protective case to the awesome accessories – the M-100's may be 300 beans, but you see, feel and hear every dollar spent. "Using the M-100's for the first time has been nothing short of a delightful experience, I felt like I was 9 years old opening up an unexpected but awesome present on Christmas day. A crossbow!! Sweeeeeet! Except this was a pair of headphones…I'm hard pressed to remember when I was ever this elated in experiencing headphones for the first time….the innovative touches, the build-quality, the built-in, dual headphone jack for sharing your music, the H. R. Giger case, and the sound. Just amazing."

It's All In The Details
Since V-MODA spent so much time on the details, let's delve into what makes the Crossfade M-100 headphones so special. The headphones come in a very compact case that one reviewer swore "there's just no way [the headphones] will fit in that case!" The hard, clam shell design is indeed tiny, and not only does it hold the headphones, which ingeniously close down to the size of a snowball thanks to its dynamic hinges, but it also has room for your accessories. The M-100's come with a red and black, braided kevlar cord that contains a clever female minijack at the input end, allowing you to share your music with another headphone user. The SharePlay idea is brilliant, but the execution is even better with the female input having its own short cord and jack for fully rotational flexibility. A specialized, handsfree, phone cord is also included, but we would suggest opting for the BoomPro, an optional $30 accessory that incorporates a "SteelFlex" positional arm and Mute/Volume controls into the cord. We tested the BoomPro as well, and found it to be excellent, not only for taking calls, but also for gaming and online video conferencing.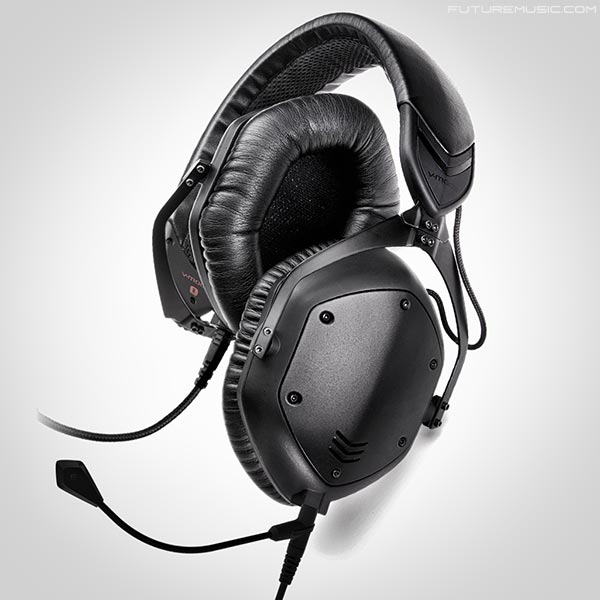 The optional V-MODA BoomPro microphone turns your new favorite headphones into a Skype & gaming powerhouse


The build quality of the V-MODA Crossfade M-100 is "exceptional." The steel frame contains the aforementioned, spring-fed CliqFold hinge, which works to fold the M-100's into "a tight wad," and the padded, leather headband is "world-class." The only caveat is that the hinges don't swivel, a limitation for some DJs. The mid-sized, earcups contain "luxurious foam cushions" that should accommodate most users, and each one has an input for the cord so users can chose which side they'd like to attach the cord. Last, but certainly not least, the Crossfade M-100's come with removable side shields, which can be customized with several presets, or you can submit your own logo or design. "Having your own DJ logo laser etched into the metal side plates is just plain wicked."
It's easy to see why The V-MODA Crossfade M-100's are our top pick in the headphone category for 2013. From a company with very humble beginnings, you can't help but root for them, especially when they're executing on all levels. It's hard to imagine what V-MODA will do for an encore, but we can't wait!

The Future
To make these true DJ headphones, we would suggest V-Moda incorporate a 180 degree swivel and locking mechanism into the spring-hinge design. The hinge lock would allow the earcups to fasten down straight, or unlock to swivel.
» FutureMusic Rating: 95%


Cheers:
+ Sound Quality
+ Overall Design
+ Build Quality
+ Customization
+ External Case
+ Accessories

Jeers:
– Earcups Can't Swivel
Off The Record:
"As a fan of [V-MODA's] M-80 headphones, one of the best solutions out there for enjoying sound on the move, I didn't believe I would be that impressed with it's big brother. I am, and my hope is that some of the some of the innovative concepts trickle down to the next generation M-80, such as the collapsible hinges." —Greg Geller
"I'm blown away by the attention to detail on every level. It's obvious that V-MODA examined every facet of the Crossfade M-100's design to ensure that they would exceed expectations." —Chaylin Thomas
"The brilliant case is worth the price of admission alone…" —Dan Brotman
"The M-100's are probably the first headphones that I won't be able to wear out in the first six months of normal use." —Garth Fields
"As much as I enjoyed listening to the V-MODA Crossfade M-100 headphones, without swiveling earcups, I won't be able to use them for the way I mix." —DJ Hurricane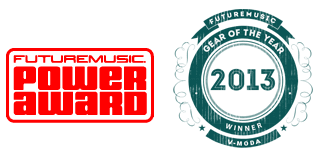 The V-MODA Crossfade M-100 headphones are available now and cost $300. The V-MODA BoomPro Microphone and the V-MODA CoilPro Cable are $30 each.
V-MODA