IK Multimedia Introduces DJ Rig For iPad
IK Multimedia has announced that DJ Rig for iPad is now available via the App Store. DJ Rig for iPad expands the feature set from DJ Rig for iPhone, offering new capabilities that previously have only been available on professional DJ software for the Mac and PC.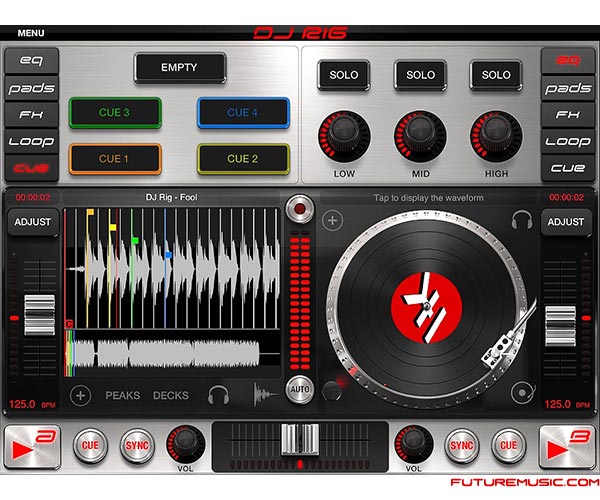 With DJ Rig for iPad, mobile DJs will possess the virtual equivalent of a full DJ setup – two turntables or CD players, a DJ mixer, a DJ multi-effects unit, a phrase sampler and more. DJ Rig for iPad is a self-contained DJ environment that can be directly connected to a sound system, but even more functionality is available when it's used in tandem with IK's new iRig MIX compact mobile DJ mixer. iRig Mix offers complete physical track control, thanks to its full-length channel faders and crossfaders, additional EQs, and direct connections for headphones, microphones, loudspeakers or a PA system. When used together, DJ Rig and iRig MIX provide a comprehensive DJ setup that packs all the features the most demanding DJs need – all in an ultra-light combo rig that can be up and running in seconds.
So what's the biggest competitive advantage that DJ Rig has over the popular djay app? According to Starr Ackerman, "there is a waveform view for DJ Rig for iPad that makes this app more of a real tool for deejaying and less of a game. There you can synchronize beats, identify and set cues naturally, like in a real deck," reveals Ackerman. "There are also tons of X/Y effects, a sampler/Pads section that offers more than the basic features of sampler. The new loop surface, slip function and custom loop allows the user to be extremely creative when looping."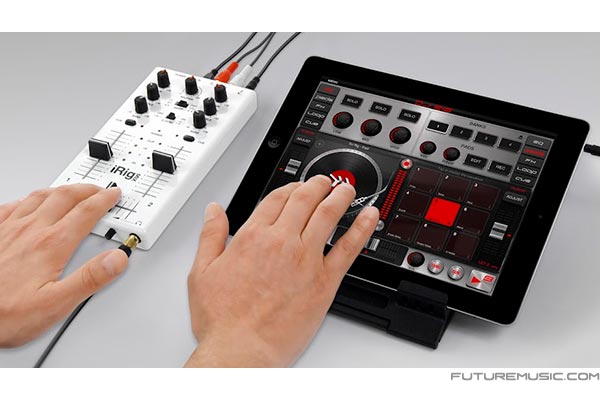 Features:
» Customizable deck display with Vinyl, Waveform or Digital Deck interface with accurate scratching engine with CloneDeck™ technology
» Waveform display mode for ultra-precise visual cueing
» Fast BPM detection and beat map analysis with Tempo Sync and Beat Match
» X-Sync mode detects the BPM from external audio sources and automatically syncs the audio/tempo of internal decks to external devices (when used with iRig MIX)
» Advanced looping section with continuous loop surface; create loops with tempo divisions always to the beat; manual and slip mode available
» 18 effects: Delay, Flanger, Crush, HP filter, LP filter, BP filter, Compressor, Wah, Phaser, Fuzz, Reverb, Stutter and more, with X/Y touch interface control
» 6 new creative effects: Noise, Tail, Brake, Spin, Twist UP and Twist DOWN
» On-the-fly expandable sampler machine with 9 pads and 4 banks slot
» Live sampling functionality with volume and pitch control
» 5 visual cue points per song and Auto Cue for automatic first beat positioning
» 3 crossfader curves for customizing fades and crossfade filter
» Direct access to iPod Music library and playlists
» AutoMix Feature for automatic mixing of playlists or entire library
» Live recorder allows recording of full mixing gigs
» Supports/plays all major digital audio formats including MP3, AAC, WAV, AIFF
» Multiple output configurations for virtually any audio setup
Familiar double Deck configuration with a triple twist – When first launched, DJ Rig for iPad looks and feels very familiar – its interface accurately replicates a full dual-deck hardware rig with each deck routed through the audio output jack on the iPad (split stereo). What's different is that each deck has three visual modes: "Vinyl" for traditional creative scratch effects, "Digital" jog for a more traditional CD manipulation and the new "Waveform" view for accurate cue placement, synchronization and visualization of beats.
DJ Rig for iPad with CloneDeck technology allows DJs to mix and scratch on their iPads, just like they would with hardware counterparts. The built-in dual-deck system with a crossfader allows them to mix with ultra-accurate precision, and the Tempo Sync, X-Sync and Beat Match functions automatically align the beats from any two sources for flawless transitions. The new AutoMix feature will automatically crossfade and mix music when you need to step away to down that funnel at your frat party.
New creative DJ effects provide unlimited sonic possibilities – DJ Rig for iPad features 18 available BPM-synced DJ effects for customizing mixes and build-ups, always at the perfect tempo. Effects include Delay, Flanger, Crush, HP filter, LP filter, BP filter, Compressor, Wah, Phaser, Fuzz, Reverb, and Stutter, plus 6 completely new effects: Noise, Tail, Brake, Spin, Twist UP and Twist DOWN. The X/Y effects interface provides full creative control and real-time manipulation that will inspire DJs to be their creative best.




On-board sampler with expandable sound banks – DJ Rig for iPad features an "on-the-fly" sampler with 9 accessible and assignable pads for adding sound bites and samples to mixes. For even more creative flexibility, DJ Rig for iPad provides "live sampling" and "looping" functions for completely customizing and personalizing the mix.
IK's DJ Rig for iPad is now available in the App Store worldwide at an introductory price of $19.99 / €15.99. A free Lite version is also available for download.
The Future: IK completes their iOS DJ ecosystem with the debut of DJ Rig For iPad. The company throws the word "professional" around quite a bit when describing the DJ Rig app, the iRig MIX mixer and iKlip stand, but the real question is how pro is this "rig" in the real world? And will true professionals rock this system at a club?
IK Multimedia