Burn Energy Drink Launches Burn Studios With Hawtin, Sasha, Beatport & W Hotels
burn studios has announced the launch of a new electronic music portal for the cloud generation, enabling music creation, discovery and sharing. Rooted in electronic music, burn studios brings together music makers within an open creative network and cloud recording studio. Partnering with leading top electronic music platform Beatport and audio production education leader SAE Institute, burn studios will offer opportunities for breaking music talents from producers to DJs, to take part in exiting contests, exclusive educational and mentoring programs and get a chance to showcase their music to the world.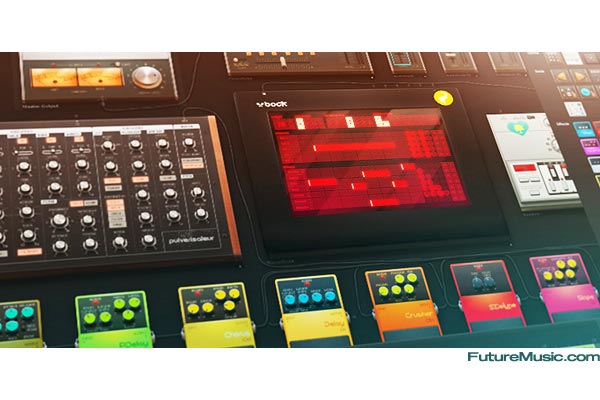 Brought to life by Burn energy drink, the burn studios platform was unveiled at this year's International Music Summit in Ibiza in a press conference at the Gran Hotel by Richie Hawtin accompanied by Beatport CEO Matt Adell, Erik Hofstadter from Burn and SAE's Carlos Lozano. DJ and technology maverick Richie Hawtin was announced as burn studios Audiotool Creative Director and will spearhead the development of the music creation platform. Since launching the open beta version of the burn studios Audiotool in late 2010 and asking the music community to feedback and participate in the development of the platform, over 80,000 members have signed up.
With over 300,000 visits a month and growing, its popularity is spreading throughout the world. Using the overwhelming user feedback from the development forum, burn studios has been able to fine-tune the platform and add a wealth of new features, including midi-compatibility, sample upload and many more exciting functions. All of these great features are now available on the public version launching today. Burn claims the online music studio will capture the excitement and imagination of the global electronic music community, building a social creative community that will nurture raw musical passions.
This summer burn studios will team up with DJ and producer Sasha and electronic music portal Beatport to search for the most exiting and promising music producers from across Europe. Fourteen promising electronic music stars of the future will win the chance to take part in an exclusive production bootcamp at the burn studios Hacienda in Ibiza.
To be in with the chance of winning this opportunity entrants must remix this year's IMS anthem, a track created by Sasha, using Burn Studios Audiotool or Beatport's Sound to Sample site to download remix parts. Entries must be uploaded to the cloud before July 4th 2011 when fourteen remixes will be hand selected by Sasha. The winning producers will be flown to the Burn Studios Hacienda in Ibiza. a state of the art equipped villa where Burn Studios will relocate for the summer. They will then take part in a 5-day intensive production bootcamp from 26th July to 30th July developed by SAE Institute, which includes mentoring sessions and master classes from some of the biggest names in the industry. Then, at then end of the Hacienda program, the student with the most overall votes and support for their remix will go on to be crowned winner and be awarded the incredible opportunity to collaborate with Sasha on his next release! Go to burn-studios.com or beatport.com for more info on how to get involved in the contest.
If that wasn't enough, burn will team with W Hotels to develop the burn studios DJ Lab, a program for up-and-coming DJs. This partnership will kick off in August 2011 at the burn studios Hacienda in Ibiza, where DJs, selected by Michaelangelo L'Acqua and burn studios Ambassadors, will polish their skills in preparation for a global DJ tour. The W Hotels and burn studios DJ Lab global tour dates will be announced later this summer, while exclusive DJ mixes created at the Burn Hacienda will be accessible through the W Hotels iPhone app and burn-studios.com
Burn Studios