Denon Unveils DN-MC6000 Mixer & MIDI Controller
Denon DJ utilized Atlantic City's DJ Expo to unveil their new DN-MC6000 Mixer and MIDI Controller. The MC6000 is a four-channel/eight-source standalone digital DJ mixer with MIDI interface housed in a solid steel chassis. The MC6000 contains an audio interface (with a 2 in/2out stereo soundcard included), which enables the DN-MC6000 to act like an audio mixer.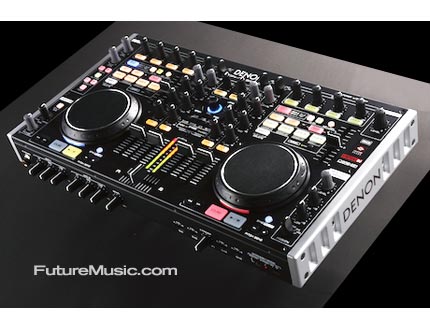 It comes bundled with Virtual DJ LE in North/South America and Canada, and Native Instruments TRAKTOR LE for Europe and Asia. The DN-MC6000 is MIDI-mapable and compatible with other popular DJ programs. The unit interfaces seamlessly with Mac OSX and Windows XP, Vista and Windows 7 operating systems. Unlike other comparable products, the DN-MC6000 includes a selectable Video/Audio control cross fader feature. Each side of the unit can control up to two decks (for a total of four), with visible deck color change for intuitive, straightforward operation. Also notable is the fact that the DN-MC6000 is a real mixer, able to process audio inputs for external devices without a connection to a computer, as a dedicated mixer unit would.
Key features include rack-mountability (with included 19″ rackmount accessory kit), a number of on-board MIDI effect controls, durable construction, intuitive layout, dual jog wheels, pitch fader, channel fader, cross fader and much more. The unit's Pitch/Fader/Volume lock function holds the last known Audio value and position until the NULL point is again reached. It is also easy for users to find where they are going, with the included File browse navigation keys and rotary encoder file selector knob with illuminated ring. Also featured are the unit's high-quality, high-output headphone amp, the independent 3-band Channel EQ with "Kills" (high-mid-low) and various Utility presets to customize user settings.
Additional Features:
» New, 3-way powerful audio/video-assignable cross fader (Audio, Audio/Video, Video)
» Newly designed, high-resolution 105-mm touch-sensitive jog wheel
» Smooth 100-mm long pitch slider with high 14-bit resolution
» Eight (4 + 4) hot cue/sampler buttons with dual bank selector key
» Auto loop button with Beat Jump (loop cut)
» Manual loop In/Out buttons
» Large-size Cue & PLAY buttons
» EFX controls, EFX keys and Parameter knobs
» Multiple GUI controls – Mixer, Video, Scratch, Sampler, REC, etc.
» Powerful Shift key – used for various dual-button operations
» Search keys, to advance around within a file
» Denon's legacy "Pitch Bend" keys
» Vinyl and Pitch Bend Jog modes
» SYNC key for beat matching between decks
» Key Lock on/off button with LED confirmation
» Matrix Input Assignment selector knob
» Selectable PFL input gain and program meters
» Independent CUE system (all channels)
» Split Cue function with Cue/Master pan knob
» 45-mm Channel and Cross Faders
» Independent Channel A-B Thru switch (cross fader)
» Cross Fader contour adjustment
» Master Output stereo/mono switch
» Booth Output with Source Selector and level control
» Mic 3-band EQ (High-Mid-Low) for mics 1 and 2
» Mic Ducking and built-in Echo Effect for mics 1 and 2
» MIDI-mapable control surface (faders, knobs and buttons) for other DJ applications
Inputs include two RCA/Phono lines, one XLR Mic/quarter-inch one quarter-inch TRS Mic jack, and two RCA AUX inputs. Outputs include balanced master XLR, unbalanced master RCA, quarter-inch TRS booth/send out, RCA record out, and stereo headphone out. The DN-MC6000 also has a USB Audio in/out selectable routing switch and a Kensington lock security feature. The unit measures 18.1″ x 2″ x 10″ without rack ears. Power input is AC 100V – 240V, 50/60 Hz, and output is DC 12V, 3A. AC adaptor power supply and 1.5-meter USB cable are included, and the unit also features a green, energy-saving ECO standby mode.
Denon has shoehorned a lot of features into the MC6000 including the mixer, which will make it an enticing entree during the holiday shopping system. Denon's ability to deliver the MC6000 before Native's S4, will definitely give it a needed head start in the market. In fact, Denon must have exhaled a major sigh of relief when they witnessed NI's official Traktor Kontrol S4 announcement with the non-committal "Winter" release date. However, for practically the same price, NI's S4 system includes their special Traktor Kontrol software, which will certainly make it worth the wait for many.
But you have to wonder why Denon would utilize AC's DJ Expo, which is essentially a mobile DJ show (Wedding DJs!! —Ed.), to announce their latest products. And, you have to shake your head at Denon's marketing strategy. If you're going to debut a boatload of new products (…see following story. —Ed.), then why not announce a couple at a time in the run up to the Holiday season so that you can keep your brand in the news…
…I guess we shouldn't be complaining – at least Denon actually released new products that weren't yet another batch of CD players…
Denon's DN-MC6000 will be available this Fall 2010 for $949.99. More information on the Denon DN-MC6000.