MacBook Touch, Apple's New Tablet Coming This Fall?
We've been geeked on the idea of a MacBook Tablet computer for some time. In fact, we believed that the product was likely to make it's debut just before the Christmas "silly season" last year. However, several reports have popped up online recently that are now fueling the tablet rumors once again.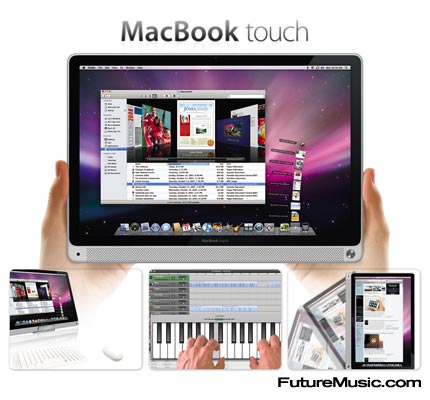 According to MacDailyNews, who broke the wireless iTunes a week before its official announcement, Apple is readying the "MacBook touch" for release in October:
Think MacBook screen, possibly a bit smaller, in glass with iPhone-like, but fuller-featured Multi-Touch. Gesture library. Full Mac OS X. This is why they bought P.A. Semi. Possibly with Immersion's haptic tech. Slot-loading SuperDrive. Accelerometer. GPS. Pretty expensive to produce initially, but sold at "low" price that will reduce margins. Apple wants to move these babies. And move they will. This is some sick shit. App Store-compatible, able to run Mac apps, too. By October at the latest.
Now marry this report to what Apple's CFO Peter Oppenheimer disclosed during his quarterly financial results call — the company will make a key "product transition that cuts back on its profit margins to help shut out rivals," and will release "new products with technologies and features that others can't match."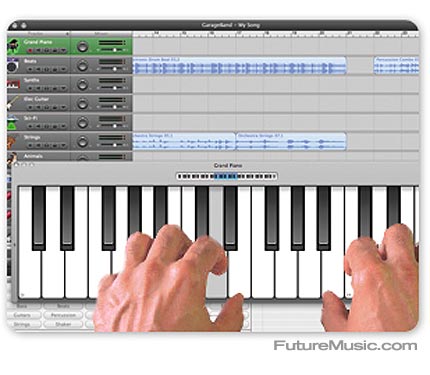 In addition, if you look at all the patents that Apple has filed recently that describe a tablet-like device, it appears likely that Apple is developing a product of this nature, or at least is protecting themselves from patent terrorists.
Although the picture above is just a figment of a Photoshop user's imagination, the Logic Studio application with the virtual keyboard is enough to get the juices flowin' – wow!
The Future: A MacBook Touch computer running any music app makes Yamaha's Tenori-On look real sissy! Especially if it's the same price…