Cheers:


+Build Quality
+Low Noise


Jeers:


-Sound Quality
-Size
-Value
-Pop Screen



Off The Record:


"The Wedge was bested by one of my 'disposable' condensers, costing half the price."
--Dan Brotman


"I'm wondering how much extra I'm paying for a fancy case, which I'm ultimately never going to use once I hang the mic in my cabinet."
--Greg Geller


""I like how the Wedge defined bass tones on the acoustic guitar, but not much else."
--Spyros Poulos


"Violet should stick with what they know best, making quirky distinctive microphones...the Wedge is a bad stumble for a company trying to achieve a mass-market hit."
--Neville Carrol


"Some engineers may come away quite pleased with the Wedge on vocals, but this is certainly not going to be their first choice for a large-diaphragm condenser."
--Garth Fields







July 21, 2009
../ TestDrive: Violet Wedge Microphone Review
Violet Designs, a boutique microphone manufacturer from Estonia, recently sent us their Wedge large-diaphragm condenser microphone for review. Violet has been in business for a little over 13 years and has made some nice headway in the market by providing well-constructed microphones with quality components.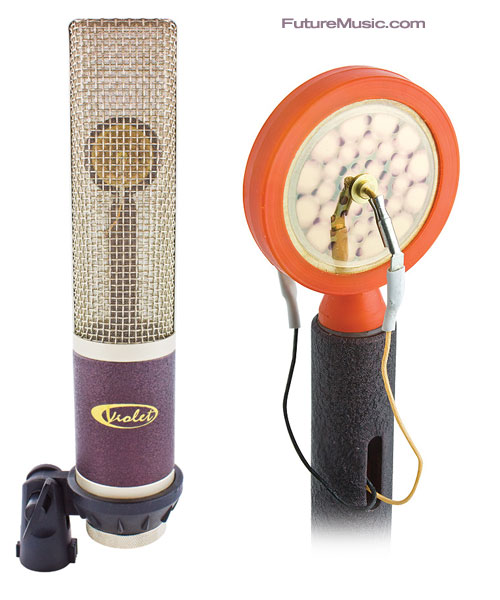 The Violet Designs Wedge looks a lot better than it tastes...

The Wedge is somewhat of a departure for the company with a provocative new design concept that is meant to appeal to engineers who are looking for a hyped condenser — a popular sound right now. Unfortunately, for an $800 microphone, our testers found that the Wedge often fell short in critical situations at that price point.

The Wedge's specs are pretty much standard fare: phantom powered, a frequency response from 20 Hz to 20 kHz, a fixed, yet wide, cardioid unidirectional pickup pattern, and a claimed 130 dB dynamic range. The Wedge doesn't have a pad or frequency roll-off for additional control. However, it does feature gold-plated XLR connectors, a three-inch purple tinted body that houses the Class-A discrete transformerless electronics and a long, five-inch open capsule cage. The mesh cage itself is loosely knitted to allow for more presence and to reduce internal reflections, so a pop screen is mandatory to deal with plosives during vocal takes. But don't use Violet's, it terrible.

Specifications:
Transducer type: True electrostatic
Operating principle: Pressure gradient
The diaphragm's active diameter: 21 mm (0.8")
Frequency range: 20 Hz to 20 kHz
Polar pattern: Unidirectional - cardioid
Electronics type: Discrete, solid state
Output impedance: 50 ohm
Rated load impedance: 1000 ohm
Suggested load impedance: >250 ohm
Sensitivity at 1 kHz into 1 kohm load: 25 mV/Pa
S/N Ratio CCIR 468-3 weighted: 77 dB
S/N Ratio DIN/IEC 651 A-weighted: 88 dB-A
Equivalent noise level DIN/IECA-weighted: 6 dB-A
Maximum SPL for 0.5% THD at 1 kohm load: 136 dB
Dynamic range of the microphone preamplifier: 130 dB
P48 Phantom powering IEC 268-15A: +40 to +52 V on XLR pins #2 & #3 relatively pin #1
Phantom current consumption: <1.5 mA
Output connector: 3-pin XLR male, gold plated contacts
Signal polarity: Positive toward pressureon a diaphragm produces positive polarity voltage on XLR's pin#2 relatively to pin #3
Dimensions, weight: 210 mm x 42 mm / shaft D24 mm, 350 g

Unlike some of Wedge's flatter brethren, the mic has a bump starting at about 2.2K with the crest at 6K and then falling off around 11K. Although this is inline with many other biggie condensers out there, our evaluators found the hype to be "biting" or "somewhat harsh" on vocals and acoustic guitar. Others felt that you could "dial it in" by "experimenting with placement" but that "required a lot of extra work compared to other comparable mics in my arsenal."

Our reviewers cited the "low noise" and "solid output" of the Wedge, which are in line with the specs: 6dB (A-weighted) with a 25mV/Pa output. Unfortunately, this didn't help the recording quality, which was described as "numb," "somewhat dull" and even worse. "I never felt the Wedge shined back, no matter what great performance it attempted to capture."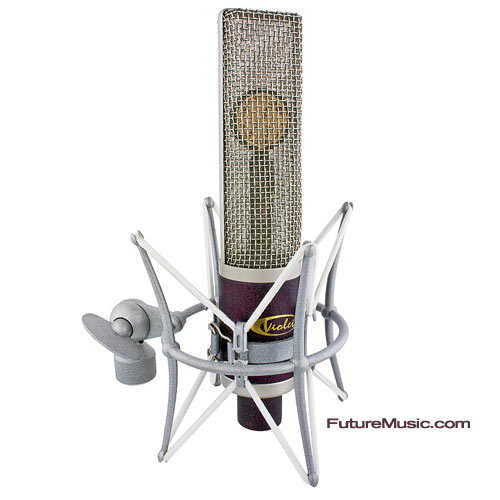 The optional shock mount worked, the pop screen didn't...

Another downer for a couple of our testers was the size. We don't know exactly what Violet was after with a five-inch long grill, but it was found to be "unwieldy" and "cumbersome to maneuver in tight quarters." It does give the mic a distinctive look, but one wonders if this was more of a marketing decision rather than an acoustic one.
One reviewer who gave the Wedge a solid workout on many different types of percussion came away with positive impressions. I liked how the mic picked up the detail of a mid-size Caxixi (Brazilian Shaker) without getting crushed when the seeds hit the gourd." He also liked the nuance of the Wedge on bongos and other "higher pitched hand drums," but felt the Wedge bottomed out on "deeper tones."


Overall, the Violet Wedge missed the mark for our group of reviewers who utilized the condenser on everything from vocals to acoustic guitar to percussion. With the plethora of excellent alternate options on the market, we cannot recommend this microphone.

The Violet Designs Wedge retails for $799 and is available now. More information on the Violet Designs Wedge.

Advertise on FutureMusic.com! | Privacy Policy | Employment Opportunities | Contact Us
Copyright © 2009 FUTUREMUSIC® All Rights Reserved.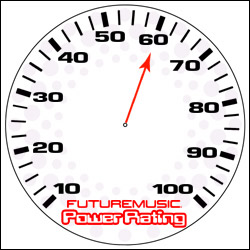 Violet Designs aimed for a mass-market, large-condenser with their new Wedge microphone, but missed the target trying to be quirky and popular at the same time.