Cheers:


+Portability
+Lightweight
+StanTouch
+Design
+Quality
+Overall Concept
+Low Price


Jeers:


-Manual
-Initial Learning Curve



Off The Record:


"Fun, extremely portable, well-made, and cheap...need I say more?"
--Dan Brotman


"I thought I was going to hate this from the moment I laid my eyes on it, but I honestly have to say it's enormous fun."
--Greg Geller


"[Although], it takes getting used to, the StanTouch technology is a blast."
--Neville Carrol


"Looks like Stanton ran out of gas when it came time to writing the manual."
--Garth Fields







May 8, 2009
../ TestDrive: Stanton SCS.3d - DaScratch
Stanton is back. After years of lackluster new product announcements, strictly cosmetic product polishing and recovering from their very public breakup with Native Instruments, the seminal DJ company finally has something to smile about, their new SC.3d. The 3d, also known as Da Scratch, is an economical, multi-touch MIDI DJ controller. Now it's hard to say "DaScratch" without a bit of vomit coming up in the back of your throat, so we'll refer to it by its model name for this review, the 3d.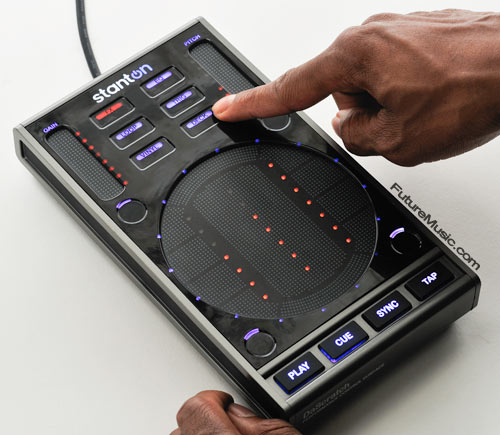 The SCS.3d employs Stanton's proprietary StanTouch multitouch technology

When Stanton initially announced the 3d, our response was "3d?? Wait, what happened to the original SC System??!" See, Stanton first announced their SCS.1d flagship digital DJ turntable controller and SCS.1m mixer at the NAMM show in 2008 to much fanfare with an expected delivery date in time for the upcoming holiday shopping bonanza, but the product never materialized. Instead, Stanton trotted out the 3d with a "you didn't see this coming" wink and a nod. Sometimes ignorance can be bliss.

Even though the 3d has seemingly came out of nowhere, this was not some thrown together product to capture holiday sales before the economy officially tanked. The 3d is a well-conceived, lightweight DJ controller that easily connects to your Mac or PC with USB 2.0 connectivity. Measuring just 5" x 8.5" x 1.5" - you can easily drop the 3d into your gig bag without having to hire a sherpa.

Features:
Innovative, compact USB controller for control of any digital DJ software
StanTouch technology allows you to use traditional DJ touch and gestures on a touch-pad surface
Multi-Touch sensitive buttons, triggers, and virtual faders can also control samples, pitch, effects, cue and loop points, and other mappable functions
SCS.3d's DaRouter provides customized support for a variety of applications
Magnetic connection allows multiple units to securely snap to each other for greater control
Quality construction and no moving parts provide durability and reliability from gig abuse
Supports Traktor DJ Studio, Traktor Scratch, Ableton Live, Serato Scratch Live and any other MIDI compatible software
Class compliant USB controller works with both Mac and PC platforms

A lot of innovative and savvy design elements have also been incorporated into the 3d's construction. Underneath the chassis, there is a storage compartment that not only houses the USB cable when not in use, but also secures it to the socket eliminating "unscheduled dismounts." In addtion, one of the sides of the 3d. has an indented notch with a magnetic stripe, so you can easily mount two 3d's side by side, doubling your pleasure, or attach it to the new SCS.3m mixer.

Not that you need multiple 3d units to manipulate two of the decks in your mixing software of choice, the 3d can control two virtual audio sources with a designated "Deck" button. Pressing the Deck button instantly switches control from one source to another making even basic beatjuggling possible. In addition, you can employ the 3d to tweak other MIDI controllable programs, not just DJ mixing software, and flip between the two using the assigned MIDI channel 8 and 9. Very cool!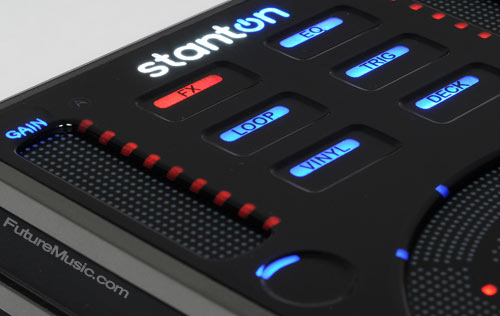 Colored LEDs indicate current feature set and provide instant multitouch feedback

Stanton's 3d contains six different control modes, the aforementioned Deck, plus Vinyl, Trig, Loop, EQ and FX. Engaging a mode changes the configuration of the multitouch surface to suit the endeavor. A few of our testers found the different mode controls to be "confusing at first" due to the lack of identification. But others "got the hang of it" after spending s ome "quality one-on-one time with the unit," and learning to "interpret the red, blue and purple LEDs." In addition to the modes, the 3d has four touch buttons surrounding the multitouch circle pad and four global buttons on the bottom for Play/Pause, Cue, Sync (for beat-syncing two sources) and Tap Tempo.
DaScratch's main center section can be operated in one of three modes: Circle, Slider, and Button. Each distinctive mode can be triggered with a dedicated button, which modifies the central Stantouch pad to their particular function.


Slider Mode
Slider mode gives the user three fader controls. Simply sliding a digit vertically next to the 3 LED meter bars allows you to variably control a single parameter, or several at once.

The Stantouch multitouch pad provides two different ways of maniputating the parametes, both of which are quite beneficial for the art of mixing. You can either glide your finger across the pad to change a value, or you can hold one finger on a value and then tap the opposite end of the spectrum for a quick on/off effect. Lastlly, you can touch one value, slide your other finger up and then release it to jump to the initial value.

Circle Mode
The default Circle mode, there is one slider at the center of the central orb, and another circular slider going around the perimeter of the touch surface. Just like in Slider mode, finger jumps are possible and can be performed to quickly change the parameter in real time. The default Circle mode is used to simulate a virtual turntable, but remember this is only an approximation of the real thing you won't be entering the next DMC Championship with this puppy.

Button Mode
Simply put, Button Mode allows you to customize the StanTouch inteface by creating Button Zones, which can be assigned to any MIDI parameter. In Button mode, the zones highlighted in the diagram will act as triggers to control buttons in the target application. These functions could be assigned to alter loop lengths, jump to cue points, or start clips playing. Multiple buttons may be pressed at the same time to manipulate more that one parameter. Combining button zones also allows the user to create larger "trigger areas."

No matter what Mode you operate the 3d in you'll "find a workflow that meets your needs." Stanton created the different modes to accommodate individual use, and it was noted by all our testers who commented how they could easily "customize the SCS.3d." Evaluators using Traktor found the Circle Mode well suited to their digital DJ mechanics. While several controllerists found Button mode and Slider mode to work well when working out Ableton's Live.
Unlike some DJ MIDI controller software that we've been using recently, set up was "relatively painless" even though several reviewers were "wary of the DaRouter middleware." Each one of our reviewers ended up customizing the 3d's MIDI mapping to suit their particular style, so prepare to "get your hands dirty" to wring the most out of the device. "I thought I was going to hate this from the moment I laid my eyes on it," revealed one reviewer, "but I honestly have to say it's enormous fun."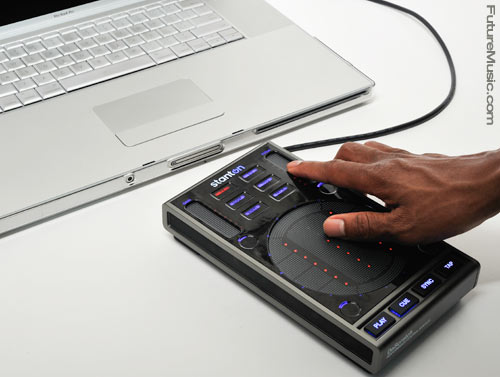 Compact size, no protruding knobs and limited moving parts translate into a great portable DJ solution

All but one reviewer enjoyed their overall experience with the 3d. The one party pooper, just couldn't "come to terms with the touch interface," which had him "scratching his head" every time he wanted to "actually do something." Others, found the StanTouch technology "exciting" and even went on to say "this could be the future of Digital DJing."
Overall, we're excited to see a Stanton step up their game. Many veteran manufacturers are finding themselves getting literally run over by new technology, new paradigms and the sudden influx of competitive products. Stanton was able to put aside a lot of adversity to bring the SCS.3d to market and they did so with style. Some of the smaller aspects of the 3d's design, such as the hidden USB cable compartment and the magnetic indents for "snapping" two 3d's and the new 3m together are quite sophisticated and demonstrate some "deeper thinking on Stanton's part." We hope that this is just the beginning of more good things to come from the Stanton marquee.
The Stanton SCS.3d costs $299 but is currently streeting for only $199. More information on the Stanton SCS.3d.


Advertise on FutureMusic.com! | Privacy Policy | Employment Opportunities | Contact Us
Copyright © 2009 FUTUREMUSIC® All Rights Reserved.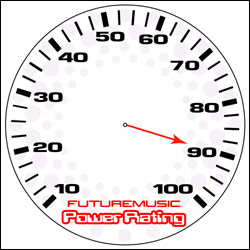 Stanton's SCS.3d MIDI DJ controller demonstrates that an old dog can learn new tricks. With its excellent multitouch interface, compact size and easy-on-the-wallet price, the DaScratch <*burp*> is highly recommended.