Erica Synths, the Willy Wonka Synth Factory out of Lativa, recently debuted their Fusionbox, an analog multi effects processor. The Fusionbox combines a delay, chorus and flanger with an adjustable tube overdrive. The box appears very simple at first glance, but has several "under the hood features" that make this processor quite unique. However, the Fusionbox is not for everyone, especially anyone who doesn't want "to get their hands dirty" or "has little patience," since the processor demands experimentation. This is why we decided to conduct a long term test with five reviews — their direct impressions are indicated by quotes throughout this review.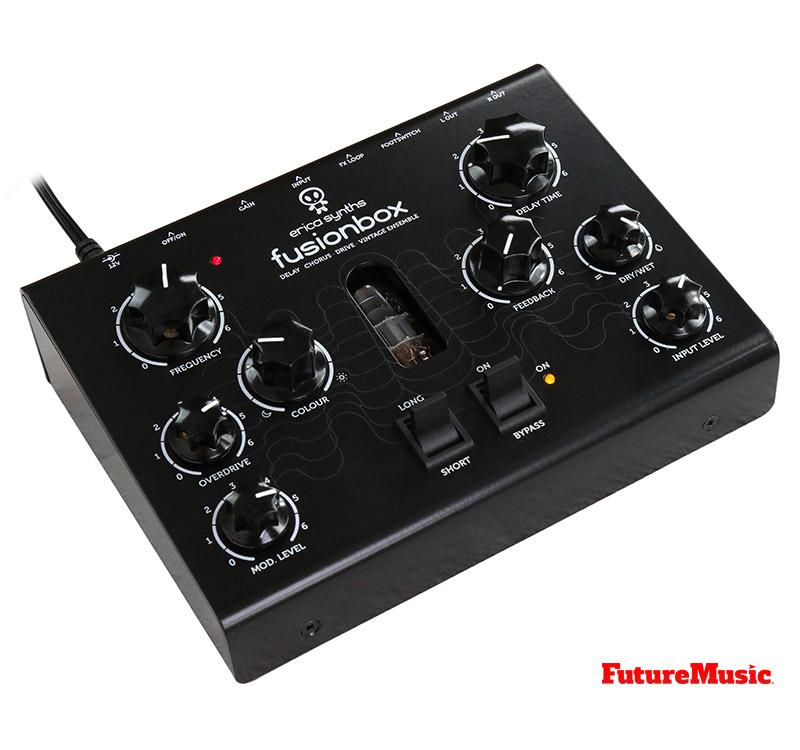 Due to the Fusionbox's architecture, the effect processor "needs to be coaxed," as well as "pleaded" and "prodded" in order to get the most out of the unit. In fact, most of our reviewers stated that the unit is so unpredictable that you "never know what you're going to get." As mentioned, the unit contains flanger, delay and chorus effects with a lowpass filter, which enables you to eliminate or completely blowout the bass frequencies. Although, Erica labels the unit as a delay, chorus and flanger with tube overdrive, it's not like they give you distinctive control to simply add each one in series or parallel. It's more like the Fusionbox is capable of those effects, but you need to tweak a variety of the eight knobs and two switches to get you in close proximity. One of our reviewers summed it up this way: "[The]Erica Synths Fusionbox is like finding a hidden path, just off the main trail in the middle of the deep forest. Should you decide to venture down that uneven road, you may be rewarded with wonders, or it could very well lead to your demise."

Like everything else Erica Synths is involved in, their new Fusionbox works on multiple levels and is not just suited for a single musical enterprise. This showcases the wealth of deep thinking that the Latvian concern devotes to each one of their offerings and sets them apart in the crowded musical gear landscape. It's hard to imagine that a small country from the eastern block, that models many of their products on an obscure Russian filter, can be killing it in a world of Korg's, Rolands's and Yamaha's, and what they've been able to achieve in their short tenure is remarkable.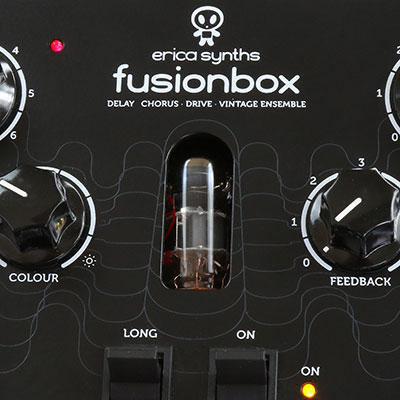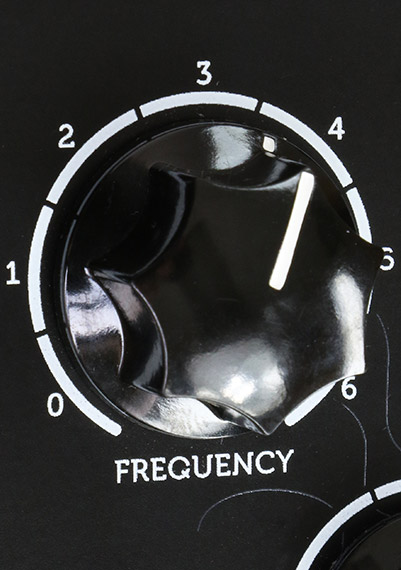 The Fusionbox is setup with four knobs on each side of a window showcasing the single vacuum tube. Top left working your way down, you'll find a large Frequency knob, which allows you to set the Delay's LFO Speed. Color is Erica's name for their Lowpass Filter on the Main Output, which can be set from no effect to "unlawful bass mayhem." Overdrive applies germanium diode overdrive to the tube, again going from no effect to "mad saturation." Mod Level sets the delay time modulation and the Long / Short switch applies to the milliseconds – up to 800ms in Long Mode and very small for Flanger like effects in Short Mode. On the upper right, you'll find a Delay Time knob with a Feedback knob underneath that goes from zero to self-oscillation. Below that is a Wet/Dry and Input Level knob (self-explanatory) and a On/Bypass switch. Guitarists should note that a designated Footswitch is not included, but the Fusionbox does have a Footswitch Input to add that feature with an outboard device.
So Who's The Target Market For The Erica Synth's Fusionbox?
While it's hard to explicitly answer that question, we can tell you that anyone into ambient, sound design and creating evolving textures will find a lot of interesting possibilities with the Fusionbox. A lot of what makes the Fusionbox sonically intriguing is the Vintage Stereo Ensemble. Simply stated, the Vintage Stereo Ensemble effect takes the processed sound and then feeds it back into dry mono audio with an inverted phase on one channel and direct phase on the other. What this does is create movement in the stereo field for evolving soundscapes. This can be delicate or very psychedelic based on how the processed audio is re-encoded. However, by utilizing phasing, unwanted consequences can materialize, such as cancellations and strange stereo placement. Again, patience and experimentation are mandatory to find the musical sweet spot.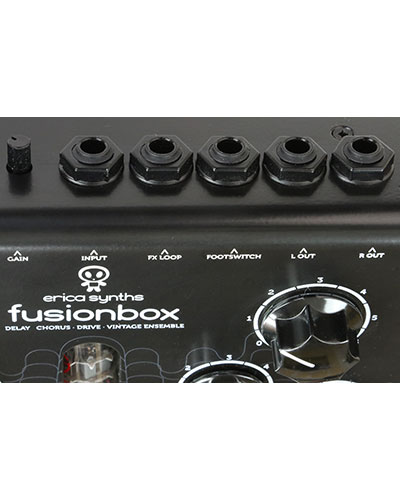 One application which will be attractive to many FutureMusic readers is employing the Fusionbox to process drum machines and loops. Whether your working with a full drum kit, or just spotlighting specific drums, the Fusionbox will "add a new dimension to any percussion you're working with in your track." Here, the Colour knob is your main weapon, allowing you to dial in "extra oomph" and "fat, tubby bass kicks." Overdrive also adds a lot of "character" to loops needing "more life and personality to sit in a mix." One reviewer enjoyed processing his loops with the Fusionbox and then comping the results with the dry loops to "add depth and movement" to his beats "without getting too muddy."


An overview of the Erica Synths Fusionbox

On the guitar side, our bassist complimented the Fusionbox on its ability to target certain frequencies with its Lowpass filter (Colour knob), while leaving others to "breathe on their own." Our guitarist was less impressed, 'it just takes too long to find something that sounds good, and when I finally do, there's no way to store that patch for future recall." Our sound designer also lamented about the ability to recall specific sounds and lamented about how "unpredictable" the Fusionbox was when mixing in surround sound due to its reliance on phasing.
This "funky little box" is clearly not for everyone. Some will find it too laborious and vexing, while others will relish the process in finding sonic bliss. But the first test will to be able to swallow the Fusionbox's price. If €440 doesn't scare you off, then the next step will be to try it out for yourself. Recommended.
Rating: 80%
Cheers:
+ Build Quality
+ Concept
+ Great Knobs
Jeers:
– Expensive
– Time Intensive
– Stereo Ensemble Phasing Can Lead To Problems When Mixing
– No Dedicated Footswitch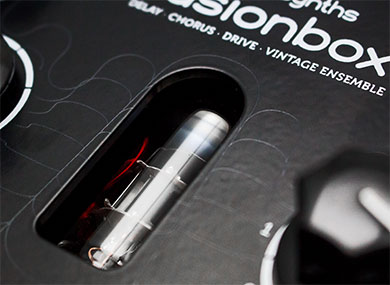 The Erica Synths Fusionbox costs €440 and is available now directly from the manufacturer.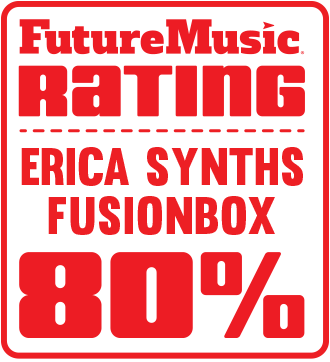 The Future:
While Presets are certainly not in the spirit of the unit, more than half of our reviewers wished there were some way of saving certain setups for future use, so we had to put it on our wish list.