Arturia has done it again. They have taken their MiniBrute platform to the next level with a whole new workflow and semi-modular design that looks fascinating. Arturia took the sound design potential of MiniBrute 2 and supercharged it with a triple-layered step sequencer. Combining Arturia's feature-rich sequencer mojo and marrying it with with their attitude-packed synthesis, and then expanding into the semi-modular matrixing, the MiniBrute 2 packs quite the punch.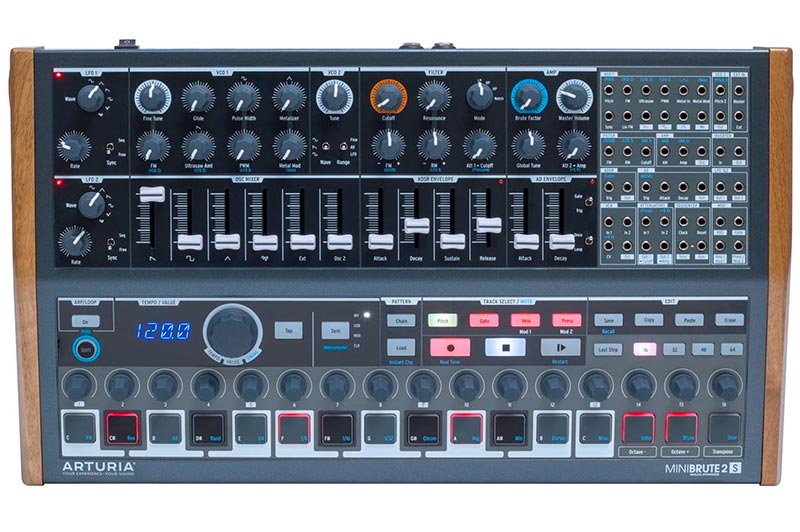 Arturia claims that despite its superpowers, the MiniBrute 2S's massive synth potential remains accessible and fun to use. With its analog, semi-modular architecture, you have hands-on control of every parameter, so you can tweak oscillators, ride your filters, sync your LFOs, and control your envelopes on the fly to create a vibrant sound that stands out in the crowded field of synthesizers.

Open up exciting new possibilities by patching in signals from your modular collection to alter MiniBrute 2S's sound, or patch signals out to your modular to sequence or shape them from MiniBrute 2S's myriad controls. Not only does MiniBrute 2S feature an awesomely powerful, triple-layered step sequencer and multi-mode arpeggiator, it's also decked out with high quality, pressure and velocity sensitive performance pads. MiniBrute 2S perfectly suits adventurous electronic musicians who feel comfortable dropping the traditional keyboard for a more contemporary interface.



A New Way To Play
MiniBrute 2S introduces a new way to play, and fresh sequencing possibilities that will push your creativity. By replacing the traditional keyboard interface of the MiniBrute 2S, Arturia's designers were able to incorporate a sequencer section into the synth. Featuring up to 64 steps, 3 layers of depth, and fast, simple, effective sequence generation, MiniBrute 2S gives you synth-sequencing control like no other. Record up to 64 steps of melody with the main sequencer, and add 2 extra layers of synth parameter control with multiple modes, all editable in real-time as you perform. Involve your whole Eurorack setup by connecting the modular ins and outs, and find new ways to experiment and discover. Save your favorite patterns, and chain them together to create whole tracks. MiniBrute 2S also features an arpeggiator with multiple modes for when you want to experiment creating fluid chord progressions, and tap tempo, a metronome, and rock-solid sync so you always stay in the groove.
Arturia's MiniBrute 2S costs $699 and is available now.

Arturia