Ableton has announced that it will be shipping version 10 of Live sometime in 2018. Live 10 plans a new Wavetable synth, three new effects, a completely re-designed sound library, workflow enhancements, full native integration of Max and more. While there are several new features, which we are dying to get our hands on, the list of enhancements appear more like a 9.X update, than a full version upgrade, and there is one glaring "non-announcement," but we'll get to that later.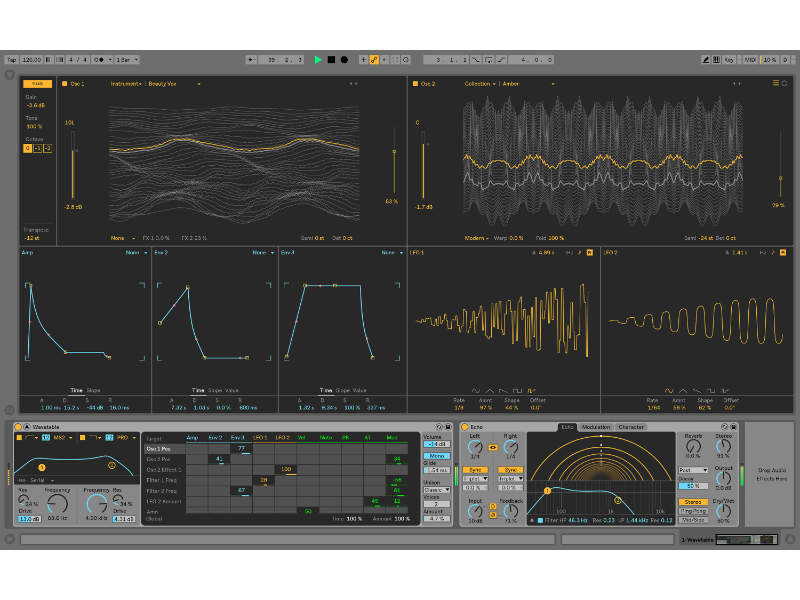 Wavetable is Ableton's new synth. Its sonic palette is created with a variety of waveforms derived from analog synths and a range of other instruments and sounds, as well as modeled analog filters, and flexible modulation. The instrument's aesthetic very cool with its vectored lines inside Ableton's refreshed graphical user interface. Several of the sound demos on Ableton's site are intriguing enough to make you wonder what's under the hood of this new soft synth and what exactly it can deliver in your workflow.
Ableton also added three new effects. The Echo delivers sounds from classic analog and digital textures to diffused soundscapes, wailing feedback and other experimental atmospheres. Drum Buss is an all-in-one drum sculpting tool for adding warmth, adjusting transient response, injecting low end and more. Pedal features three separate circuit-level models of overdrive, distortion and fuzz guitar pedals. Not just for guitars, it excels at warming up vocals, driving synth sounds or smashing drums.
Max for Live is now built into Live 10, providing faster, more stable performance and less CPU drain. New audio routing capabilities enable multi-channel audio routing for performances, installations and theaters using multi-channel speaker setups. Updated Devices include sonically upgraded Drum Synths, improved modulation and mapping Devices and more. Advanced MIDI–hardware integration is possible now Max for Live devices can send and receive SysEx, allowing deeper access to synthesizers—including full preset backup dumps, parameter control and more. Max for Live can also create custom control surfaces for custom hardware integration.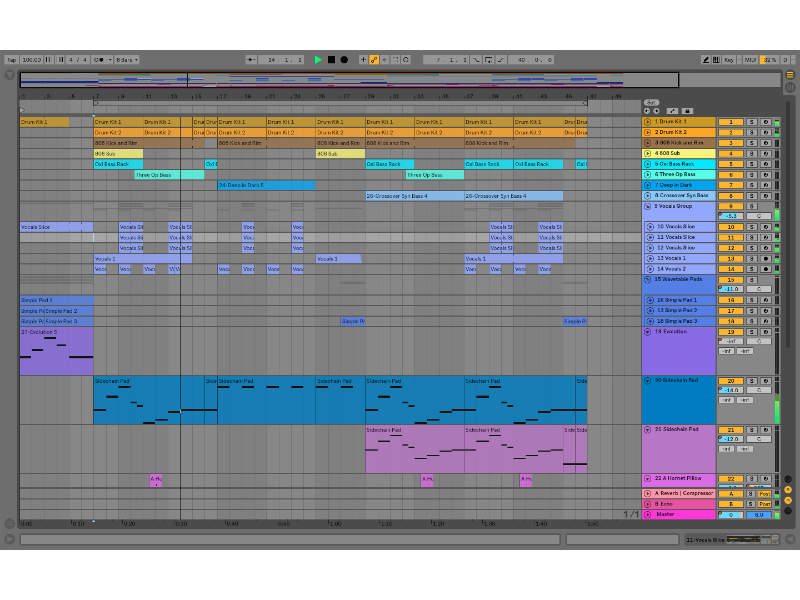 Live 10 offers several workflow refinements and entirely new features that make working with ideas easier at every stage of the creative process. Highlights include:
» Live's interface has been updated to be cleaner and clearer with sharper graphics and refined colors. And a range of optimized themes improves visibility in all environments. What's great is that Ableton didn't completely redesign their GUI, they simply enhanced it and gave it a new color scheme.
» Capture recalls an idea after it has been played and turns it into a MIDI clip with feel and groove intact—a fast, intuitive way to turn spontaneous inspiration into music. This is great for when you're exploring new musical realms and touch on something special. Just hit Capture and Live turns it into a full-bodied clip.
» Multiple MIDI clip editing shows the content of two or more clips in one view for better control of the musical relationships in a song.
» Arrangement View improvements such as nudging, time stretching, one-key zooming and drag-and-drop track duplication make editing faster and easier.
» Browser Collections provide at-a-glance access to favorite or most-used musical elements.
» Groups within groups improves Set organization even with lots of tracks and a detailed arrangement—multiple tracks and groups can be folded together for a simple overview.
» Note chasing triggers MIDI notes even if playback starts in the middle—the note doesn't need to be started from the beginning to hear pads or other sustained notes.
» I/O Renaming lets producers easily select the right routing by labeling Live's inputs and outputs to match the instruments and hardware in the studio.
» Mixing improvements including improved gain range and Bass Mono feature in Utility, extended low frequency slopes on EQ Eight and Split Stereo Pan provide more detailed control when mixing.
Lot's of terrific improvements for sure, but what's missing from the Live ecosystem is a mobile app for Abletoning on the go.
Lot's of terrific improvements for sure, but what's missing from the Live ecosystem is a mobile app for Abletoning on the go. Version 10, or AbleTEN if you want to be cheeky, should have included an Android and iOS app for creating musical ideas with the ability to directly export those creations into Live 10 with all settings, effects and automation intact. And import clips from Ableton so you can work on riffs you created in your studio, while riding the bus to your dreaded job processing returns at Best Buy.
Just to think how much a killer app would enhance the Live workflow is mind-boggling. Not to mention, if any GUI was "app ready" right out of the box, it's Ableton Live with its easy-to-read, simple vector landscape. Want to really tickle the cranium? Think what the brilliant engineers at Ableton could have conjured up if given the opportunity? I can think of several awesome features, and I have a hard time operating a can-opener.
One can only hope that everybody's favorite "fun guy" Gerhard Behles gives us a Steve Jobs "one more thing…" moment just before unleashing AbleTEN on the public…
Ableton Live 10 will be available in early 2018. Here's the pricing breakdown…
Download versions: Ableton Live 10 Intro – 79 EUR / 99 USD / 69 GBP; Ableton Live 10 Standard –
349 EUR / 449 USD / 319 GBP; Ableton Live 10 Suite 599 EUR / 749 USD / 539 GBP.
Boxed versions: Ableton Live 10 Intro – 99 EUR / 99 USD / 89 GBP; Ableton Live 10
Standard – 399 EUR / 499 USD / 359 GBP; Ableton Live 10 Suite 649 EUR / 799 USD / 579 GBP. Whew!

Ableton