Dear Reality has released dearVR pro and dearVR music, two new spatial audio technology and virtual acoustics plug-ins for Mac and PC. The new plug-ins, released under the Plugin Alliance umbrella, contain tools needed to create immersive 3D audio for Virtual Reality and Augmented Reality applications.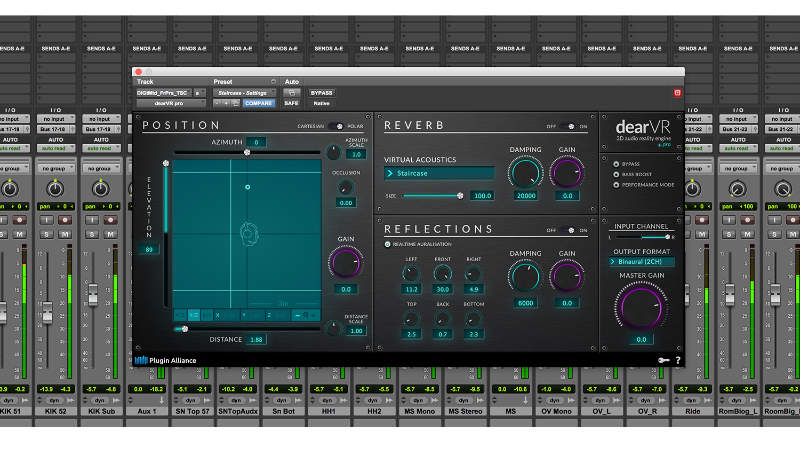 With dearVR pro and the less-advanced dearVR music, producers, mix engineers, and musicians can create immersive 3D audio for films, games, and video all within their digital audio workstation of choice. As a comprehensive 3D audio toolkit, dearVR pro is for users working in the VR and AR realms who require all the workflow advantages of a self-contained plug-in. Its GUI (Graphical User Interface) allows producers to position an audio track anywhere in a 3D soundstage — both behind or in front of the listener, above or below their head, to the left or right, closer or farther away… and all by simply dragging an icon representing the track in the plugin's XYZ pad, or by using separate sliders for adjusting the sound's ELEVATION, AZIMUTH, and DISTANCE from the listener.
Producers can choose from 46 Virtual Acoustics, featuring 3D imaging and depth, in which to place an object's sound and move it around in real time, with full automation support. Selections to choose from are abundant and include concert halls, car interiors, variously-sized rooms (Church, Cellar, Staircase, Bathroom, Booth, Warehouse, and Live Arena), and Outdoor Street, and Live Stage, to name but a few. Each environment is instantly and independently recallable per plugin instance, letting the producer place each object's sound in a different space.
In addition, dearVR pro outputs the 3D audio in seven different delivery formats (including 360-degree videos on YouTube and Facebook), meeting all professional requirements for any AR or VR productions. In addition to two-channel binaural format (for immersive playback using conventional headphones), producers can choose four-channel first order, nine-channel second order, or 16-channel third order Ambisonics output in either AmbiX or FuMa (Furse Malham) format. The plugin's 46 stellar VIRTUAL ACOUSTICS can also be used like conventional reverbs in 2D (two- dimensional) stereo mixes, making them indispensable for music production.
Purchasers can, conversely, choose dearVR music, a streamlined version of the plugin for entry-level 3D audio applications — perfect for those who don't need the full firepower on offer with dearVR pro. While dearVR music makes available the same XYZ pad, ELEVATION, AZIMUTH, and DISTANCE sliders as dearVR pro, other controls respectively adjust the SIZE, DAMPING, and balance of early REFLECTIONS and diffuse REVERB in its 18 VIRTUAL ACOUSTICS, including Concert Hall, Church, Live Stage, Drum Room, and more besides.



Dear Reality's dearVR pro and dearVR music are available for purchase — as AAX AudioSuite, AAX Native-, AU-, VST2- and VST3-supporting plugins for Mac OS X (10.8 through 10.12), Windows (7 through 10), and Pro Tools 10.3.10 (or higher) — exclusively from Plugin Alliance for $349 and $199 respectfully.

Dear Reality