IK Multimedia has announced T-RackS 5, their consumer-level mixing and mastering system for Mac and PC. T-RackS 5 builds on their basic mix and master modular system, offering 4 all-new processors for a total of 38 modules on an over-blown 16 processor series/parallel chain. A completely redesigned, resizable interface, as well as an album assembly section with multi-format export round out the enhancements.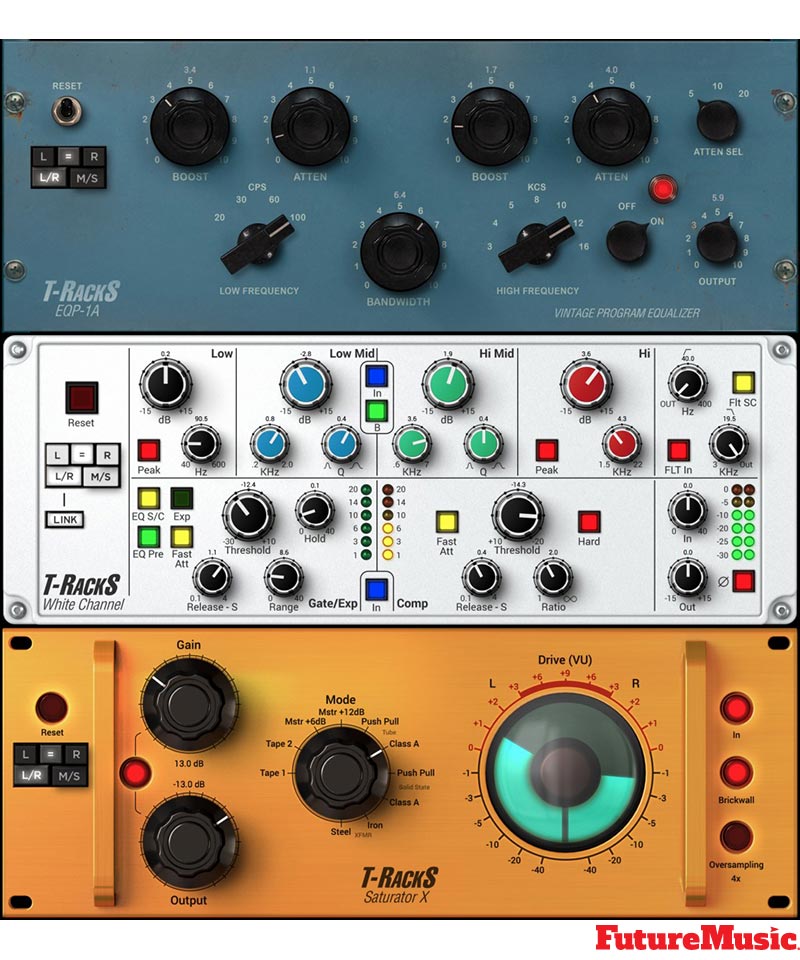 In T-RackS 5, there are now 38 modules to deliberate over when attempting to build the studio setup that may work for any entry-level DAW, including four new additions to the collection:
» The Master Match module is a new type of plug-in that automatically matches the sound of a mix with up to three other reference tracks using algorithms.
» New Dyna-Mu vari-mu compressor/limiter
» New EQual digital equalizer is a 10-band, parametric equalizer with a full-screen resizable interface and an array of filter shapes that replicate the typical curves of British and American analog EQ's.
» New ONE mastering processor has been designed for easy, streamlined and straightforward audio finalization. It includes an EQ, compressor, analog harmonic exciter, low-end enhancer and limiter.
T-RackS 5 offers the ability to optimize the mixing and mastering setup with three working environments:
» The standalone suite makes T-RackS 5 a complete, self-contained, one-stop mixing and mastering workstation that allows users to load a set of audio tracks and perform several operations.
» The plug-in suite provides nearly all the standalone mode features within the environment of a DAW as a channel strip or mastering chain.
» All T-RackS processors (including metering) can also be used as single plug-ins in any compatible DAW for multi-track mixing and stereo mastering duties.
The all-new graphic user interface is designed to control everything from a single window. Plus, it's fully resizable, meaning it can utilize up to the full size of a display. The new flexible chain view allows the modules to be dropped into the 16-processor series/parallel signal chain at will directly from the sidebar carousel showing all T-RackS available modules.
Now it's possible to assemble a full-length production directly within the T-RackS 5 interface for your SoundCloud offering and create an album sequence with suitable track metadata including pauses, fades, track ID's, ISRC codes, CD-Text and more, then export single high-quality master audio files or the whole project in various formats such as WAV, AIF and standard DDP image for replication or Wav Cue files.
IK Multimedia's T-RackS 5 is expected to ship in October 2017, and will be available in the following versions: T-RackS CS – Custom Shop version available free of charge; T-RackS 5 – includes 9 modules for $/€149.99; T-RackS 5 Deluxe – includes 22 modules for $/€ 299.99; T-RackS 5 MAX – includes 38 modules for $/€ 499.99; T-RackS 5 MAX crossgrade for $/€ 299.99 (with any registered IK product $/€ 99.99 and up).

IK Multimedia