Native Instruments has announced Maschine MkIII, touting a new design aesthetic and addressing some of the cumbersome workflow methods that hampered new users from quickly getting up to speed with the innovative hardware/software music workstation. While we haven't gotten our hands on a unit for a long-term test, the new incarnation solidifies NI's desire to make Maschine the hub of the majority of their product offerings, as well as take on one of their major competitors, Ableton.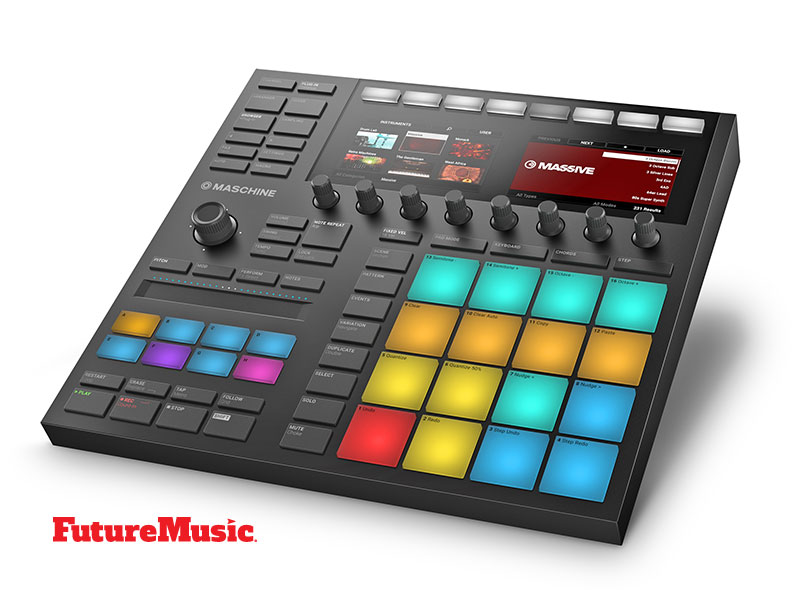 Native claims Maschine MkIII "delivers the best ever workflow for quickly sketching and capturing ideas." This comes on the heels of the positive feedback that Maschine Jam has garnered from hardcore users for its Ableton-like ability to experiment with different loops and samples in a performance-oriented environment. While Maschine was effective in many ways as an interface for the powerful software behind it, aside from playing the pads, it wasn't nearly as fun as some other peformance-based interfaces on the market. NI adroitly addressed that concern with Maschine Jam, and now looks to build on that fun-factor by streamlining the workflow and making it more inspiring to create beats.

To meet those goals, Maschine MkIII adds two high-resolution color screens and features more dedicated function buttons. NI also enhanced the playability with larger, more responsive pads. To build on the sound quality of NI's stellar Maschine Sample packs, the unit now features a built-in 96kHz / 24-bit audio interface.
Maschine MkIII Features:
» Integrated hardware/software system includes sampler, arranger, mixer, FX, and more
» 8 GB Maschine library with samples, one-shots, sliced loops, sampled instruments, presets, patterns, drum kits, and songs
» Includes 25 GB Komplete 11 Select library
» 25 pro-quality studio and creative FX including filter, EQ, delay, reverb, and compressor
» Two high-resolution RGB color displays for precision sample slicing, sound tweaking, note editing, mixing, browsing, etc.
» 16 large, sensitive pads make two-handed drumming easy
» Pro-grade, 96kHz / 24-bit audio interface with 2 x 1/4″ TRS line outputs, 2 x 1/4″ TRS line inputs, 1/4″ dynamic mic input, stereo headphone output, 1 x MIDI In, 1 x MIDI out, and 1 x Footswitch
» Touch sensitive knobs for parameter tweaking
» Smart Strip for strumming notes, pitch bending sounds, performing with FX, and more
» Four-directional push encoder for browsing, navigating, and adjusting levels and balance
» Powered via USB 2.0 or with the included power supply unit
» Seamless integration with Komplete
» Classic groovebox features including 16 velocity levels, swing, pad link, note repeat, step sequencer, and vintage MPC 60/SP-1200 sampling emulation
» Compatible with all major DAWs (including Ableton Live, Logic Pro, and FL Studio) as a VST or Audio Units plug-in, with full multi-core support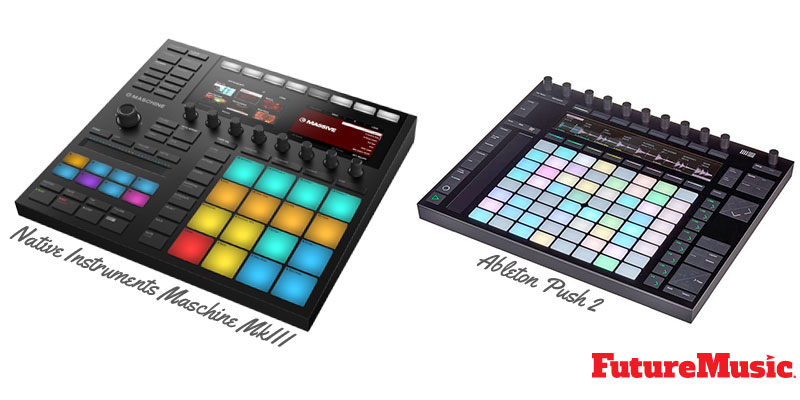 Another aspect of the Maschine MkIII that won't go unnoticed is the fact that it looks more like Ableton's Push controller. Although we can only judge this from their computer mock-ups, the function buttons, matte-black chassis and "look" of Maschine MkIII resembles Ableton's own hardware controller in several ways. While some may attribute that to a general design aesthetic trend, we know that NI doesn't play sissy when it comes to taking on competitors, over delivering on features and under cutting price points. With a more refined and modern design, a mature operating system that's continually getting useful and valuable updates, not to mention a substantial arsenal of quality sounds, Native Instruments has thrown down on Ableton…at less than half the price of Ableton Live 9 Suite/Ableton Push.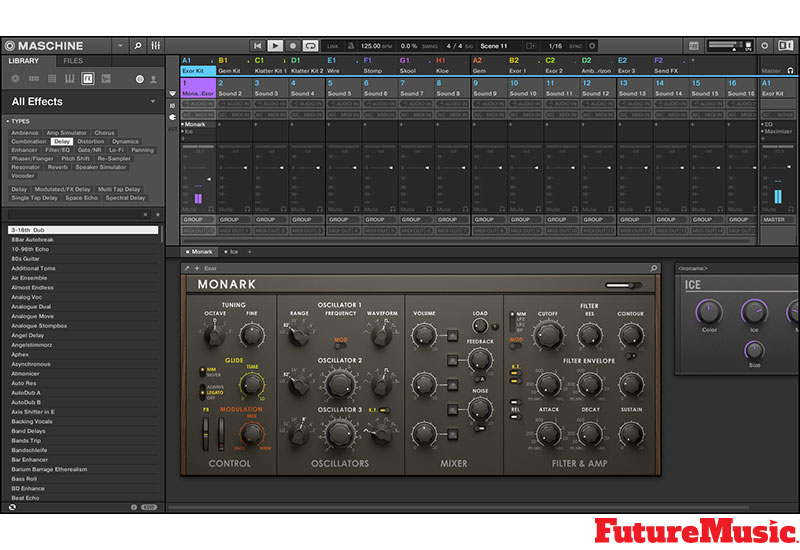 Native Instruments' Maschine MkIII software includes an 8 GB library of high-quality sounds, drum kits, multi-sampled instruments, patterns, projects, and sliced loops right out of the box, plus Drum Synths: five fully tweakable, automatable drum plug-ins built exclusively for Maschine MkIII. The package also includes Komplete 11 Select:
» Massive – virtual analog synthesizer
» Monark – mono synth
» The Gentleman – classic upright piano
» Drumlab – sampled / synthesized percussion
» Reaktor Prism – polyphonic synthesizer
» Scarbee Mk1 – electric piano
» Retro Machines – 20+ vintage synths
» Vintage Organs – sampled classic organs
» West Africa – percussion library
» Solid Bus Comp – compressor
» Replika – pro-quality delay
Native Instruments Maschine MkIII System Requirements:
» Mac OS X 10.11 or macOS 10.12 (latest update)
» Windows 7, 8, or 10 (latest Service Pack, 32/64-bit) • Intel Core i5 or equivalent CPU
» 2 GB RAM (4 GB recommended)
» USB 2.0 or higher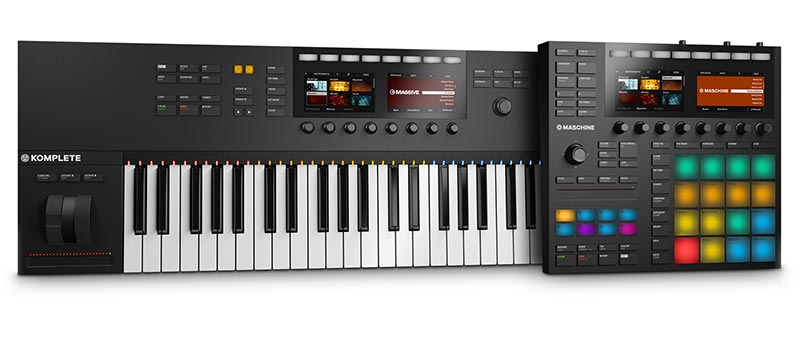 Native Instruments also announced the next generation of Komplete Kontrol. MkII extends the original keyboard's workflow with 17 additional function buttons and two high-resolution color screens for browsing, previewing sounds, and more. MkII also provides enhanced DAW and Maschine integration with the ability to mix, navigate, and edit projects directly from the hardware. The Fatar keybeds and forward-thinking Light Guide are joined by new pitch and mod wheels, plus a horizontal touch strip for additional expression. Two version of Komplete Kontrol MkII will be available in October, Komplete Kontrol S49, and Komplete Kontrol S61.

Native Instruments' Maschine MkIII costs €599 / $599 / ¥72800 / £479 and will be available in October.
Komplete Kontrol S49 €599 / $599 / ¥69800 / £479. Komplete Kontrol S61 €699 / $699 / ¥79800 / £559.

Native Instruments