The latest laptops pack so much processing power into their small chassis that many musicians, and other creatives, are turning to them as their main composition tool. The downside is that many manufacturers have decided to shed connectivity in order to save weight and reduce failure rates from ports that receive a lot of mechanical wear and tear. While PC users can still find laptops that sport various connectivity options, Mac users have seen their options continue to diminish. Enter Other World Computing with their versatile Thunderbolt 3 Dock.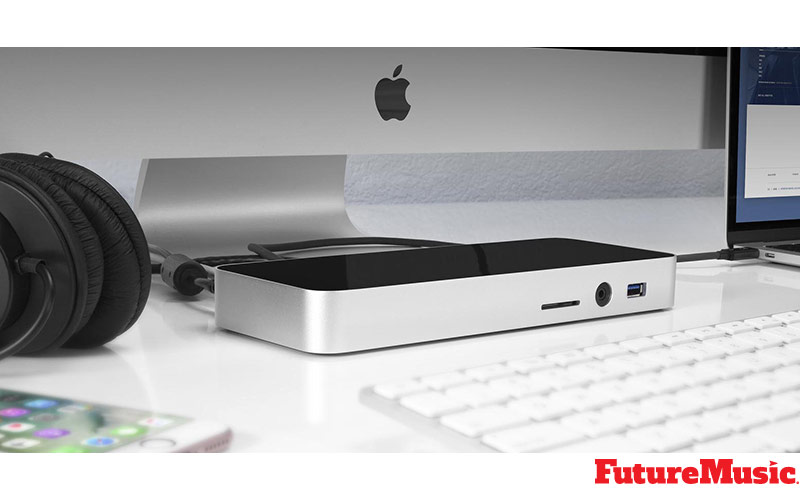 For our long-term review, we put the OWC Thunderbolt 3 Dock through the grinder with three different evaluators, their comments in quotes below. Other World Computing, or more recently MacSales, is no stranger to offering their own branded gear. They started by offering Apple computer owners distinct upgrade pathways, including memory, processors and internal hard drives and followed with their own OWC branded hard drive enclosures. Two of our three reviewers had positive experiences previously upgrading their own Apple products and "weren't surprised at the OWC Thunderbolt 3 Dock's level of quality."

OWC certainly benefits from carefully watching sales of components on their popular online store, and must have seen a sharp spike in demand for the Elgato Thunderbolt 3 dock. Even though they had their own Thunderbolt 2 dock, OWC determined they better kick their development of the Thunderbolt 3 dock into high-gear. However, instead of just replicating Elgato's offering, "they took the notion of upgrading their external dock and turned it up to 11." The OWC Thunderbolt 3 Dock offers a whopping 13 different expansion options, including two high-powered USB 3.1 ports, three USB 3.1 ports, an SD card reader, two Thunderbolt 3 ports, one Mini DisplayPort, one S/PDIF optical output, Gigabit Ethernet, an audio input/output minijack, and a raving favorite of all our reviewers, a FireWire800 connection. "My investment in FireWire hard drives is pretty substantial and I just want to kiss the designer of the [OWC Thunderbolt 3 Dock] for including it," gushed one reviewer.
Coming shortly on the heels of the Thunderbolt 2 spec, the third incarnation combines 40Gb/s of throughput with the ubiquity of the USB-C industry standard. "I'm certainly glad Apple decided to go with the USB-C standard instead of creating their own interface, which they'll just end up discarding in a handful of years, like their other connectivity 'innovations'" remarked one evaluator. And this ends up being the Achilles Heel of these types of devices. As soon as they are released, the countdown clock begins on their ultimate demise. While you can say that about much of today's technology, the OWC Thunderbolt 3 Dock is a sizable investment. A new MacBook Pro will run you from $1299 on the low end and substantially north of $3000 on the high end, meaning your new OWC Thunderbolt 3 Dock can add up to 23% of the cost of your computer. When you're buying a top-of-the-line 15″ MacBook, the extra 300 beans may not make much of a difference, but on the entry-level model, consumers will certainly think twice. Not that the OWC Thunderbolt 3 Dock isn't worth the price. OWC employs quality chipsets, including Intel's DSL6540 for the Thunderbolt 3 interface, Fresno Logic for USB and C Media for both the S/PDIF optical output and the Combo minijack. OWC also offers a two-year warranty on their Thunderbolt 3 Dock, which is far longer than other manufacturers and that they will actually back up, unlike other companies that push you off to the Asian continent for "support" options.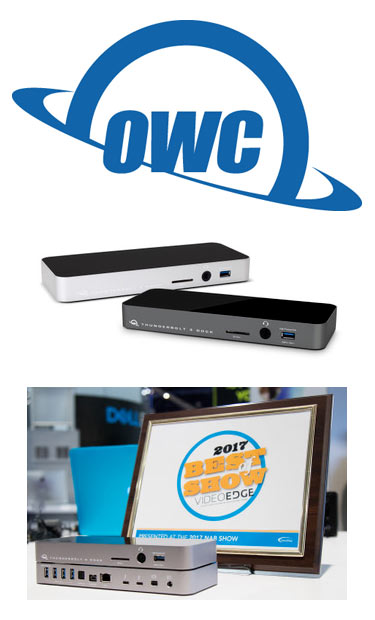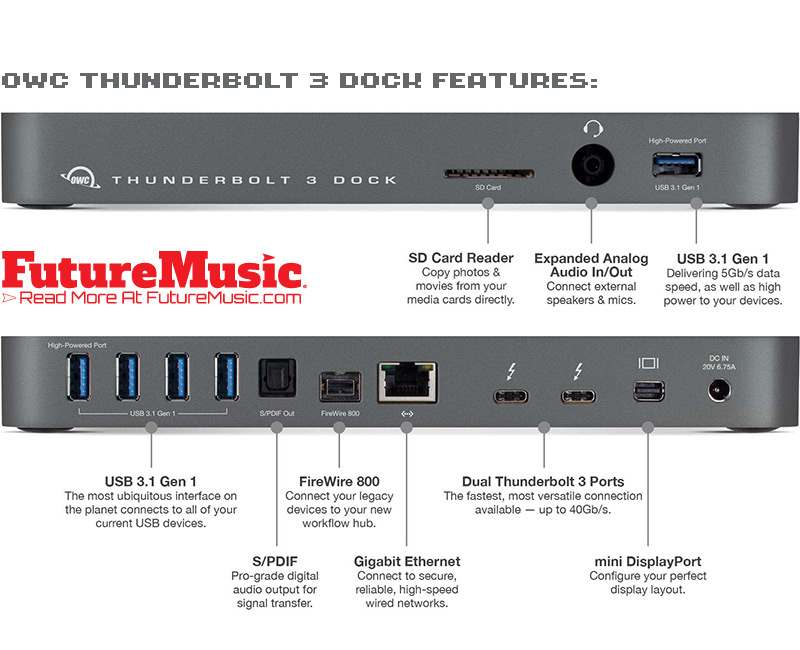 Each one of our testers had the OWC Thunderbolt 3 Dock for about a month. They tested the unit in a variety of applications and found the dock to work precisely as advertised with "excellent throughput," "good performance," and "no perceived latency" when burdening the unit with the latest audio programs. The aforementioned FireWire fan earmarked $300 of his own money to buy an OWC Thunderbolt 3 Dock when they debut later this month. OWC did incorporate some clever design attributes that other manufacturers will certainly take notice of. First off, is the savvy placement of the green (data activity) and blue (power on) status LEDs on the bottom of the unit. Instead of a "blaring lighthouse beacon," OWC's lights provide the unit with a nice glow "like a California lowrider cruisin' the strip."
The OWC Thunderbolt 3 Dock is "almost portable," disclosed one reviewer. While the whole notion of a dock is that it enhances the performance and/or features of a laptop when being used in 'desktop mode,' the added functionality does suit the musician, live performer, filmmaker or other creative when they are on location. The only caveat is that you'll be adding a couple of pounds to your laptop bag. "I love how OWC overbuilt the dock itself with an aluminum chassis and really solid connectors, but why the power supply had to be so enormous is somewhat baffling," disclosed one tester. Another did comment that the heft of the unit and power supply was "significant," but he felt it was "a distant consideration if the unit performs reliably."
As far as the audio is concerned, OWC includes a combo minijack, allowing of analog input and headphone output. It's an enhancement to the MacBook's sole, one-way headphone output jack, and you may use the input in a pinch when you don't have your audio interface connected, but none of our users touted its inclusion. They did like the addition of the S/PDIF optical output, something that was found on the old Mac towers, but would have liked OWC to have included "both input and output connections," as well as "coaxial digital connectivity, which is found on many DJ mixers and computer audio interfaces."
One of the main applications of a breakout box is to add additional monitors. Here OWC shines, providing the ability to connect the latest generation 5K displays, two 4K displays, or a combination of 4K, HD and other displays with the mini DisplayPort port and an additional Thunderbolt 3 port. "The combination of Thunderbolt 3's 40Gb/s throughput allowed me to drive two HD 4K monitors off of my laptop without any sort of lag, just insane," revealed one tester. However, when you do attach an additional monitor, if that monitor has additional USB ports, don't use them to attach other peripherals. The additional weight of the accessories will tax the OWC Thunderbolt 3 dock, and cause problems.
Conclusion
The OWC Thunderbolt 3 dock is a terrific addition to your workflow, if you're port handicapped and looking for a dock you can count on. The addition of the USAP-enhanced SD Card reader and FireWire connection will likely tip the scales for photographers or anyone else with an arsenal of legacy drives. One of our reviewers summed it up best, "considering the outrageous prices Apple charges for a simple computer cable, OWC's dock is an elegant and economical solution for your additional connectivity needs." Highly Recommended.
Rating: 91%
Cheers:
+ Build Quality
+ Performance
+ Connectivity Options
+ 2 Year Warranty
+ Speedy USAP SD Card Transfer Protocol
+ Smart LED Placement
Jeers:
– XL Power Supply
– Not Cheap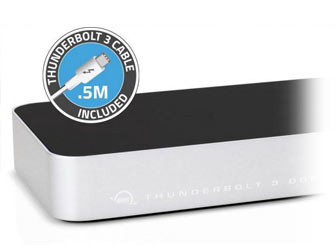 MacSales / OWC's Thunderbolt 3 Dock costs $299.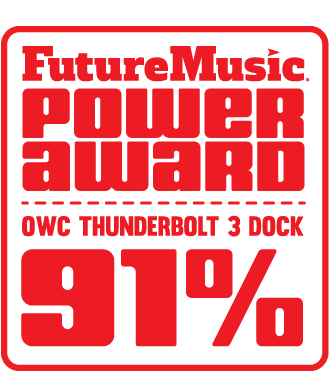 The Future:
In three weeks when Thunderbolt 4 is announced (Just joking. Don't panic… —Ed.), we'd like to see OWC incorporate more audio I/O into their next dock, including Coaxial I/O for DJ mixers.
Alternatives:
Elgato's Thunderbolt 3 Dock costs the same as the OWC, but has far fewer features, and only a one-year warranty.