Roli, the innovative music technology company from the UK, has launched two new Block modules for their tactile music production ecosystem, the Seaboard Block and the Touch Block.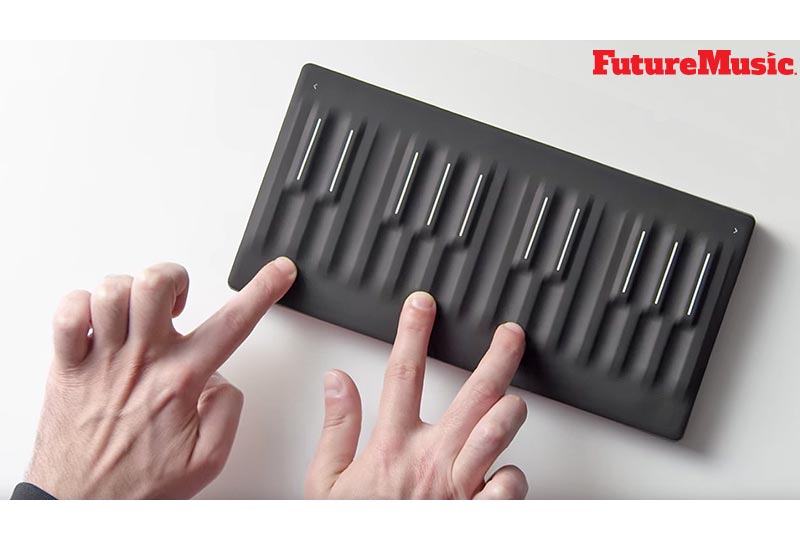 Seaboard Block is the newest model of the Seaboard, a touch-responsive, multidimensional and expressive keyboard interface that blew us away when we first received it in for a full FutureMusic workup (see Roli Seaboard review. —Ed.).
The Seaboard Block is the most affordable version of their other Seaboard controllers, the Rise and the Grand, as well as the newest Block in Roli's modular Block ecosystem. Individual Blocks, each providing a designated function, can be connected together to build an expandable, customizable instrument for people of all musical backgrounds. Connecting to other Blocks — including other Seaboard Blocks — this 24-keywave keyboard is now at the center of the world's first mobile music studio, thanks to a recent update to Roli's Noise app, which allows users to export their creations.

A wireless MIDI controller, Seaboard Block comes with a suite of music software and a diverse collection of interactive sounds. Equator Player is a new sound player for Blocks designed for anyone making music with a desktop computer. Noise, the free app that pairs wirelessly with Blocks, is a mobile sound engine for making music on the go. Noise makes Seaboard Block a portable musical sketchpad that can be taken anywhere.
Noise and Equator Player both include over 100 expressive sounds from synths to strings. Alongside the launch of Seaboard Block, Roli also releases six new soundpacks ranging from Vintage Electronic to Cinematica. Free with every Seaboard Block, the soundpacks put even more sounds at the fingertips of Seaboard Block creators. Blocks Dashboard extends the workflow possibilities further by allowing easy customization of music software programs like Logic Pro, Ableton Live, and Omnisphere.



Touch Block also launches today. The same size as Live Block and Loop Block, Touch Block provides controls for adjusting in real time the expressive behavior of the Seaboard Block and Lightpad Block interfaces. By clicking one of its controls, for example, music-makers can adjust how much their side-to-side finger movements bend pitch on the surface of Seaboard Block.
Seaboard Block is now available for pre-order through the ROLI store and retail partners for $299 / £279 / €329. The new Touch Block will set you back $79 / £69. Both are expected to ship sometime this month.