With the Remix Bluetooth speaker, V-Moda has expanded into a new product category, employing the same attention to detail, build quality and customization that have made their headphones immensely popular. We put the Remix through the FutureMusic grinder, utilizing three reviewers to provide an objective and well-rounded review of this exciting new speaker. Their impressions in quotes below.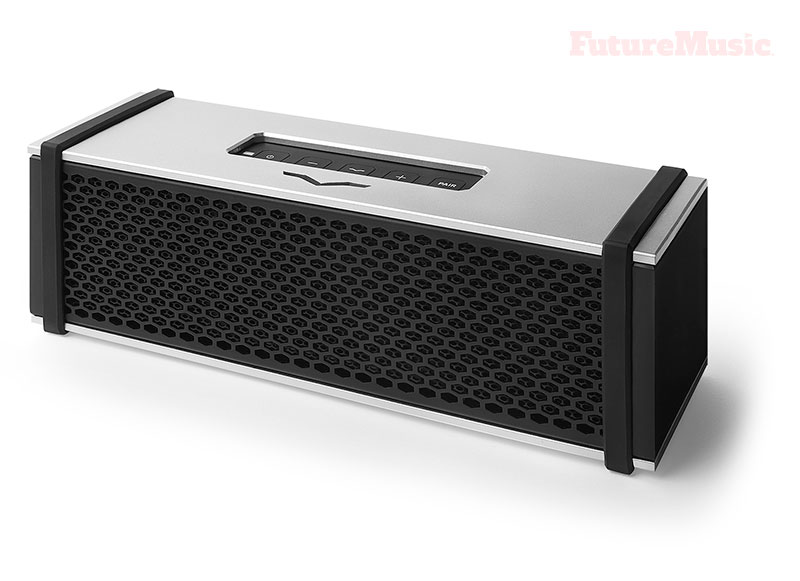 The result of three years of research and development, and reportedly over 50 prototypes, the V-Moda Remix comes in a small, rectangular form factor, measuring 8.1″ x 2.5″ x 2.5″ (205mm x 65mm x 68mm) and weighing just under two pounds. What stands out above everything else is just how graceful and refined the Remix is compared to your typical Bluetooth speakers available on store shelves. Gone are the candy colors, all-plastic construction, and shapes that look like they belong in a Dr. Seuss book. "Outside of the Bang & Olfsen Beolit offerings for substantially more money, the V-Moda Remix oozes luxury and elegance that demands to be placed on a Chief Executive Somebody's desk," stated one reviewer.
With all that R&D and prototyping, V-Moda has brought exciting new features to the Bluetooth speaker game, which demand attention. First and foremost, the V-Moda Remix can be completely customized via a process dubbed REMIXRings. This allows you to go from mild to wild with V-Moda's 3D manufacturing technology, the same action used to customize the side shields on their headphones.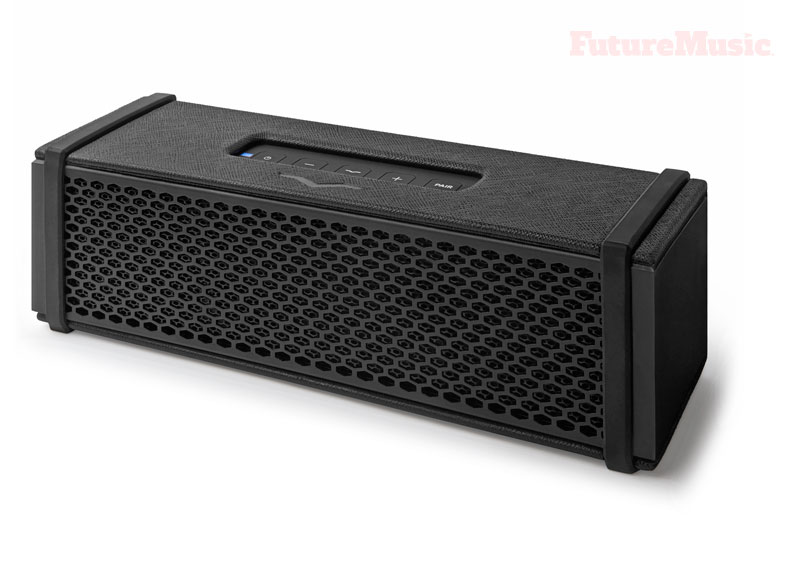 Utilizing a variety of materials, including precious metals, stainless steel, plated metals and fiber, the only limit is your imagination. And your pocketbook. The process adds up fast, and you should be aware that some of your more outlandish concepts can drastically change the sound quality of the Remix, but this is an incredible opportunity to bake your own style, or even your company's logo, right into the unit for the ultimate in personalization.
Val Kolton, CEO of V-Moda, is keenly aware of the impact the customization has made on the popularity of their headphones, but he sees it as much more…the future. In fact, Kolton feels so strongly about 3D printing as a technology, he predicts, "the new industrial revolution will consist of modules and 3D printed components." Meaning products will have a core module and everything else will be 3D printed for aesthetic customization, and in the not too far future for consumer electronics, a variety of functionality. "This concept is already underway with Boeing," reveals Kolton. "Their next generation satellites, consist of a base module and then all other components are 3D printed based on functional preferences."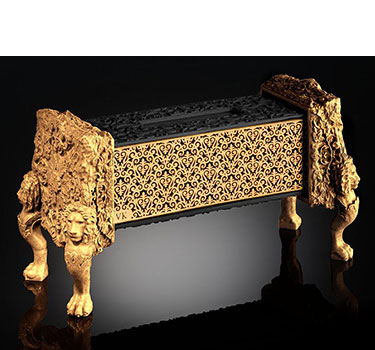 V-Moda Remix Features & Specifications:
» Glass Fiber Dual-Driver
» Passive Bass Reflector
» Immersive 3D Soundstage
» Built-in headphone amp – 83mW x 2 Pure Power
» Compatible with Amazon Alexa
» Easy Pairing
» Simultaneous connection two devices
» USB-C Charging
» Up to 10+ hours of battery life
» Top-panel buttons to control volume and playback of your music
» Built-In Mic for Calls and Voice Assistant
» Can be Daisy-Chained with other Remix speakers
The V-Moda Remix is the world's first 3D printed Bluetooth speaker with each of its six sides having the ability to be customized using a variety of materials. Most other consumer electronics companies have steered clear of 3D printing due the high-maintenance of the machines, labor costs, and the difficulty in obtaining consistent results, not to mention product loss. "Approximately, one out of every ten 3D-printed, customized headphone side covers that we produce for customers has to be discarded due to not meeting our quality control standards," Kolton discloses. While this may be unacceptable to typical electronics companies who only have short term horizons, Val Kolton chooses to forge ahead and push the envelope. "With today's 3D printing, there is lots of trial and error, but I know the investment is paying off in many ways."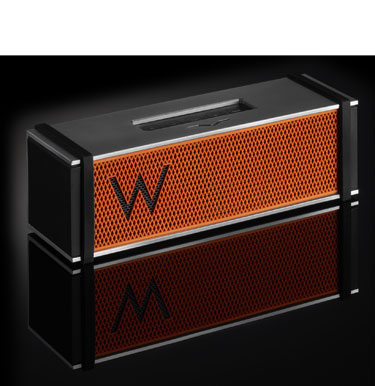 One of those ways is how the 3D printing allows consumers to personalize their electronics to differentiate themselves in a world filled with millions of the same devices. While more savvy Boomers may enjoy the ability to customize their personalized devices as "fun and cool," Millennials are much more committed to showcasing their own personal brands for demarcation in a world of me-too's. Nike's ID branch has been doing solid business with just basic customization in select sneaker lines for many years and Adidas has jumped into the game with short-run models designed by cultural icons. But Adidas has also latched onto something that Kolton forecasts as another element of the new industrial revolution, speed.
The time it takes from mere concept to sitting on store shelves is shrinking dramatically. With modern manufacturing processes and technology enabling companies to get their products to market faster than ever, velocity becomes a competitive advantage that allows street-smart concerns to address trends the instant they emerge, instead of months, even years later. While speed certainly does provide an edge in some arenas, sometimes patience pays off by allowing a manufacturer to expand on certain attributes or even include a feature that other companies overlook. V-Moda did just that by including their Vamp technology into the Remix.
The Remix is the first Bluetooth speaker with a built-in headphone amp, solidifying the unit as the ultimate desktop solution for discerning users. Based on their dedicated Vamp Headphone amplifier that retails for close to $600, the Remix's amp allows audiophiles with power-hungry headphones to "add the necessary juice to make them come alive." The question then becomes how many consumers in the market for a Bluetooth speaker will find the included Vamp technology to be enough of a compelling feature to substantiate the price point?
All of our reviewers own dedicated, external audio interfaces for their desktop computers, ranging from the Apogee Quartet to the Prism Sound Titan, but what about their on-the-go laptop rigs? "Although I would have loved if V-Moda included a full-on DAC in the Remix, the included headphone amp means that I can leave my Apogee One at home and just use the Remix to comp vocals or any other production work that does not require actual external recording," outlined one tester.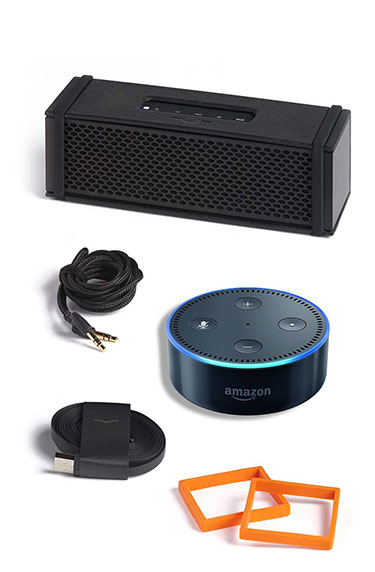 The sound signature of the Remix works with most genres, but electronic music, jazz and hip-hop stand out, according to our evaluators. V-Moda has a bass-forward approach to tuning their cans, but "unlike the over-baked Beats, V-Moda knows how to keep it musical." The passive bass reflector on the rear of the unit will have you wondering how such a small speaker can "kick out big, room-filling bass sound." In fact, the Remix loves to be placed in the middle of the room "where it can breathe" and "deliver the goods." The bass is helped along with V-Moda's smart decision to include what essentially amounts to two rubber bands that wrap around the unit. This not only gives it a non-slip foundation, but presents it from rattling around on a table from its substantial low-frequency output. Jazz quartets and quintets sound big and full with details and delicate textures unearthed at all frequencies. "[The] V-Moda kills it for minimal and well-produced hip-hop, allowing the vocals and bass to complement, instead of compete," remarked one reviewer. We tested it in the office with every type of electronic music our staffers could throw at it and came away impressed. "From The Chainsmokers to the Chemical Brothers, the Remix sounded amazing and LOUD!"
"One thing that users should know is that the Remix likes expensive gas, low-fidelity MP3's or other digital files will gunk up the engine." This is especially apparent on modern pop music where mid-range frequencies often compete for the same spectrum. "Poorly produced, bad transfers or low-quality files instantly turn to mud on the Remix," described another reviewer. Speaking of distortion, the Remix can deliver surprisingly loud sound from such a small package. However, like all speakers, music can become distorted if played too loud. There have been some reports from unsophisticated evaluators that the Remix can sound distorted at loud volumes. To this, we reply: No kidding. You're not going to use the Remix in Madison Square Garden or even as the sole sound source for your wedding reception. The Remix is designed to play at moderate sound levels and it delivers great fidelity at even surprisingly loud volumes.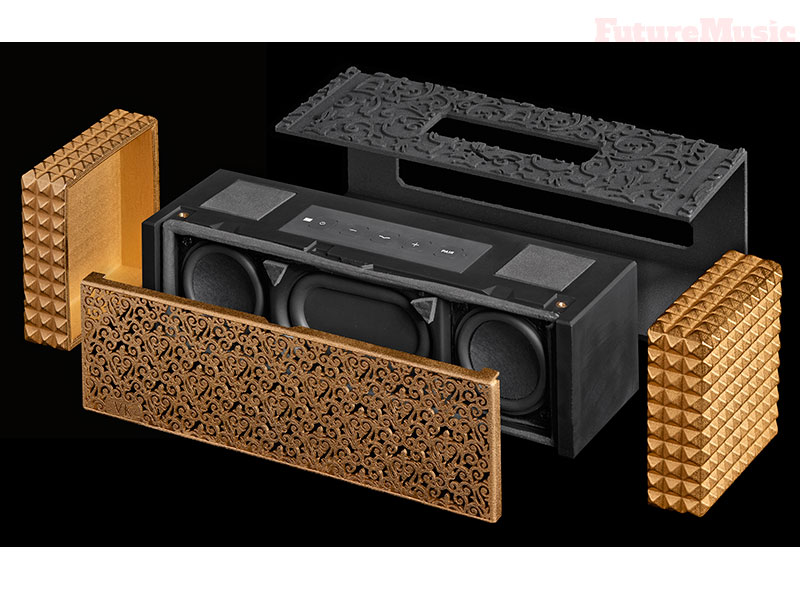 Conclusion
V-Moda's Remix is the quintessential Bluetooth speaker for the working executive who wants big sound in an elegant package. The included headphone amp provides the juice to power today's power-hungry high-end headphones, and the ability to customize each of the six sides in a variety of shapes and materials makes quite the personal statement. Highly Recommended.
Rating: 92%
Cheers:
+ Best Desktop Bluetooth Speaker
+ Sound Quality
+ Robust Construction
+ Integrated Headphone Amp
+ Compact Sound
+ Full Customization
+ Compact Size
+ Easy Pairing
+ USB-C
+ Terrific Bass Output
Jeers:
– No EQ
– Upper Mid-Range Can Get Muddy
V-Moda's Remix Bluetooth Speaker costs $300 / €300 and is available now.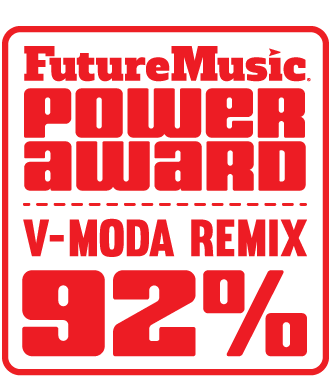 The Future:
For the next version of the Remix, we'd love to see V-Moda add the ability to change the sound signature of the unit with equalization. In addition, is the daisy-chain feature could be enhanced to support true stereo, the Remix would make an extremely elegant laptop audio solution.
Other Impressions:
Sound Guys: 8.6 Stars (out of 10)
Digital Trends: 8.0 Stars (out of 10)
Tom's Guide: 9.0 Stars (out of 10)
PC Mag: 3 Stars (out of 5)