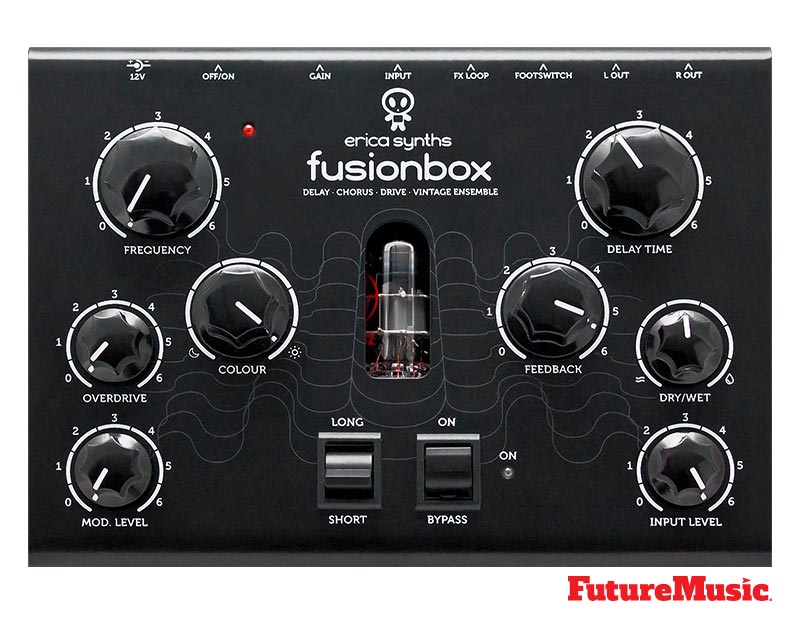 Erica Synths has released their Fusionbox effects processor that combines several different technologies into one desktop form factor. First announced at the beginning of the year as an "analog DSP" stompbox, the Fusionbox contains analog BBD chips to create the delay, chorus and flanger effects. To make things even more interesting, Erica included a tube overdrive in the delay and feedback paths for saturated distortion. The idea is to create an "extra thickness" for dense sound viscosity, and married to the delay, serious dementia.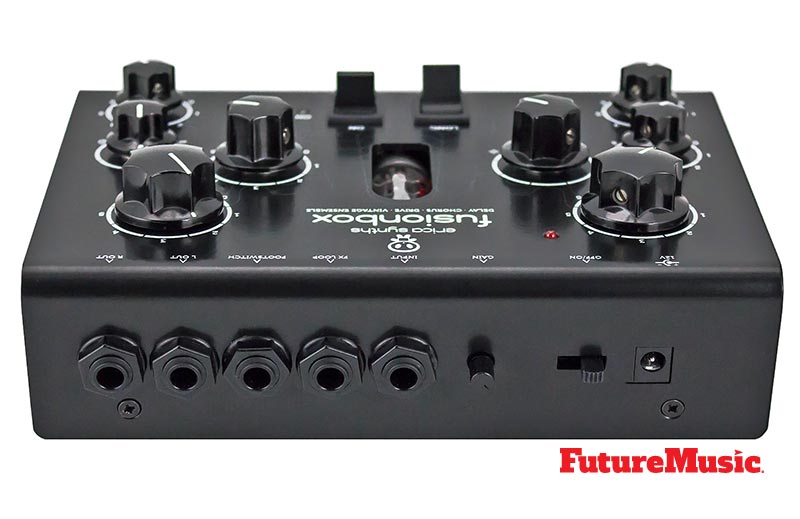 Erica Synths Fusionbox Features:
» Delay and Flanger effects
» Vintage Ensemble Stereo effect
» Tube overdrive in the delay output and feedback path
» FX send/receive connector
» Footswitch connector
» 2 BBD chips (1024 and 4096 stages)
» Passive Lowpass filter for extreme sub bass sound
» Dimensions: 185mm x 140mm x 55mm
There are up to 1.5 seconds of delay available to create truly mind-bending sonic mayhem and a true stereo output to make sure that lunacy is spread wide throughout the stereo spectrum. The real challenge for Erica was to combat the noise output that BBD chips generate. They addressed this issue with a new circuit, which cancels out the chip noise to ensure the sound quality meets today's high-fidelity standards. For guitarists, there is a Bypass switch located on the top. A nice addition that broadens the audience for this innovative processor.

Unique to this unit, is the Vintage Stereo Ensemble. This feature provides a stereo ensemble effect where the delayed, processed and filtered sound is added back to the dry (mono) audio with inverted phase for one channel, and direct phase in other. This gives it the distinct and moving character, different than obtained with chorus effects alone. However, use of inverted phase in the stereo field also adds certain idiosyncracies. For example, when such stereo audio is played back on an older surround sound decoding systems, the ensemble effect sound may bounce over to the rear sound channels.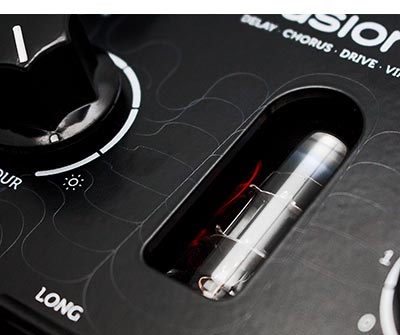 In addition, if the output gets mixed back to mono, the effect may disappear altogether. This also applies to mono subwoofers, or speakers that are placed too close. In case such oddities are undesirable, and to avoid mono mixing issues, users can choose to employ only one of the output channels, or use two separate ensemble processors for left and right channels.
Erica's Fusionbox has a lot to offer for many different types of musicians. For even more flexibility, lowpass filtering is fully adjustable from zero to hero for what Erica claims is a "deep sub bass sound," and the unit has an adjustable input gain, allowing it to work with various sound sources, including guitars, synthesizers, grooveboxes, and more. If the unit is half as good as their stellar Acidbox (see our Erica Synths Acidbox 2 review —Ed.), we could have something very special on our hands.
Erica Synths' Fusionbox is available now for €440 (excluding VAT).

Erica Synths