The Latvian mad scientists over at Erica Synths have debuted new Euroracks, the Black VCO and Black VCO Expander, and the 10HP version of the Black Polivoks VCF v2.0 and the Black VCA v2.0.
The Erica Black VCO is an analog VCO with four simultaneous waveform outputs and one octave down sub oscillator. The core of the VCO is the Russian Polivoks VCO. Unlike other logic dividers based sub oscillators, the Black VCO transistor-based sub oscillator generates more rounded square waves, similar to the Roland on TB-303. Married to the Black VCO Expander / waveform mixer you can reportedly achieve big analog sound with plenty of patch points for modular action.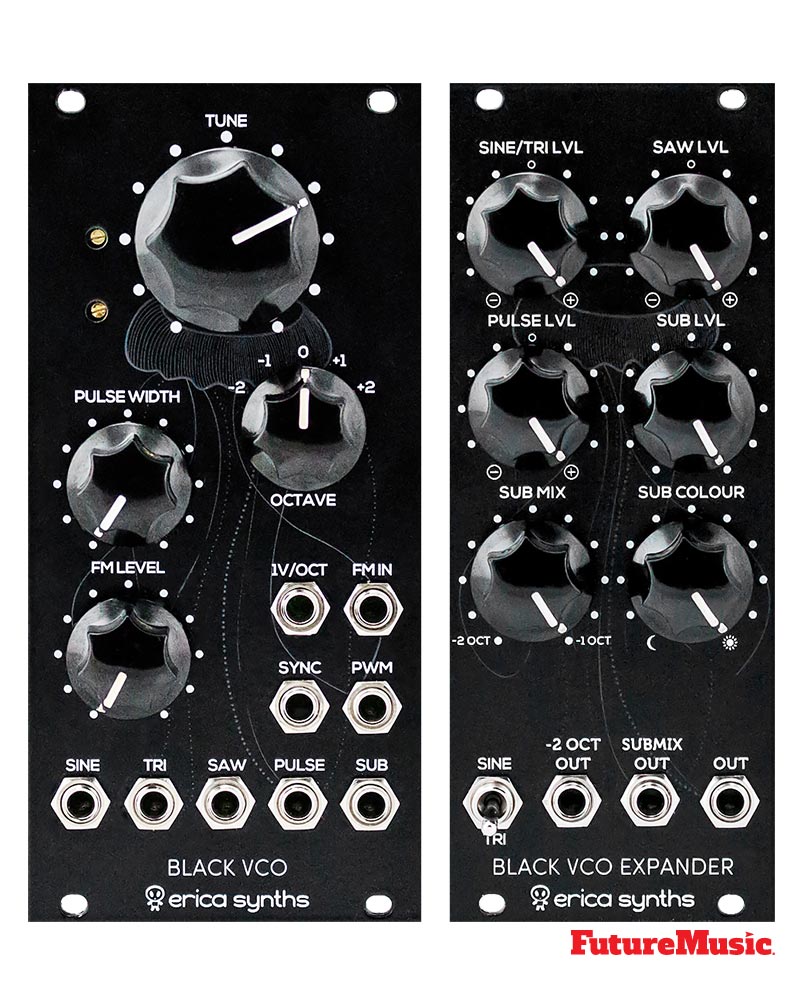 Erica Black VCO Features:
» Simultaneous sine, triangle, saw and pulse wave outputs and 1 octave sub oscillator
» Manually adjustable and CV controlled pulse width
» Tracking across 8 octaves
» Exponential FM input with attenuator
» Synchronization input
» Octave switch – 5 octaves

The Erica Synths Black VCO Expander is an advanced waveform mixer with an included two octave transposed down sub oscillator, and it allows you to explore deep wave design in brand new areas. Just watch those monitors! The Expander will not work as a standalone Eurorack module and must be used with the Black VCO.
Black VCO Expander Features:
» Waveform mixer/inverter
» Sine / Triangle waveforms
» Transistor-based -2 octave sub oscillator
» -1 and -2 octave sub oscillator crossfade
» Sub oscillator lowpass filter
» Diode limiter on output signal amplitude
» Three simultaneous outputs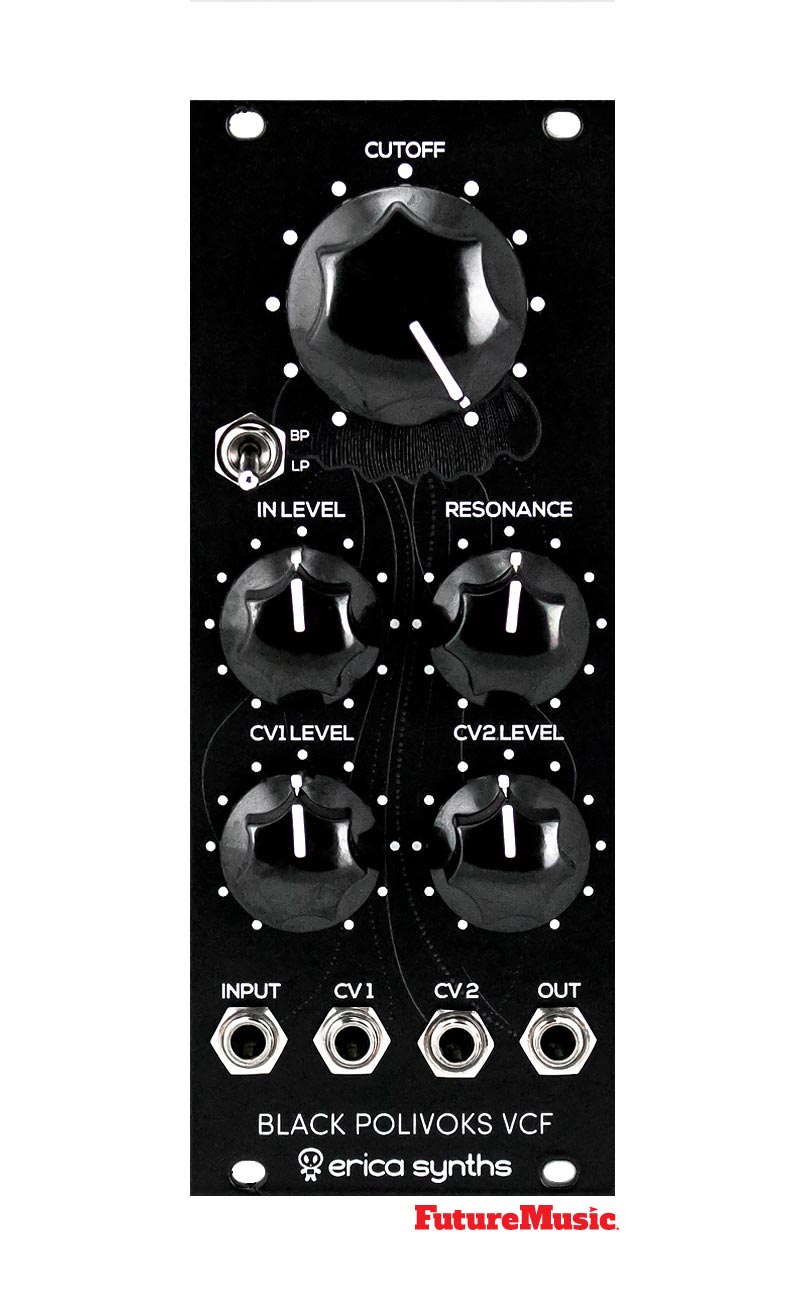 Erica Black Polivoks VCF is an awesome emulation of the Russian synth with some additional flavor and features that only Erica Synths can deliver. The Formanta Radio Factory Polivoks filter ICs K140UD12 are used in the sound circuit. Erica added several enhancements to adapt the VCF for contemporary modular synth demands, including independently buffered inputs, extended Cutoff knob, eliminated clicks, when switching filter modes, and output stage added to eliminate signal inversion. The result is a much punchier bass sound with very smooth controls.
Erica Synths Black Voltage Controlled Amplifier is unique design, hi-fi level VCA with improved attenuation and CV reject levels, as well as bias control for provocative tremolo effects. Smooth fades between linear and logarithmic response allows you create versatile percussion sounds. The LED bar graph provides visual feedback on the output level.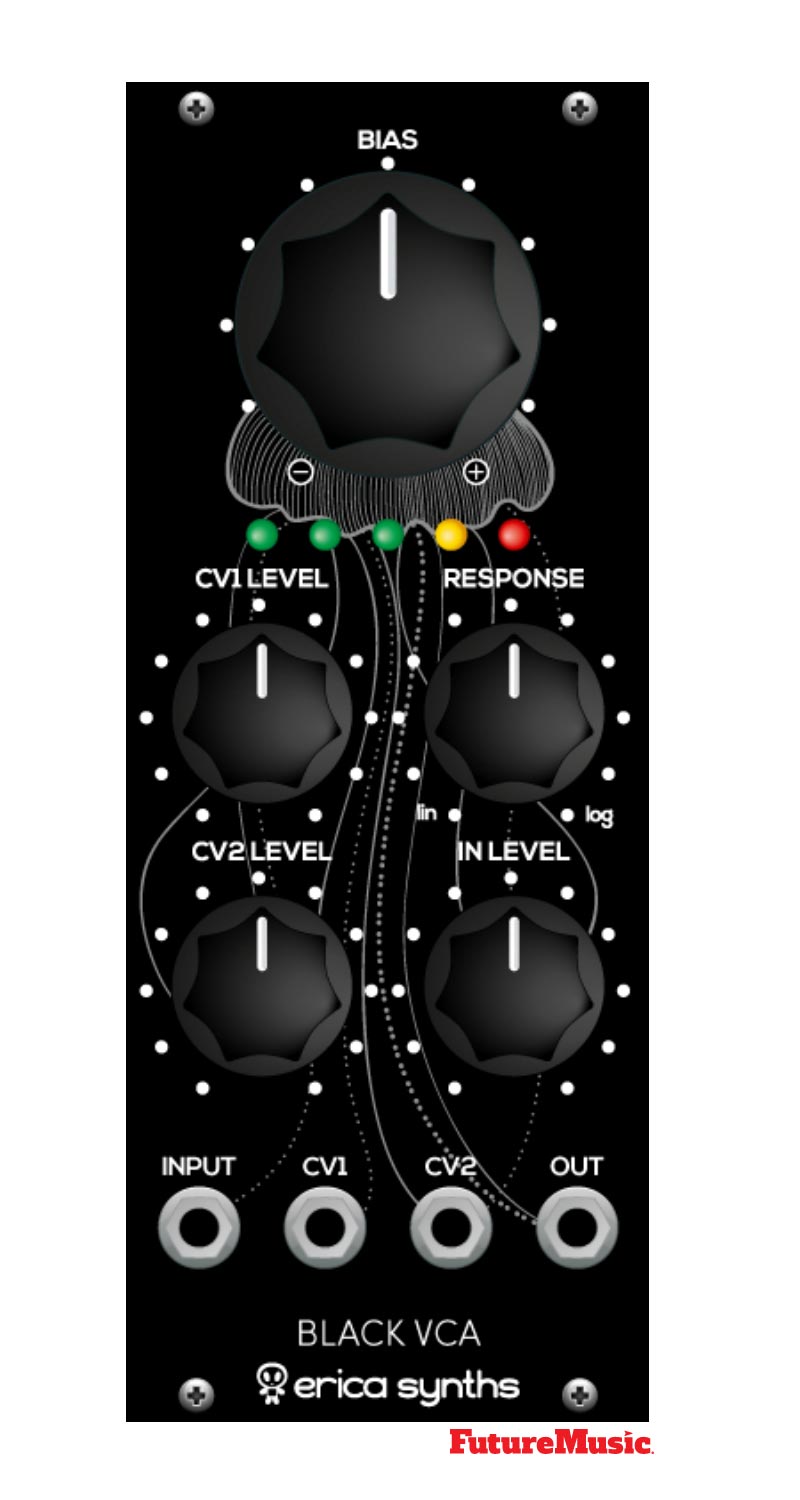 Black Voltage Controlled Amplifier Features:
» Manual bias control
» Manual fading between linear and logarithmic response
» Two CV inputs
» Output level indicator bar graph

Erica Synths' Black VCO costs €220; Black Expander – €110; Black Polivoks VCF €165; Black Voltage Controlled Amplifier €165. All excluding VAT.

Erica Synths