Impact Soundworks has upgraded their dynamic processing plug-in Peak Rider to version 2.0. As a sidechain dynamic processor, Peak Rider 2 can be used to match the dynamics of one signal to another, subtract or invert these peaks, closely follow the level of a generated tone, or equalize a signal while retaining the exact dynamic characteristics. Creatively, it can also be used for powerful transient designing, tight drum gating, dynamic retention across distortion or other effects, reshaping stereo imaging, and much more besides.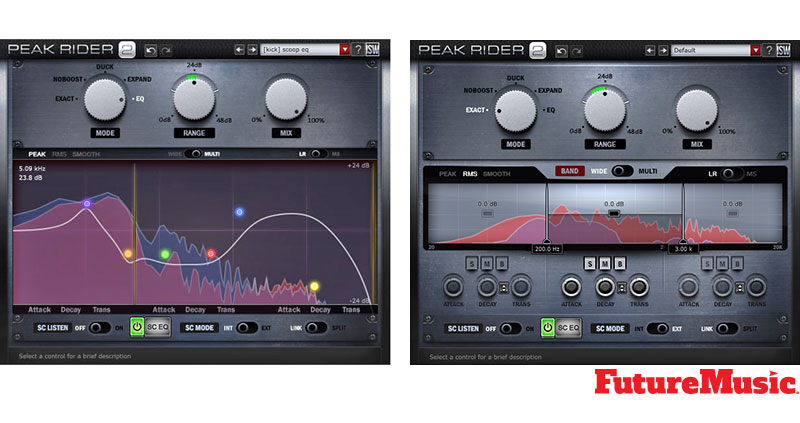 Better still, it includes a notable number of improvements including Pro Tools compatibility, and the all-new EQ mode, allowing up to 12 discrete parametric EQ bands. In this mode, custom equalization can be applied to any audio signal while simultaneously maintaining the dry signal volume.
Making the most of Peak Rider 2 and its now-five-mode operation assumes an appreciation of its concepts. The plug-in makes use of a sidechain input — a copy of the main input, an entirely different signal, or an internally-generated synth or noise tone. This sidechain is analyzed and a continuous envelope is created in real-time; the same is done with the main input signal. These two envelopes can then be matched, combined, and subtracted for a wide variety of useful mix and sound design applications. Each envelope can also be split into multiple bands and detected using algorithms for PEAK — real-time, fast peak meter-style envelopes; RMS (Root Mean Square) — real-time, smooth envelopes; or SMOOTH — smooth, look-ahead, windowed-average envelopes; stereo LR (left-right) or MS (mid/side); and tweaked on a per-band basis.
Envelope usage is selected via the MODE knob. Choose from EXACT (matches the main envelope to the sidechain envelope), NOBOOST (matches the main envelope to the sidechain envelope — attenuation only), DUCK (subtracts or adds the sidechain envelope to the main envelope), EXPAND (expands the dynamics or the main envelope with the sidechain envelope), and, now, EQ (matches an equalised version of the main envelope to an unprocessed main envelope).



Elsewhere, Peak Rider 2 improvements include smoother parameter automation; informative GUI (Graphical User Interface) metering; SC Input Processor (process the input sidechain signal with panning, volume, filtering, and EQ, and also replace the signal with signal generators directly before being processed by any other dynamic modes); SC Signal Generators (Off, Tone, Pink); overhauled RMS algorithm; new presets; Undo/Redo buttons (PEAK RIDER 2 remembers each control changed while open); Next/Previous preset buttons; and updated registration hardware encoding.

Impact Soundworks' Peak Rider 2 costs $99 and comes in the AU, AAX, RTAS, and VST flavors. Upgrades from version 1.0 are only $10.

Impact Soundworks