V-Moda has released Remix, the first portable Bluetooth speaker from the Italian company featuring stellar build quality, excellent sound, a high-quality built-in headphone preamp and 3D-printed customization options. Like everything else V-Moda releases, every facet of what a portable, Bluetooth speaker should deliver has been fanatically scrutinized and deliberated upon to ensure the final product goes far beyond your typical offering.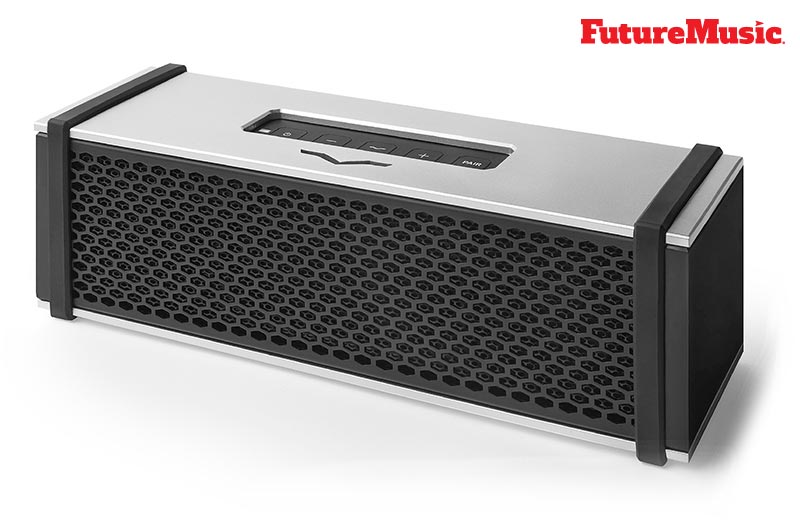 The Remix is the culmination of three years of research and development involving dozens of engineers and over 50 prototypes. Think of where the Bluetooth speaker market was three years ago compared to today. The word "Exploded" comes to mind, but even that may even be too tame of to describe how ubiquitous the Bluetooth speaker has become. Practically every single kid from the age of 12 and 21 received one for the holidays. And sophisticated offerings, like the B&O Beolit have emerged as well at the top-end of the market. But overbaked and saturated markets is where V-Moda excels, and the Remix's feature set showcases how that extensive development process paid off.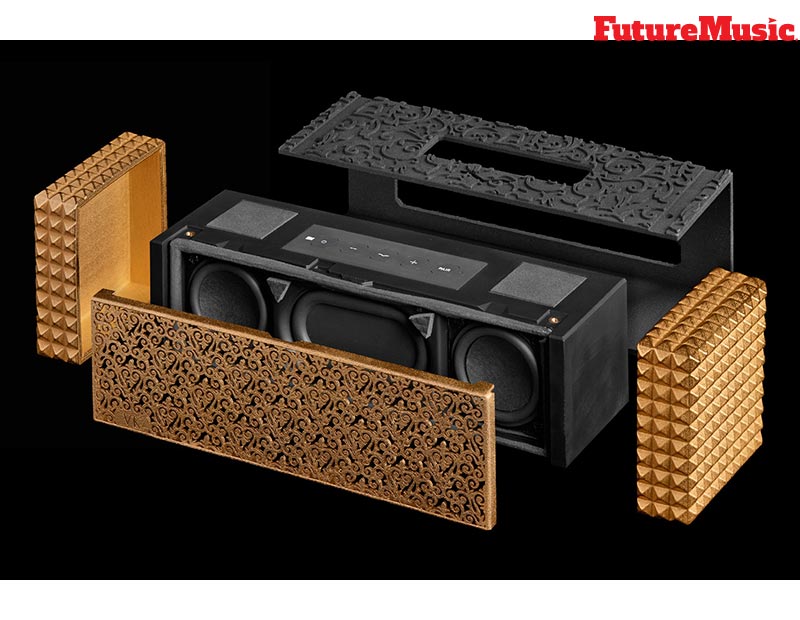 V-Moda Remix Product Specifications:
» Dimensions (L x W x H) – 205x65x68 (mm)
» Weight – 850g (Silver); 710g (Black)
» Frequency Response – 20-20,000 Hz
» Wireless Range – 10m (33ft)
» Battery Capacity – 3400mAh (up to 10+ hours music playback)
» Speaker Sensitivity – 79 dB ± 3dB at 1kHz
» Microphone Sensitivity (Omni-directional) – -42 ± 3dB at 1kHz
» Speaker Wattage – 10W x 2
» Driver Impedance – 4 OhmAst
» 3D-printed customization
» Built-In Amplifier Impedance – 12.8 Ohm
» USB-A to USB-C charging


The two features that stand out for FutureMusic readers are the built-in VAMP headphone amp and the ability to personalized the speaker with V-Moda's excellent 3D printing. The headphone amplifier contains V-Moda's proprietary technology and in wired analog mode it's comparable to expensive standalone headphone amplifiers. Fact is, V-Moda originally offered this same technology a few years ago for almost $600 as a separate product. This means if you own a pair of high-end, higher-impedance headphones, you can drive them with 83mW x 2 power for full-bodied sound.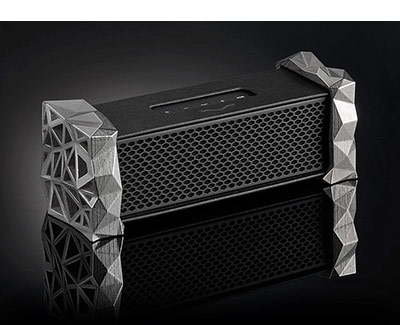 This simple feature turns your smartphone, tablet and computer into full-range, robust sound sources, instead of lame earbud connectors. Second, all six sides of the Remix can be personalized with V-Moda's patent-pending, 3D-printing tech. If you haven't checked this out on their headphones, you're missing out. The economical customization feature allows all V-Moda headphones to showcase your own brand, instead of looking like a head coach at an NFL game. Remix owners can add new sides, change the front grill or even replace the main housing, allowing users to make the Remix their own unique product. A range of materials is available, from lightweight matte fiber to precious metals including 14-karat rose gold and even platinum. These two attributes alone demonstrate that V-Moda has a deep comprehension of their market and sets them far apart from the deposable, candy-coated offerings that litter the shelves at BestBuy.
"V-MODA has made it possible to endorse yourself rather than the manufacturer brand," Val Kolton, V-MODA's Founder and CEO, emphasizes, "and this option is becoming massively popular with our tribe of technologists, musicians, gamers and audiophiles."
Measuring just over 20cm wide (just under the maximum width of V-Moda's 3D printers), the Remix has a small enough footprint to throw in a bag, but you'll want to keep this elegant unit in plain sight. The gorgeous brushed aluminum chassis, spotlighted by the 3D printed black matte fiber, makes the Remix equally at home in a modern kitchen or Elon Musk's desk. We only had a short time with the Remix, but one thing is for sure, this puppy is not underpowered. It's loud. Far louder than it's diminutive size would suggest. With a smiley-face EQ sound signature, the Remix can reproduce everything from Peter Gabriel's "In Your Eyes," to Thievery Corporation's "Lebanese Blonde" to the latest release by Jamie Odell. And it's that deep, minimal vibe where the Remix really shines. With more bass than you'd think is possible, thanks to its passive, rear-ported reflector and newly-designed glass-fiber diaphragm and long coil drivers, the Remix is well-suited for most styles of electronic music.



Pairing the Remix is a breeze and it can connect to two Bluetooth sources simultaneously. An unlimited number of Remix speakers can be daisy-chained via male minijack to male minijack cables for an even bigger sound. It also connects seamlessly with Amazon's Alexa via the Echo Dot — either wirelessly via Bluetooth or wired with the included cable. Remix is also compatible with Google Chromecast Audio to connect to the cloud or casting apps. The built-in microphone works well for online meetings or Skype calls, as well as communicating with other voice assistants like Apple's Siri and Google's Assistant.
V-Moda's Remix is available now in two finishes, CNC aluminum and vegan leather, for $300 / €300. V-Moda's 3D printing customization is also available exclusively at V-Moda.

V-Moda