We recently received the Jam Voice, a Bluetooth and Amazon Alexa-enabled portable speaker, in for review and put it through our rigorous multiuser testing. The Voice, wait, better say the Jam Voice, so no one thinks we're discussing the talent show, is basically a cross between an Amazon Dot and an Amazon Tap. This is important because the Jam Voice is one of the first third-party hardware products to market with Alexa implementation. For those of you who may not be familiar with Alexa, she's basically Amazon's answer to Apple's Siri personal assistant. But you should think of her of as Siri's college-age, older sister, who is often miffed that she has to help Siri with her fourth-grade homework. Yes, Alexa is that much smarter than Siri, so much so that you'll be amazed by the questions she can answer, the delivery speed of her replies and the accuracy. It's hard to imagine the utter embarrassment that Apple must be going through at this moment, knowing how unreasonably inane Siri is…but this is Jam's party, so let's get on with it.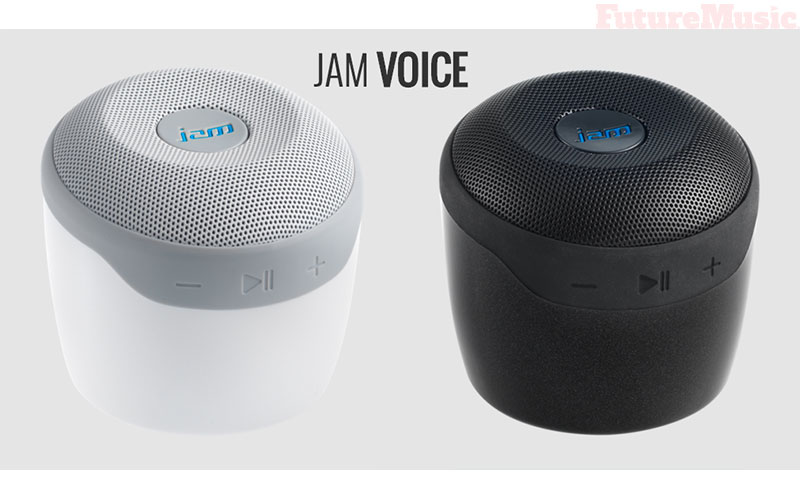 The Jam Voice employs Wi-Fi to channel Alexa and online music channels such as Spotify, as well as Bluetooth to play music from your smartphone or other Bluetooth-enabled transmitters. Setup is painless utilizing Jam's companion app (for iOS and Android devices), if you have a 2.4 GHz Wi-Fi network, since the Jam Voice will only work on this frequency. A couple of our testers had some issues connecting to their networks if they had a 2.4 GHz/5 GHz wireless router that didn't have connection auto-detect. These routers forced the Jam Voice on the 5 GHz where it wouldn't play nice. Definitely a consideration, but one that you'll have to discover through trial and error. "I couldn't for the life of me understand why the [Jam] Voice refused to connect to my router considering it was six inches away," described one evaluator. "When it occurred to me that my router was not accepting the 2.4 GHz handshake, I was elated to have discovered the issue, only to be bummed that it wouldn't work. While this is certainly not the Jam Voice's fault, the average consumer would certainly place the blame in the Jam's lap."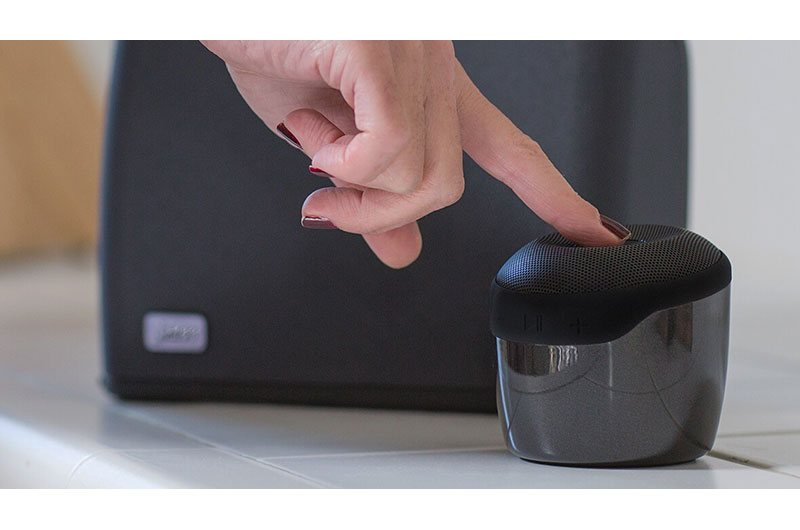 A Simple Tap Gets You In Touch With Amazon's Alexa Personal Assistant
Jam Voice Features:
» Amazon Alexa AI Access
» Ability Listen To Streaming Music Services
» Specifications & Options Accessed Through Free Jam App (iOS & Android)
» Connect with Bluetooth or Wi-Fi
» Product size: 3″ x 3″ x 3″
» Battery Life: 4+ hours
Having both the Amazon Echo and the Dot in our Studios, we are well versed in their operation and their limitations. For example, although the Dot has a built-in speaker, it's really meant to be used as a "last resort." The Dot is designed to connect to larger sound systems via Bluetooth or its minijack output. The Echo is a self-contained unit with a decent built-in speaker. With connectivity being equal, the big difference we've noticed between Amazon's branded Alexa products and third-party units, such as the Jam Voice, is the speed of access to Alexa and its comprehension of commands. Testing both units side-by-side, the obvious question which arose within our test group, was if Amazon is purposely handicapping the Jam Voice (and possibly any other third-party hardware), to make its own products' performance stand above. That's something that only Amazon can answer, and inquiries to their public relations department have thus far gone unanswered.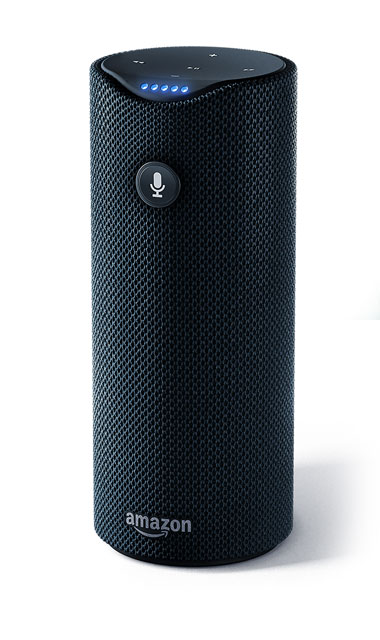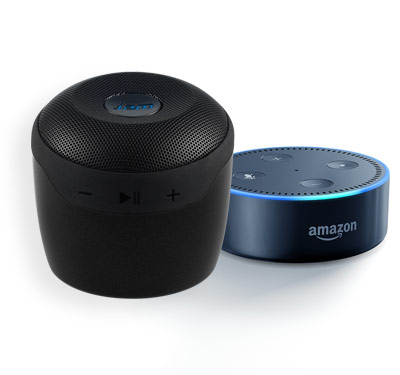 The Jam Voice is not an "always listening" device, similar to the Amazon Tap, a user needs to hit the center button on the top to activate Alexa. There's no need to use the "Alexa" wake-up word, simply click the button and state your business. All five of our testers discovered that the Jam Voice's success rate when it came to issuing a command stood around 80%. The Jam Voice would simply nod off and not answer or have difficultly understanding what was said. Considering how effective Amazon's Echo was receiving the same command, this is certainly a demerit in the Jam Voice's performance.
Powering up the Jam Voice was also somewhat annoying with the decision to place the on/off button on the bottom. It's simply indented in the charcoal-colored, rubber bottom with no color designation, making it a chore to find. "It's not only befuddling on why Jam decided to place the power button on the bottom of the unit, but also the fact that it's almost hidden from view," observed one evaluator. Jam placed the Bluetooth button on the bottom as well, which makes more sense since you'll use it much less frequently. The other controls for Play/Pause, and Volume Up and Volume Down are located on the side of the unit, which makes it more accessible, but without color-coding, so you still have to spend needless time locating the precise button. Not great. It should be noted that we evaluated the Black-colored Jam Voice. It also comes in white where the controls are a bit easier to detect.
Where the Jam Voice does win is on the sound front. This diminutive speaker "puts out a lot of juice" with "full sound" and "distinctive highs," remarked our evaluators. It lacks deep bass tones, which is not surprising considering the size of the unit, but you can make out the upper ranges of bass tones when we tested it with reggae tracks. Jam did attempt to augment the lower frequencies by implementing a bass port, but decided upon a thin slit, instead of a rounded port, limiting its effectiveness.
Unlike the Amazon Dot and Echo, the Jam Voice features a rechargeable battery for over four hours of continuous play according to our tests. At about mid-volume, the Jam Voice lasted about four hours and 17 minutes per charge (Jam states each charge will last four hours, which is accurate, according to our experiences). The big benefit of battery power is that you can take the Jam Voice with you from room to room as you move about your domicile or employ it simply as a Bluetooth speaker for excursions out of Wi-Fi range.
"I liked the fact that the Jam Voice is portable, but I would also have liked to be able to plug the unit into AC power, making Alexa always available," stated one tester. What this reviewer is referencing is the Jam Voice's Power Off feature. If you're not using the Jam Voice for 15 minutes, the unit will power off. You don't have the ability to defeat the Power Off features, thus if you try to access Alexa once it's switched off, you'll have to restart. Not a huge deal, but the Jam Voice takes between 30-50 seconds to turn on and successfully connect to Wi-Fi, which "is an eternity in this day and age," and you "will most likely just use your phone to find the answer you were looking for."
Conclusion
"When searching for an Alexa-Enabled device, potential customers will ultimately ask themselves: Is the Amazon Tap $79 dollars better than the Jam Voice?"

Bottom line, the Jam Voice is a good idea for a portable Bluetooth speaker with Alexa intelligence. It's a solid performer and meets the majority of demands for a product sliding in between an Amazon Dot and Amazon Tap. The differentiator here is going to be price. If you have a little north of $100, then an Amazon Tap is probably your best bet. However, if you only have only 50 bucks or so to spend on a nice Bluetooth speaker, and want to get in on some Alexa action, the Jam Voice is a compelling option. Recommended.
Rating: 82%
Cheers:
+ Value
+ Build Quality
+ Sound Quality
+ Portable
+ Access To Alexa
+ Bluetooth Speaker Too
Jeers:
– Only 2.4GHz Wi-Fi Bandwidth
– Need An App For Settings
– Bass Port Needs Work
– Alexa Can Act "Hungover"
– Buttons Are Hard To See

Jam's Voice costs $49 and is available now.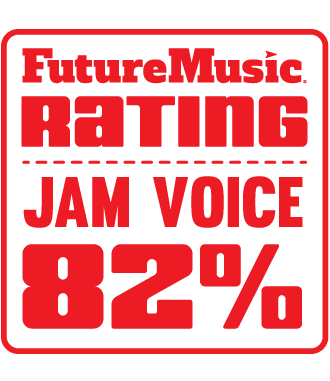 The Future:
First off, Jam needs to make the buttons easier to see and use. On the black-colored model, they are simply too hard to uncover. Adding textures, colors or some other indictors would be a welcome addition in a second generation model. The 5GHz router rejection issue should be handled more adroitly to avoid customer disappointment. An increase in battery life to 6 or more hours would enable the Jam Voice to make it out of the house more often on outdoor excursions. Finally, the bass port needs to be increased in size to be more effective.
Alternatives To Consider: Amazon Tap
Alternatives To Consider: Amazon Dot