Shear Electronics Relic-6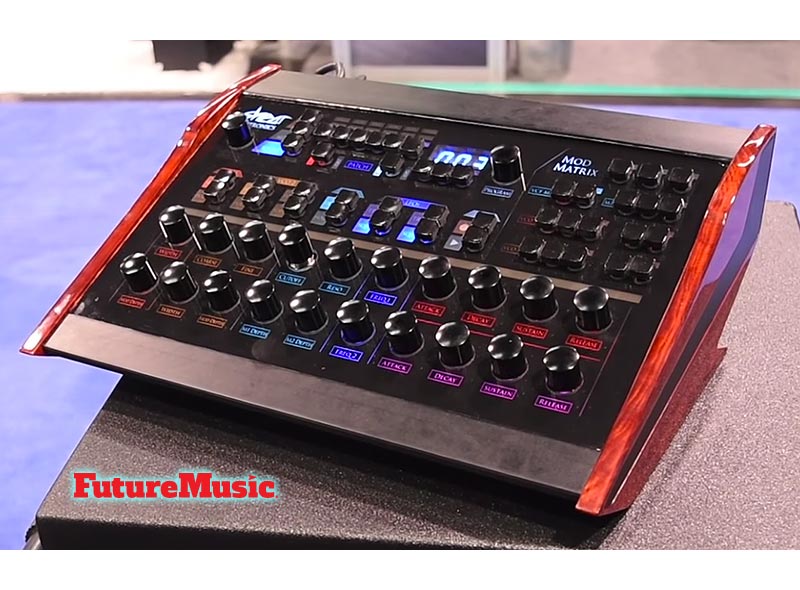 The Shear Electronics Relic-6 is a six-voice all-analog synth with two VCOs and an Oberheim-style 12db 2-pole lowpass filter. The kicker? It was designed by 18-year-old Jacob Brashears, who started the project three years ago when he was 15. Jacob's mom, Cheryl Brashears, Shear's CEO, was on hand to field questions and beam at the attention her son Jacob was receiving for the endeavor which consumed him during school breaks and the past three summer. There were two prototypes on hand to demonstrate the Relic-6's abilities. The Relic-6 is housed in an aluminum chassis with wood side-panels and all the knobs are touch-sensitive. A horizontal bar above the knobs provides a clever visual indicator. Shear is hoping to have some units for sale this summer – no pricing has been announced.

Shear Electronics

---
Pioneer DJ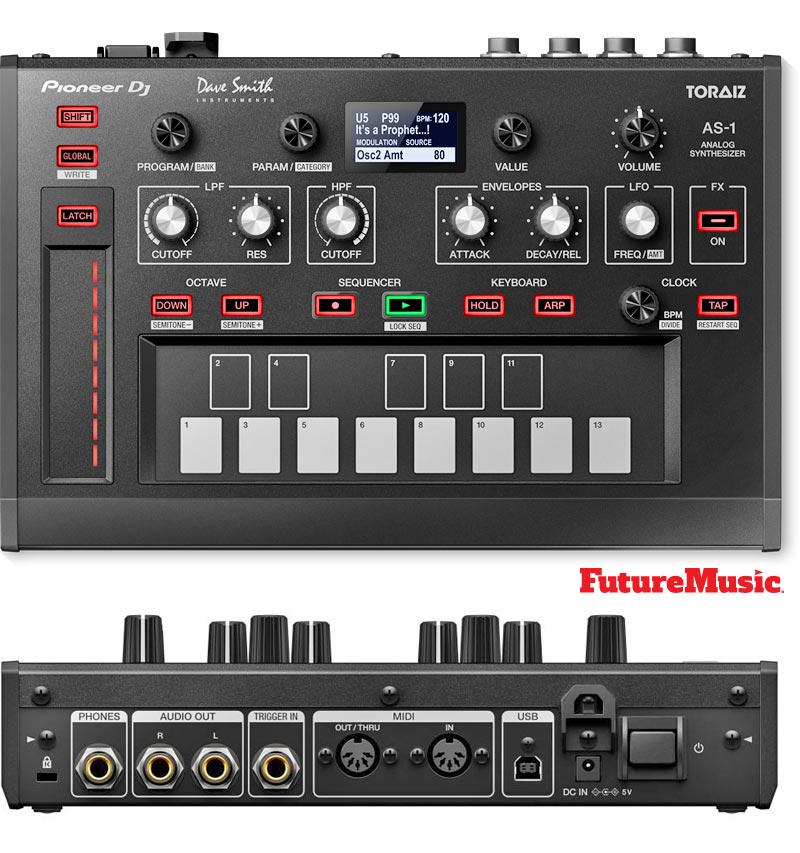 Pioneer teamed with Dave Smith Instruments again, who they collaborated before for the Toraiz SP-16 sampler, and debuted the the TORAIZ AS-1, a new monophonic synthesizer for music production and live performances. The TORAIZ AS-1 is powered by a fully programmable, analog synth engine based on the discrete analog circuitry in Dave Smith Instruments' Prophet-6 synthesizer. You can connect the TORAIZ AS-1 synth to the TORAIZ SP-16 live sampler via MIDI and employ the sampler's sequencer to create even more complex patterns with the powerful analog sounds you've created in the synthesizer. Together, the two TORAIZ instruments can be connected to your DJM mixer via Pro DJ Link and MIDI, creating a set-up where the CDJs play the track, the TORAIZ SP-16 adds loops and one-shots, and the TORAIZ AS-1 generates unique analog leads in sync with the BPM of the music.
Pioneer's Toraiz AS-1 will be available in March for €549.
Pioneer DJ
---
Bitwig Studio 2



Bitwig upgraded their Studio DAW to version 2.0. The refresh features fifteen new devices, including a Spectrum Analyzer, MIDI and CV devices and the Treemonster, an "organic zero-crossing amplitude controlled ring modulator with a life of its own." Bitwig Studio 2 also include 24 brand new modulators, providing meat'n'potatoes envelopes and LFOs, to adventurous modulator selections, such as Random, Select-4 and Math. Each device or plug-in within the DAW will have modulation slots where you can load an unlimited number of individual modulators and version 2.0 now supports VST3 plugs as well. Legacy devices have also been refurbished, with Polysynth's feature set improved with several oscillator mix and filter waveshaping modes. Polysynth also comes with a sweepable high-pass filter, improved unison features and stereo-width control over the oscillators.

Bitwig Studio 2 will be available at the end of February. Upgrade paths are available for $169 / €159.

Bitwig

---
New Denon Prime DJ Gear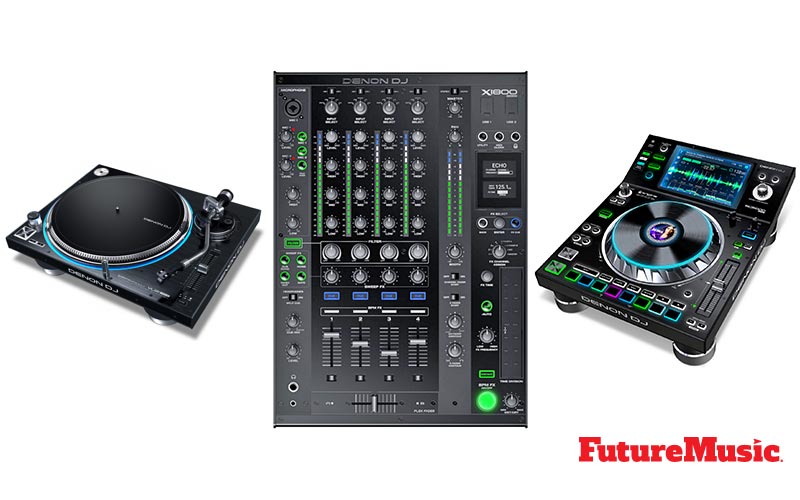 Denon DJ debuted three new noteworthy products, including the X1800 Prime, a new four-channel mixer; the SC5000 Prime Media Player; and the VL12 Prime Turntable. The X1800 mixer has Sweep FX and BPM FX units, a 24-bit/96kHz audio card, and the ability to connect to players via Engine Connect. The Filters in the X1800 are entirely separate from the Sweep FX. Now you don't have to make the choice between one or the other as on Pioneer DJM mixers.
X1800 Prime mixer Features:
» 4-Channel Digital Mixer with (4) phono/line switchable channels
» BPM FX section with frequency controlled 'Band-Isolation'
» Dual USB audio connections for software and audio devices.
» Dedicated Sweep and BPM FX Knobs — high-quality effects for each channel with a single knob turn
» Expressive EQ – choose Classic or Isolation modes and an Adjustable Filter Resonance Control
» Engine Connect' protocol for beatgrid locked FX
» Expressive Denon DJ 'Flex-Fader', Crossfader
» Connect MIDI based effects and instruments
» 24-bit/96kHz digital output for uncompromised audio quality
» Crisp OLED screen for precise menu based adjustments
» (4) Digital inputs for high-resolution audio mixing
» LAN Hub for up to four players or accessories
» Metal construction
SC5000 Prime Media Player Features
» 7-inch HD display with multi-touch gestures
» 24-bit/96kHz digital audio outputs
» Dual-layer playback with individual audio outputs
» Plays uncompressed audio formats (FLAC, ALAC, WAV)
» 8 multifunction trigger pads for Cues, Loops, Slices and Rolls
» 8-inch rugged metal jog wheel with HD central display
» Customizable RGB color around the jog wheel
» (3) USB and (1) SD input for music playback
» LAN output to link to up to four players
VL12 Prime Direct Drive Turntable Features:
» Isolation feet eliminate unwanted vibration and feedback
» 5kgf/cm torque on High setting
» Easy grip/brake chamfered platter redefines tactile DJ touch
» Isolated motor design, for optimal signal-to-noise ratio
» S-shaped tone arm for accurate tracking
» Reinterpreted tone arm support with dual-function 'lock or rest' feature
» Rugged all-metal tone arm base and high-quality brushed metal controls
» 2-speed operation 33 1/3rd and 45 RPM (45 RPM adapter included)
» Adjustable pitch range: ±8%, 16%, 50%
» Built-in RGB lighting illuminates platter's edge
» Color selection and brightness controls

Denon's X1800 Prime mixer will cost $1899, the VL12 Prime Direct Drive Turntable will retail for $899, and the SC5000 Prime will set you back $1899. All are slated to be released by March.

Denon DJ

---
Erica Synths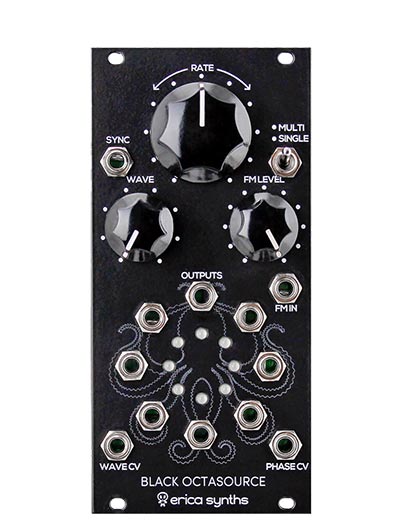 Erica Synths debuted their Black OctaSource, which features some nutty LFO action. Eight waveforms are available on eight different outputs phase shifted by 45 degrees, or just because they're Erica, all 8 waveforms are available simultaneously on all outputs. Furthermore, waveform selection, phase shift and LFO rate are CV controlled, and the rate can be synced to an external clock signal.
Erica Synths Black OctaSource Features:
» LFO with manually and CV controlled rate
» Manual selection of phase shift direction
» 8 simultaneous outputs
» Synchronization to an external clock
» LFO freeze function
» 8 waves with morphing between them
» Phase shift, wave select and FM CV
» Bipolar output signal level LEDs

Erica Synth's Black OctaSource costs €280 and will be available in February.

Erica Synths

---
Percussa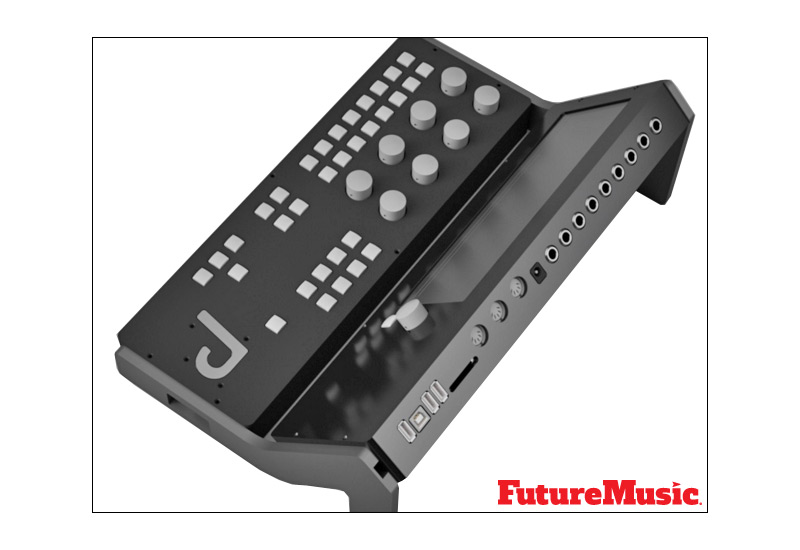 Percussa premiered the Synthor System 8, a new hardware digital modular synthesis system. The Synthor System 8, allows musicians to create sounds by patching synthesis modules, changing synthesis parameters and modulation signals wirelessly. Synthor System 8 consists of a new digital hardware synthesis module, the Percussa ENGINE, a new control surface and wireless base station, the Percussa REMOTE, and eight wireless modular controllers. Aluminum rack ears are included to mount ENGINE above the remote control surface for optimal usability.

Percussa

---
Elektron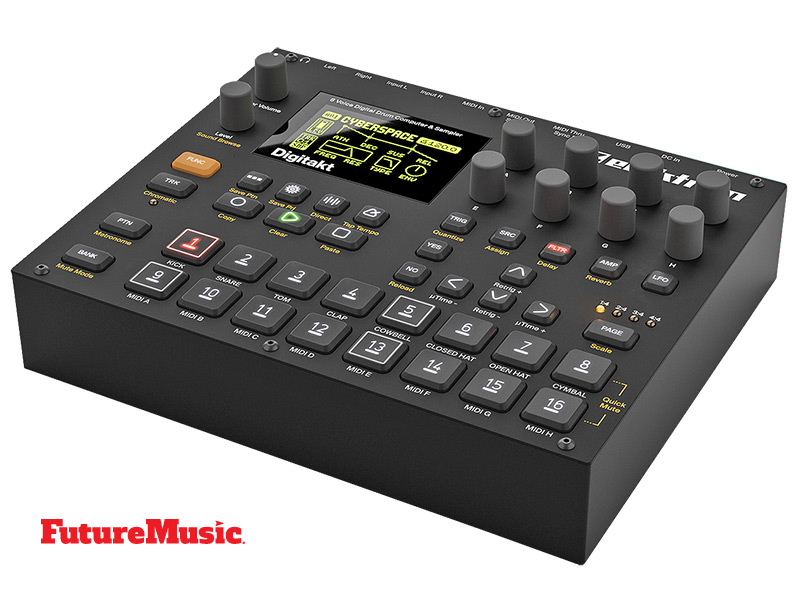 Elektron announced Digitakt, a new compact drum machine, containing all the necessary tools to make people move to the beat. A digital and highly flexible sound engine, sampling capability, a live-friendly sequencer, the means to control external MIDI gear. Round it off with a crispy OLED screen and tactile back-lit buttons.
Elektron Digitakt Features:
» 8 internal audio tracks
» 8 dedicated MIDI tracks
» 1 × Multi-mode filter per audio track
» 1 × Assignable LFO per track
» Delay and Reverb send FX
» Sampling capability
» 64 MB sample memory
» 1 GB +Drive storage
» 2 × 1/4″ input & 2 × 1/4″ balanced output
» 1 × High Speed USB 2.0 port
» MIDI IN, OUT and THRU ports
» Overbridge support

Elektron's Digitakt will be available sometime this Spring. No pricing has been announced.

Elektron

---
ARP Odyssey FS

Korg debuted the ARP Odyssey FS as an alternative to the 86% size ARP Odyssey with its compact slim keyboard. Featuring a large panel layout with faders that are smooth to operate, and a standard-sized keyboard for playability, its weight and essence are the precise image of the original ARP Odyssey.

Korg

---
Pittsburgh Modular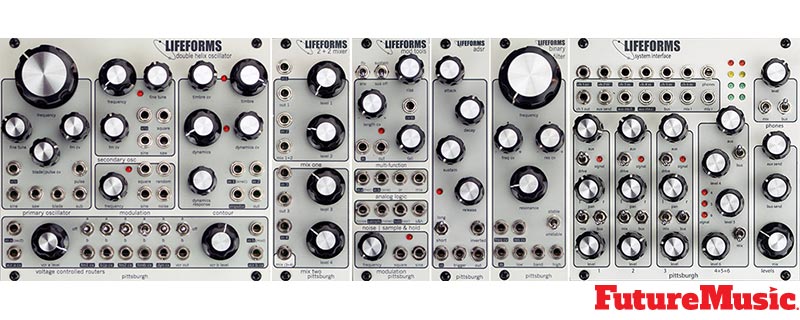 Pittsburgh Modular unveils six new core modules to "showcase the creativity and depth of the Lifeforms modular synthesis philosophy." Pushing the concept of one knob per function as far as it will go, these modules become more powerful the further they are explored: a dual oscillator with a unique performance CV routing bus; a four-channel mixer that is also two mixers, or four attenuators, or any combination of the three; a unique modular modulation multi-tool with a wide array of interwoven functions; a filter that can also scream; an extremely musical envelope generator that can be a trigger delay; and a six channel performance mixer with custom preamps and flexible signal paths. The new Lifeforms modules are packed with unrestricted sonic potential.

Pittsburgh Modular

---