Gemini has taken a decidedly different tact with the announcement of their new MAS-1 Professional Performance Controller. The MAS-1 is the New Jersey concern's first MIDI controller targeted towards Ableton Live's clip-based performance software. Known primarily for "budget" DJ gear that often lacks attention to design and polish, the Gemini MAS-1 looks all-business, without being cluttered, and delivers a refreshing take on the typical Ableton controller.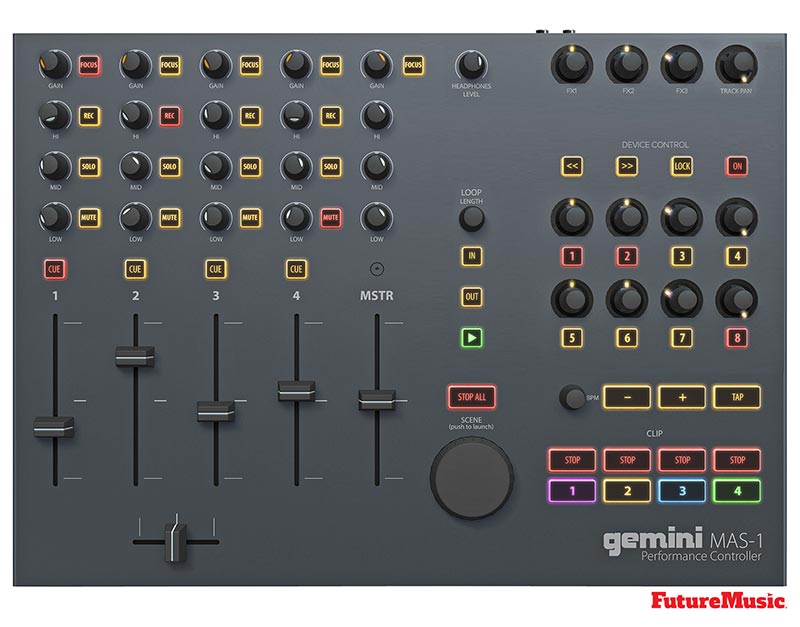 Traditional Live controllers, including Ableton's own Push, have primarily employed the clip-based button array paradigm for hands-on action. However, Gemini took a different approach to showcase and often under-utilized aspect of Ableton Live, namely DJs that may want to experiment with Live's incredible feature-set while maintaining a more DJ-centric workflow. Clip and Scene control are both accomplished via an array of RGB buttons and knobs, or an external controller can be easily added to complement the MAS-1's DJ workflow. Mixing is accomplished via 100mm faders and each mixer channel has three sends for hands-on effects flexibility. The MAS-1 has the ability for firmware updates that Gemini promises will add new functionality, new featues and new MIDI specs. In fact, the entire product was designed to be friendly to Ableton scripters who want to get their hands dirty.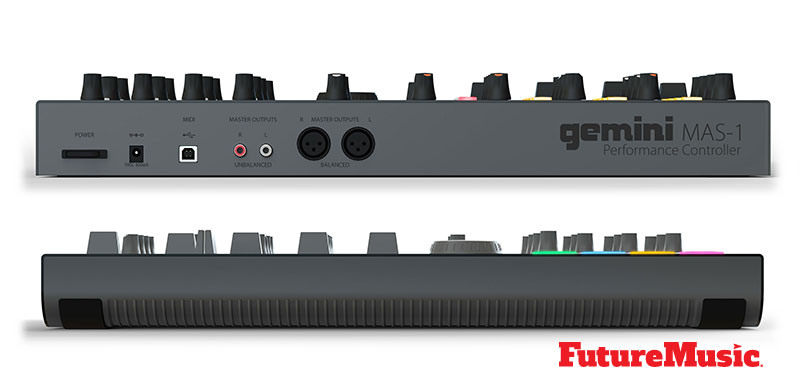 Gemini MAS-1 Professional Performance Controller Features:
» Four channel mixer section, with full EQ and 100mm channel faders
» 45mm crossfader for fast, DJ-style transitions
» Built-in, low-latency four channel audio interface with balanced outputs
» Full clip control, with scene and clip launching and RGB illumination
» Color-coded knobs for easy identification of each function
» Adjustable device control section allows for control of individual components
» BPM control through bend buttons, tap BPM, or direct input via knob
» Encoders with LED rings for adaptive software feedback
» Full looping control including in, out, and active buttons and loop length knob
» Unique performance stand angles the MAS-1 towards the user for better visibility
» Several Ableton templates from Gemini will be available at launch
"This product is something I wanted to make for quite some time," reveals Craig Reeves, Gemini Product Manager-DJ. "It's the middle ground between Ableton Live and traditional DJing, which opens up Ableton to DJs with a workflow that innately familiar. This is the first product that puts Ableton on rails for DJing, but still allows DJs to knock down some walls and experiment with all that Ableton has to offer."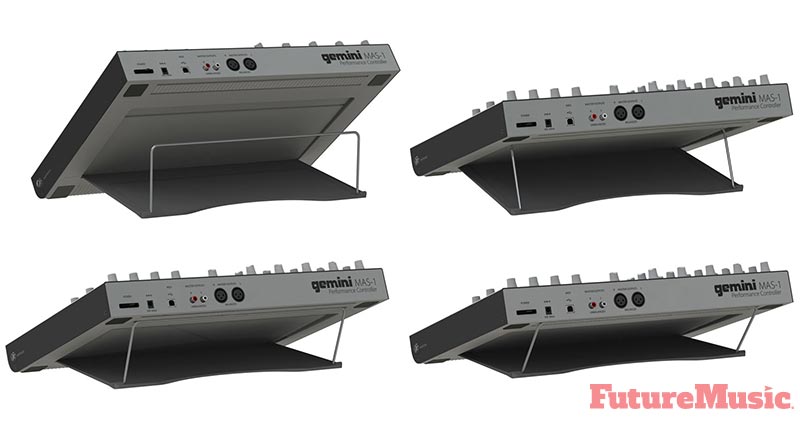 The MAS-1 combines the traditional feel of a four-channel DJ mixer with direct control elements for devices and effects contained in Live. It also offers an expanded BPM section to allow for smoother mixing into external sources. Gemini claims the onboard four channel audio interface is "loud and warm," and the hardware interface itself is designed to work well in dark environments, with high contrast highlights and backlit buttons. Finally, the MAS-1 has a built-in stand, allowing it to be tilted towards the user in multiple positions to create the perfect viewing angle.
Gemini's MAS-1 costs $299 and is expected to be on store shelves sometime this spring.

Gemini