Tegeler Audio Manufaktur has premiered The Schwerkraftmaschine Compressor, a new stereo design that features emulation modes and can be controlled by auxillary plug-in.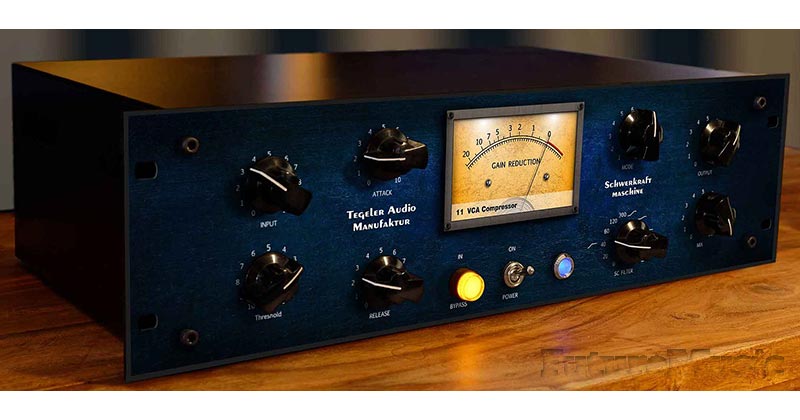 Built on an analog tube signal path and remote-controllable by an ancillary plug-in, this stereo compressor allows both classic and completely new compression combinations and is a dream come true for founder, Michael Krusch. For the Schwerkraftmaschine, the German manufacturer went with the analog tube signal path of the proven Vari Tube Compressor, but replaced the side-chain with a chip that calculates the compression and enables it to emulate nearly any type of compressor on the market. The Schwerkraftmaschine can be remotely controlled via a plug-in (AU, VST, AAX) allowing all settings to be saved in the Digital Audio Workstation.
The hardware unit is equipped with servomotors so that the controls match the plug-in settings at all times. Users can recall their favorite settings with presets and can even automate the analog parameters, allowing for different settings within various parts of a track. A variable side-chain-filter that works both as low cut and as a tilt-EQ, as well as a signal mixer that blends compressed and uncompressed threads, providing additional flexibility.

Tegeler Audio Manufaktur's The Schwerkraftmaschine is hand-manufactured in Germany and is available for €3,499 / $3,599.