Steinberg recently contacted us about putting their UR22 mkII USB 2.0 Audio Interface, which features enhanced audio specifications, iOS compatibility and the ability to power the unit with an external USB power supply, through our long-term review process. In a nutshell, the UR22 mkII is a 24-bit, two-in, two-out audio and MIDI class-compliant USB 2.0 interface that supports sample rates up to 192 kHz. Four reviewers gave the UR22 mkII a complete workout in recording and live performance scenarios, their comments in quotes below.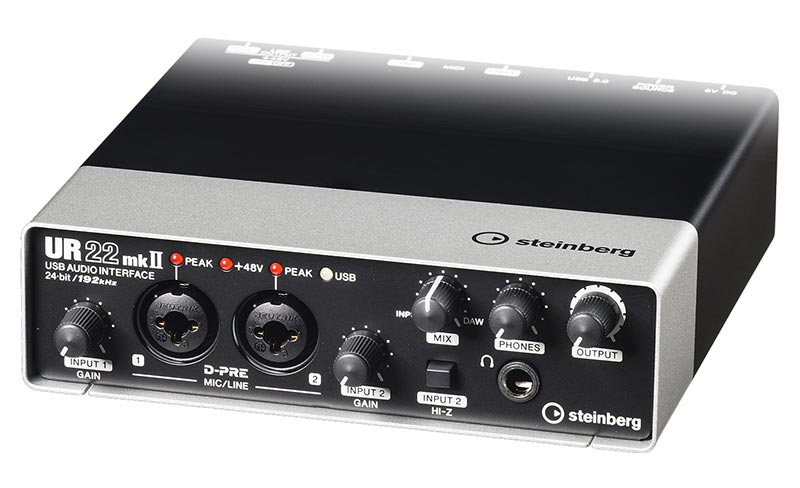 The UR22 mkII is "built like a brick sh*thouse" with a "very robust" all-metal housing that "can take a licking and keep on ticking," according to our reviewers. There are two Neutrik combination XLR / 1/4″ mic/line inputs on the front panel. Each has its own designated Gain knob, adjustable from +6 to a whopping +60 dB, and great for dialing in dynamic and ribbon mics. Yamaha's Class A transformerless D-PRE mic preamps drive the inputs, which received kudos from all reviewers for their "low noise" and "clarity." These are the same Yamaha preamplifiers used in Steinberg's more expensive units and Yamaha's N-series mixers. The two inputs also features individual micro peak LEDs. A Hi-Z toggle for Input 2 is available to allow a direct input of a guitar or bass.
Other indicator LEDs for USB connection status and 48V phantom power are located on the front panel. A designated 1/4″ stereo headphone jack with its own headphone volume control is available on the right-hand side, as well as an additional dedicated Output knob to control the level of the main output. A Mix knob provides no-latency monitoring while recording, allowing you to switch between the input source and your Digital Audio Workstation (DAW). "Even with the UR22's diminutive size, the front panel has everything you need at your fingertips, and doesn't feel cramped or disorganized," one our of evaluators commented. "The pots (potentiometers) have a deliberate and tight feel," remarked another, "adding to the overall perceived quality of the unit."


Steinberg UR22 mkII vs. UR22 — Upgrades can be seen via a comparison of the rear views

The rear panel features two 1/4″ TRS output jacks, a 48V phantom power on / off toggle, MIDI In/Out, USB 2.0, and a 5V DC mini USB jack to provide external ancillary power – one of the mkII upgrades. A Power Source switch allows the user to select between USB bus power and external – great for live performance and iOS duties.
Steinberg UR22 mkII Features:
» 24-bit/192 kHz USB 2.0 audio interface
» Two Class-A Yamaha D-PRE mic preamps
» Metal Chassis
» Latency-free hardware monitoring
» MIDI input and output
» iPad Ready
» Loopback Function
» Power source selector
» ASIO, Core Audio and WDM support
» Cubasis LE & Cubase AI included
» USB 2.0
Steinberg UR22 mkII Setups: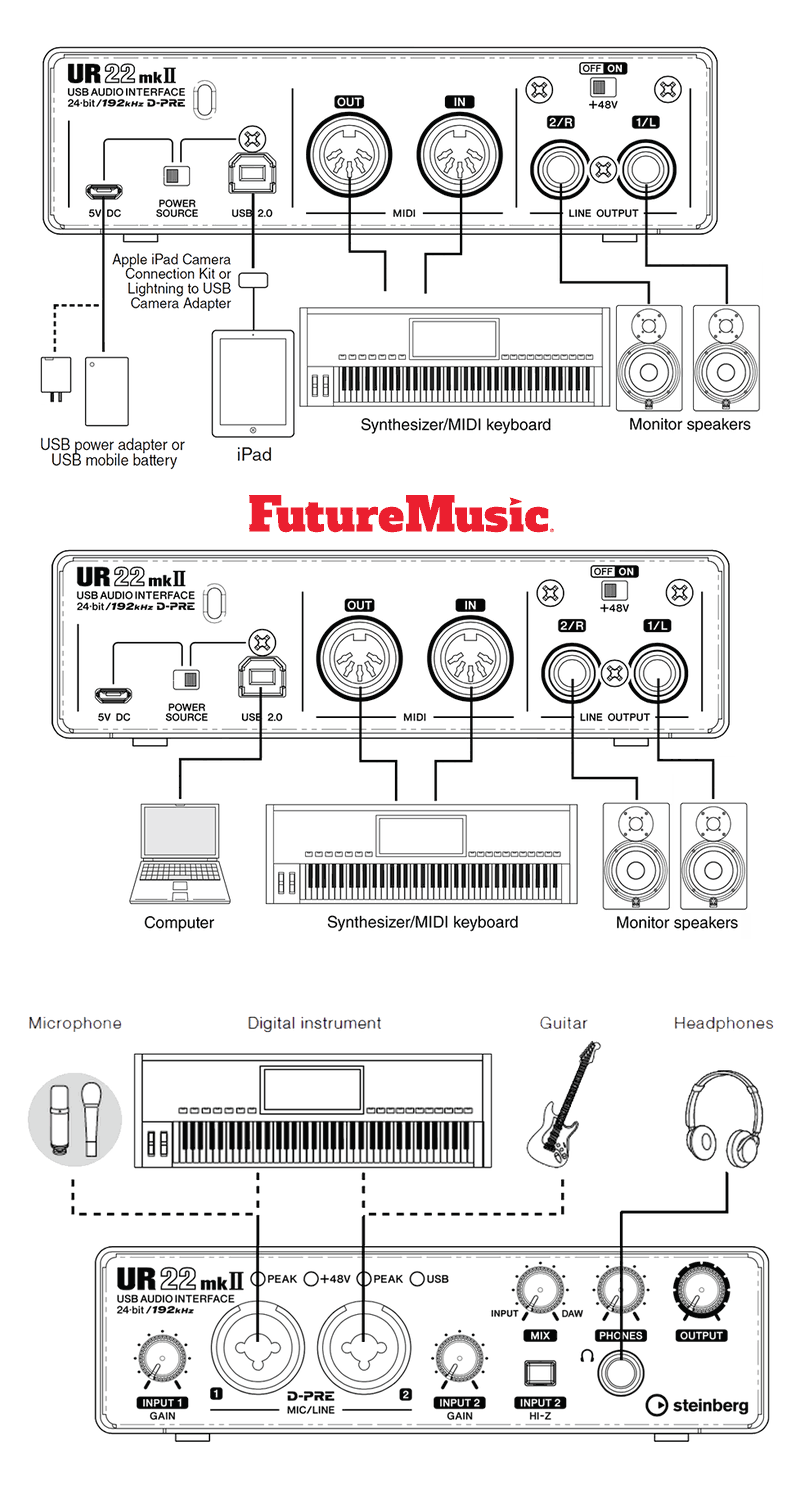 Speaking of iOS, you'll "have to jump through a few hoops-of-fire" to get it working with the UR22. It helps to have the new 5V mini jack, which our reviewers confirmed can handle an external battery pack, but you'll need to purchase Apple's wonky Camera Connection Kit to bring it all together. Hardcore iOS users will want to spring for one of iConnectivity's products, but you "can make it work if you don't mind a little punishment."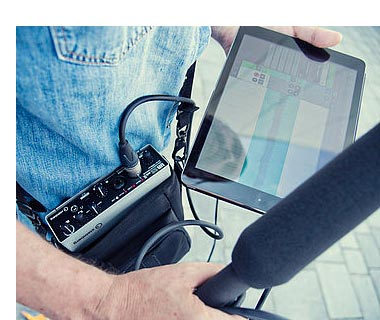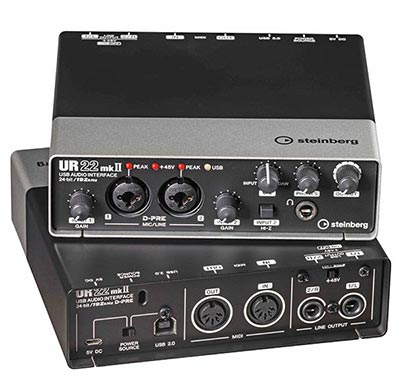 The UR22 mkII does come bundled with some Steinberg software action, including Cubasis LE for iPad users who will need an iPad 2 or better running iOS 7 and beyond. Also included is Cubase AI, Steinberg's compromised version of their flagship Cubase DAW. Cubasis LE provides up to 32 simultaneous audio tracks, 48 MIDI tracks, and 24 bit / 192kHz fidelity. We used the top-of-the-line Cubase product for our evaluation, however the UR22 mkII plays nice with other software products with robust Core Audio, ASIO and WDM drivers.
Conclusion
"When looking at audio interfaces for my own portable rig, the most important attributes were sound quality, speed of set up, the ability to handle abuse and seamless integration with Cubase," cited one reviewer. "[The] UR22 mkII met or exceeded all these requirements and at $150 bucks, I didn't have to think long about pulling the trigger."

Bottom line, Steinberg's UR22 mkII is terrific audio interface for the money. If you're looking for an audio interface for on-the-go recording, a quality headphone preamp or even live performance, you can't go wrong. Singer/songwriters will relish the UR22's ability to capture inspiration with a couple of mics, guitarists can utilize the Hi-Z input to plug-in and incarnate riffs before they escape, and DJs/Electronic musicians can set up their laptop rigs and jack into a PA in a flash. Highly Recommended.
Rating: 92%
Cheers:
+ Value
+ Build Quality
+ Sound Quality
+ Low Noise Pres
+ MIDI I/O
+ Bundled Software
+ Dedicated Mix knob
Jeers:
– Backhanded iOS implementation
– Very Limited Cubasis LE
– No XLR Outputs

Steinberg's UR22 mkII costs $199 ($149 Street) and is available now.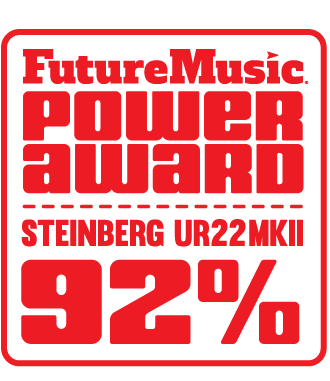 The Future:
Although not the worst we've seen, the iOS implementation could take another step forward if Steinberg goes for a mkIII. In addition, Steinberg should include the full version of Cubasis. The LE version is just too handicapped for real-world use.