Confusion Studios has announced ?version 2.5 of MIDI Designer Pro 2. Building on the features that have made MIDI Designer the platform of choice for DIY-controller creation, MIDI Designer continues to upgrade its feature set, adding new editing and performance features and under-the-hood improvements.
New Features & Enhancements:
» Movable Panels: users can group controls into panels, and then move or clone or copy those panels, giving users unprecedented power in terms of template creation. Various display options for panels provide a convenient way to group and organize controls. Custom looks can be achieved in conjunction with Image Panels.
» Display Zero for Knobs, Sliders and Crossfaders: Knobs have LED rings, faders have LED tracks. With v2.5, the LED rings and tracks can extend from any point along their paths. Typical cases include pan knobs (Display Zero is at 50%) and Hammond-organ bars (Display Zero is at 100%).
» Rotary Action for Knobs: This feature provides another way to use knobs, allowing their placement at the top or bottom of pages. Rotary action also allows users to utilize Tuna Knobs.
» Both Display Zero and Rotary Action require the Extra Features Pack IAP to include in a layout; layouts shared with these features do not require purchase of the IAP.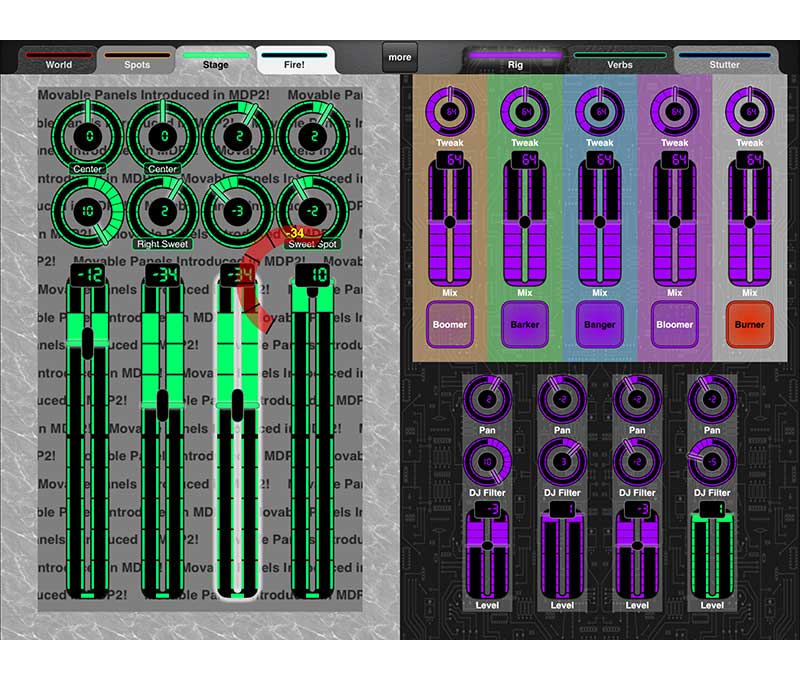 MIDI Designer Author and Confusion Studios CEO Dan Rosenstark commented, "Thanks to weekly interviews with users, we've been able to prioritize dozens of specific user concerns and desires for the App. This upgrade pushes MIDI Designer Pro 2 even further ahead as a deep, expressive platform for DIY controller construction for all classes of MIDI targets, from vintage synths to robots."
MIDI Designer Pro 2.5 is a free upgrade will be available on Saturday, December 10, 2016 and run on any iPad, iPhone or iPod touch running iOS 9.3 or later.

MIDI Designer Pro