One of the not-so-secret secrets in the electronic musician's bag-of-tricks for wringing new sonic sensations out of their studio gear is to employ guitar pedals in their arsenal. What some simply dismiss as a meat'n'potatoes guitar effect, can breath new life into drum loops, over-used synth presets, vocals and anything else you decide to pipe through their 1/4″ inputs. Better yet, you can play "sonic Lego" and plug one pedal into another to create chains of mind melting mayhem.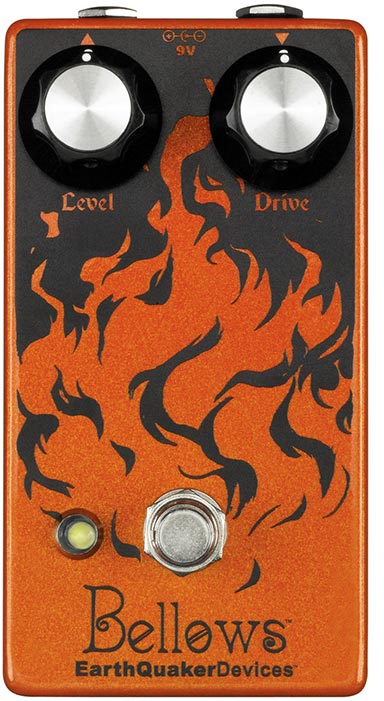 To take things in entirely new directions, pedal aficionados look for small boutique "manufacturers" who, with nothing to lose, experiment in ways that the majors would never dare to tread – focus groups not being a big part of their development process. FutureMusic got turned on to one of these by Stefan Olsdal from Placebo fame who trots out the Disaster Transport when nothing short of a stop in a mental institution will do. Now Earthquaker has announced a new Fuzz pedal, the Bellows Fuzz Driver.
"Greetings, dungeon masters! Stoke the fires in the seventh circle of tone with the Bellows! This little two-knobber is a nod to the non-master volume amps of yesteryear and the fiery tones that come only from diming these vintage behemoths and letting 'er rip until the tubes catch fire. For your safety, and the safety of others, the Bellows packs these tones into a compact Dirt Device without any of the pyrotechnics."
Earthquaker Devices Bellows Fuzz Driver Specs:
» Controls
— Level: Adjusts the output level by setting the bias voltage of the transistor. A small amount of noise while dialing this in is perfectly normal.
— Drive: Controls the input gain of the device for different levels of dirt. You'll find that it is thinner and more clean counter clockwise and thicker with more growl clockwise.
» Measures: 4.625″ x 2.5″ x 2.25″ with knobs
» Power: Standard 9 volt DC power supply intended for musical instruments with a negative center 2.1mm barrel or a 9v Battery. Current draw is 8 mA.

According to the seismic engineers, the Bellows straddles the line between amp-like grit and fuzzy saturation, with a bunch of useful distorted places in between. The one piece of advice they offer goes like this: "If I were you (and it's a good thing I'm not) I'd resist the usual urge to dime it right away, as the Bellows' character changes dramatically based on where the "Drive" is set."
Earthquaker Devices Bellow Fuzz Driver costs $145 and is available at Sam Ash.
The Future: We will be stealing the phrase "dime it" for reviews and reporting. Thanks Earthquaker for this early Holiday Gift.