Retronyms recently released Wej, an interesting hardware device that's one-half MIDI over Bluetooth iOS hub and another half LED light show. It was this interesting partnership that brought the Wej to us for a long-term test with decidedly mixed reviews from our four evaluators. In fact, the results were so polarizing, we sent the Wej out to two more testers to see if we could break the tie. Unfortunately, that added to the conundrum as feedback came back on either side of the fence. Our reviewer's comments in quotes below.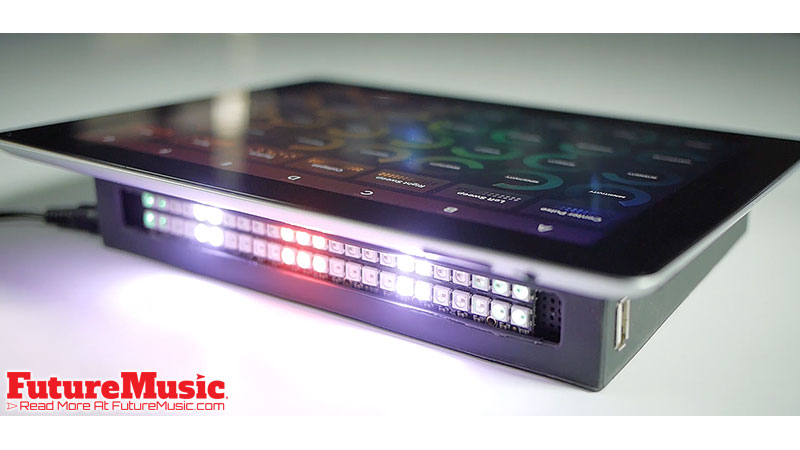 First and foremost, the Wej was developed as a simple solution to a complicated issue, mainly getting the music in your head into your iPad without the tablet sliding around, and losing the cables, iOS camera connection kit and hubs needed to make connecting a controller to the iPad a reality. Retronyms knows a thing or two about iOS music creation since they've developed several compelling apps, including the iMPC and the Tabletop environment. Wej emerged out of their frustrations to solve these two pain points, but then they decided to go for broke by adding LEDs to create you're own light show. Yes, not only is the Wej a stand for your iPad and a wireless Bluetooth hub, but it also houses 48 full-color LEDs for visual effects and performance. We'll get to the light show action in a moment, but let's look at the Wej's core value proposition.
Retronyms claims the Wej's soft-touch silicone, non-skid base holds any iPad or iPhone at an angle optimized for the multitouch gestures called for when making and performing music. All our reviewers agreed that the silicone provided a solid base for an iPad, but half felt it "was just too small for some types of input," namely "finger drumming" and "aggressive piano playing." The other problem with the Wej's chassis was the fact that the "internal frame did not fully support the Wej" when picked up. "As soon as you pick it up, it turns into a soggy biscuit." It just "droops in a manner where you think it's going to spit out the LED circuit board," and "definitely needs a better methodology for supporting the rubber."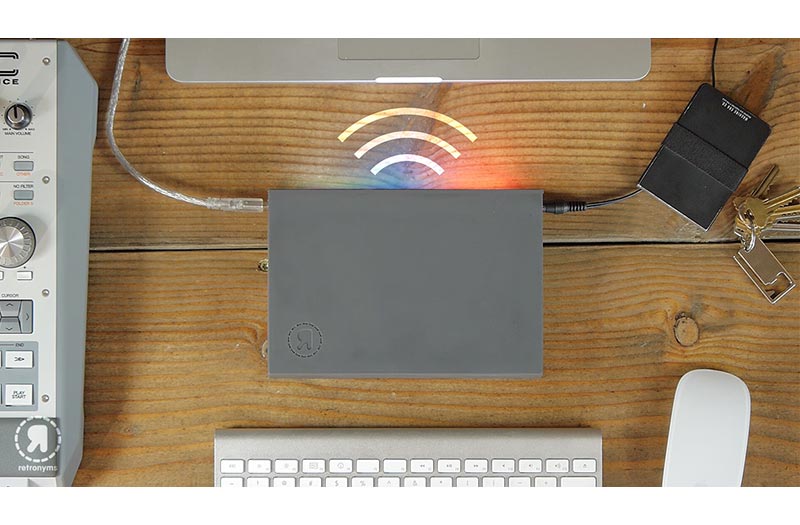 Retronyms Wej Features:
» Soft-touch, non-skid silicon base
» Two USB MIDI compliant ports for connecting MIDI controllers
» One high current USB charge port
» Low Latency Bluetooth LE (BT Smart) MIDI connection
» Connects to iPads, iPhones and Macs
» 48 full-color LEDs
» Compatible with any music app that supports MIDI
» Dedicated Wej app controls LEDs and beat sync
» Wej app supports MIDI learn
» Control lights with MIDI
» Ableton Link support
» Compatible with Retronyms new Hook iOS app — Live DJ and Mashup Workstation
» Compatible iOS Devices: iPad 3, 4, Mini and Air. iPhone 4S and up.
» Compatible iOS software iOS 8 and above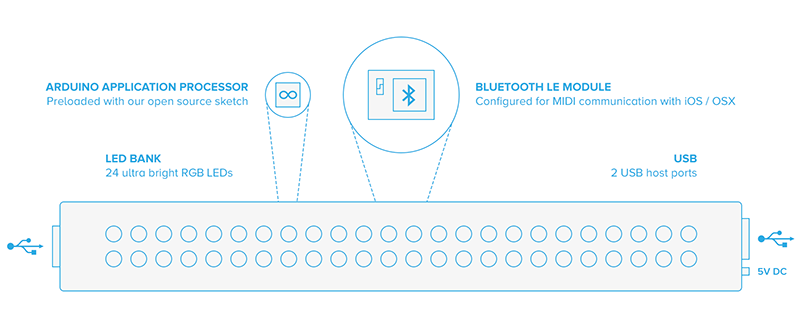 Retronyms Wej Specfications:
» Body Material: Soft Touch, 30 durometer, silicone body
» Width: 200mm
» Depth: 134.4mm
» Height: 25mm – 35mm
» Microcontroller: Arduino-compatible Application Processor
» 48 full-color RGB LEDs, individually addressable from Arduino
» Animations triggerable from Tabletop-ready iOS app via MIDI or inter-app audio
» Connectivity:
— 2 powered USB host ports — Two-way MIDI
— Bluetooth LE based on Apple's MIDI over Bluetooth protocol
The "sloppy silicone" issue also arose with the USB connections, which were "hard to determine if the plug was fully inserted." Not only that but the "USB connections could use clearer markings for working in dark environments." About half of our testers also have issues with the Power USB connection, providing a strong, clean power current with several noting that the iPad would flicker on/off from time to time. While the other half did not have any problems with the power port and felt "its a great idea to be able to have your iPad connected to power so you never have to worry about battery life."
MIDI over Bluetooth also proved hit or miss for our reviewers. "Connecting a controller is not a set and forget scenario with the Wej…getting it to recognize the device was the first stumbling block and keeping it connected was another…adding a second drum pad controller never worked for me, no matter how many times I tried to make it happen, and no amount of praying." Other testers were able to add a single controller to an iPad Pro "without fanfare and little latency," but the combo "looked like a baking pan on top of a hockey puck, which was definitely not stable to play on." Your best bet would be to find a combination keyboard and controller, such as the Arturia Keylab, which would not tax the capabilities of the Wej, and provide all the hardware tactile needs of most users.





While the feedback on the connectivity, support and MIDI over Bluetooth were decidedly mixed, every reviewer came around to the LED feature, even the most skeptical. "When I first saw the LEDs, a little throw up emerged in the back of my throat. It just seemed so silly." The dedicated Wej app is the front-end for the LEDs and you can select patterns, colors and intensity, as well as beat syncing the LEDs to your music via MIDI. However, the real action takes place once you get your arms around the Arduino application (http://www.arduino.org/downloads), which allows you to hack the Wej to create your own MIDI messages and program your own light patterns. Even if you don't want to "go down the rabbit hole, the Wej provides the basic options you need to create your own light show." The "LEDs are high-quality and very, very bright," resulting in "retina burn in, so be careful." Retronyms provides 48 full-color LEDs, which you can dial in to your favorite colors or variations. "I was initially attracted to the Wej for it's wireless Bluetooth, but at the end of my time with the Wej, I was using it primarily for the awesome LEDs."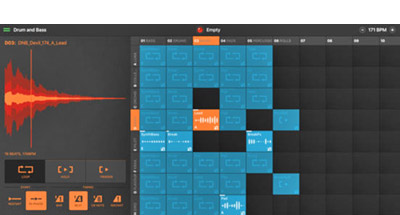 Our reviewers employed a variety of apps to test the Wej, including Retronyms new Hook app, which is a cross between a loop-based DAW and DJ mixing software. However, most of our testers felt DJ apps, such as Native Instruments' Traktor, were the best apps to employ to take advantage of the LEDs.
Conclusion
At the end of the day, is Wej worth $149? Depends. Our reviewers just didn't find the controller connectivity to be reliable enough to take it out in front of an audience, however, if you want to just utilize the LED Lightshow feature, then "this could be a fun accessory to complement your iPad DJ rig." On the other hand, if you're just utilizing the Wej for your bedroom studio and don't mind dealing with some connectivity issues, this may be an alternative option to Apple's Camera Connection Kit.
Rating: 80%
Cheers:
+ Great Concept
+ Innovative Mashup of Wireless MIDI, Controller Hub & LED light show
+ Hackable
Jeers:
– Silicon Base Needs More Structure
– Mixed Results with Connectivity
– USB Powered Jack Hard To See
– Too Small For Larger iPads

Retronyms's Wej costs $149 and is available now.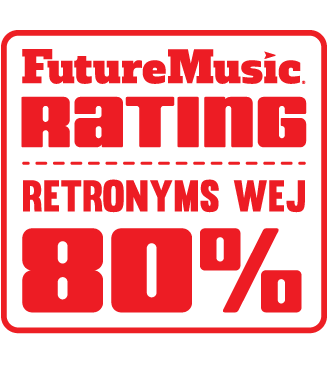 The Future:
If Retronyms turns their attention back to the Wej at some point, we'd love to see a larger size and much more rigid base. The LEDs are terrific, but can be spaced out more – with the larger size – to make more of an impact and illuminate a wider swath. Powered USB port needs to have a different internal color or better markings.