Dave Smith Instruments has premiered the DSM03 Feedback Module, a new Eurorack-format module that features a tuned feedback line with adjustable parameters for Amount and Tuning. It also features a newly-designed, resonant, low-pass filter for further signal processing. A noise source is also provided with Trigger In as well as Attack and Decay envelope controls to allow Karplus-Strong-type plucked string synthesis.
"We adapted the feedback feature originally found in our Evolver, Pro 2, and Prophet 12 synths," Dave Smith discloses. "The idea is that you have a tuned feedback loop that takes the audio output, runs it back through the filter, then through a delay line so you can perform Karplus-Strong synthesis—or just use it for mangling sounds."

The DSM03 Feedback Module is Dave Smith's third offering for modular synths in a 10HP wide, standard Eurorack-format device with interconnections made using 3.5 mm phone jacks. A set of inputs allow for individual voltage control of feedback amount, tuning, low-pass filter frequency, and filter resonance. The module provides one audio input and one audio output as well as an audio trigger input for the noise source. The 4-pole, resonant, lowpass filter is a new digital design, based partially on classic analog filters of the past. It features over-sampling and numerous refinements to the signal path, which is 24-bit, 96 kHz resolution for outstanding audio fidelity. It's a great-sounding design that works well both in the feedback context and as a stand-alone tone-shaping tool.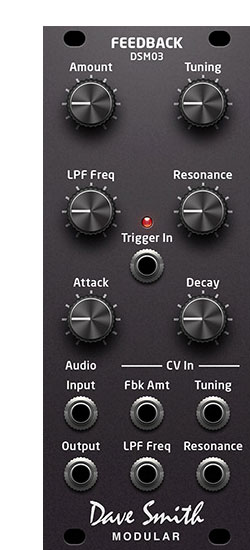 Dave Smith Instruments DSM03 Specifications:
» IN/OUT
— Feedback Amount CV: -5V to +5V
— Tuning CV: -5V to +5V
— LPF Freq CV: -10V to +10V
— Resonance CV: -5V to +5V
— Audio In: -2.5V to +2.5V
— Audio Out: -2.5V to +2.5V
— Audio Trigger In: 0 to +10V
» POWER
— Internal power connector (ribbon cable included)
— Current Draw: +12V = 10mA, -12V = 20mA
» PHYSICAL SPECS
— 1.99? W x 5.06″ H (50.5 mm x 128.5 mm)
— Width: 10 HP
— Depth (measured from back of panel with power cable installed): 1.54″ (39 mm)
» INCLUDED
— Mounting screws
— Ribbon cable for power connection
With regard to the filter, Dave specified, "the 4-pole, resonant, low-pass filter is a new digital design, based partially on classic analog filters of the past, but with over-sampling and numerous tweaks in the signal path. There was no attempt to copy or duplicate a specific, existing filter. We simply wanted to provide a great-sounding design that works well both in the feedback context and as a stand-alone tone-shaping tool. When it comes to designing our modules, we like to provide things that are slightly esoteric, but still fundamental to the Dave Smith sound. Tuned feedback has been a part of the tonal palette of our synthesizers since the Evolver, so we wanted modular users to have access to it, too. It offers a lot of really fun, creative possibilities."

Dave Smith Instruments' DSM03 module is available now for $275.

Dave Smith Instruments