ATC has unleashed the P2 Pro Dual Mono Power Amplifier, a dual mono design that delivers 300W of continuous power simultaneously from both channels. Hand-built by British loudspeaker and sound system manufacturer ATC, the Class A/B P2 PRO Dual Mono Power Amplifier is a dual mono design, keeping the power supplies, signal, and return paths discrete. This approach claims to ensure the amplifier will achieve maximum signal separation with minimal crosstalk, and that intermodulation between channels via the power supplies is reduced to a minimum across a frequency range of 400kHz. It also means that the power delivery from one channel will not affect the specified power available from the other.



The gorgeous, all-new, low-vibration 19-inch rack-mount chassis design features a 12.7mm brushed aluminium front panel with delightful blue highlights in the handles. The P2 PRO Dual Mono Power Amplifier's layout includes a massive, custom-made 400 VA low-noise transformer for each channel and an output stage involving three pairs of MOSFET devices per channel to achieve peak current output of over 15 amps. The P2 Pro employs a high-grade steel core which is then vacuum-impregnated with high-temperature resin, post-winding.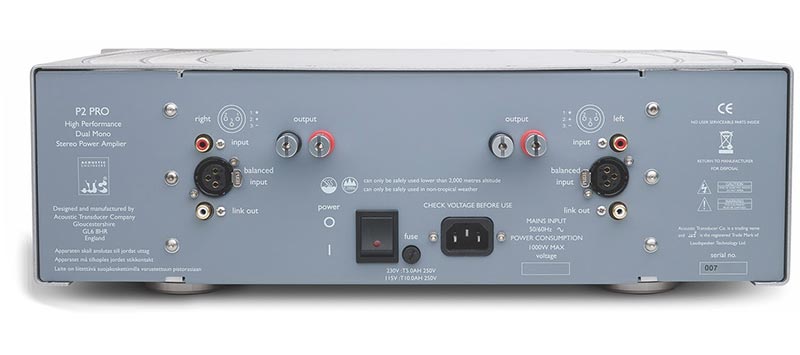 The P2 PRO Dual Mono Power Amplifier offers both balanced XLR and unbalanced phono inputs, Link phonos, proprietary speaker terminals, and a front panel-mounted power switch. The P2 Pro has been a long time in the making due to two major factors, a new power supply design and a new top cover/lid design. In addition, the mains power soft-start feature has been revised, slowing the rate at which the unit powers up. The design of the venting has also been revised with the steel mesh covering the heatsink vents being replaced by a acid-etched stainless steel insert. Not only does this component greatly enhance the amplifier visually, it also reduces lid/cover vibration.
Weighing in at an impressive 21kg/46.2lbs, the P2 PRO Dual Mono Power Amplifier's accomplished specifications similarly leave little to chance with a quoted 300W (8?, 1% THD) maximum continuous output power rating; 2V rms (ref. 150W out) input sensitivity; 10k?/leg input impedance; <2Hz - >400kHz (-3dB) frequency response; >100dB crosstalk; and >0.002%/-95dB THD. The P2 PRO Dual Mono Power Amplifier reassuring comes complete with ATC's attractive six-year warranty, which helps make for a high- value, longterm investment for anyone looking to upgrade their pro audio amplification system.
ATC's P2 PRO Dual Mono Power Amplifier is available now for £2,833.