Ableton has updated Live to version 9.7. The free update mostly brings a host of improvements to Push, so if you don't have their dedicated controller, you may be left wanting. New sampling features and workflows provide avenues for creating music without taking your hands off Push.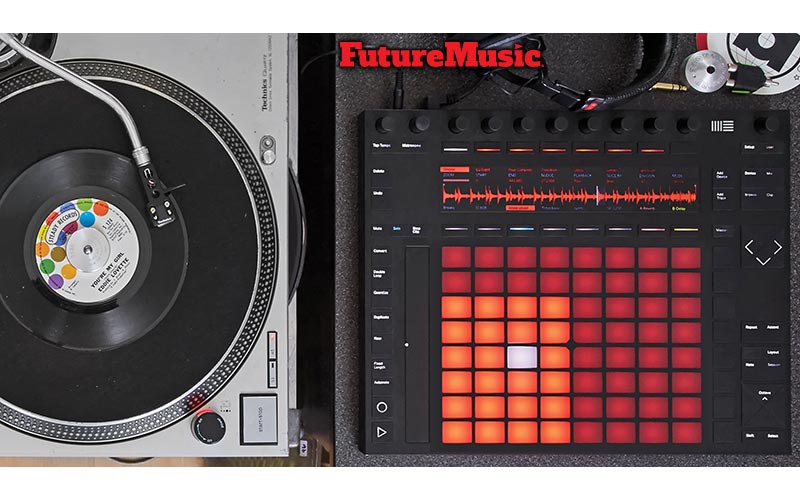 "The update brings more sample slicing options, a new drum layout and on-screen display improvements to Ableton's hardware instrument."
Ableton LOVES to describe Push as an instrument, but instruments don't change, think piano or trumpet, so let's just call it what it is…a dedicated controller for Live. Additional enhancements in Live 9.7 include the ability to route audio or MIDI right from Push, allowing you to switch ins and outs for sampling and resampling. And if you don't use Push, the new slicing capabilities are now features of all editions of Live 9 – from Lite to Suite.
Ableton Live 9.7 Push Enhancements:
» New slicing functions – chop samples by beat divisions or regions, as well as manually or by transients
— Powered by Simpler, the new slicing functions can be used in all editions of Live 9. They also work with Push 1
» New drum layout – with 16 set velocity levels for playing and programming
» Hands-on audio and MIDI routing – select and record ins and outs directly from Push
» Visual feedback for tighter recordings – new display info shows clip phase and count-in so you can start and finish clip recordings more accurately
» Hands-on color customization – color pads, tracks and clips using Push
» Better playability – pad sensitivity adapts to what you play, whether it's drums or sustained chords

More slicing features:
16 Velocities:
Hands-on audio and MIDI routing:
Visual feedback:


Ableton's Live 9.7 updates is free for registered users.

Ableton