Apogee Electronics has announced The Element Series, three Thunderbolt audio I/O boxes for the Mac platform. Element 24, Element 46 and Element 88, each with a different number of analog and digital I/O, provides a new control ecosystem that features an advanced blend of software and hardware options.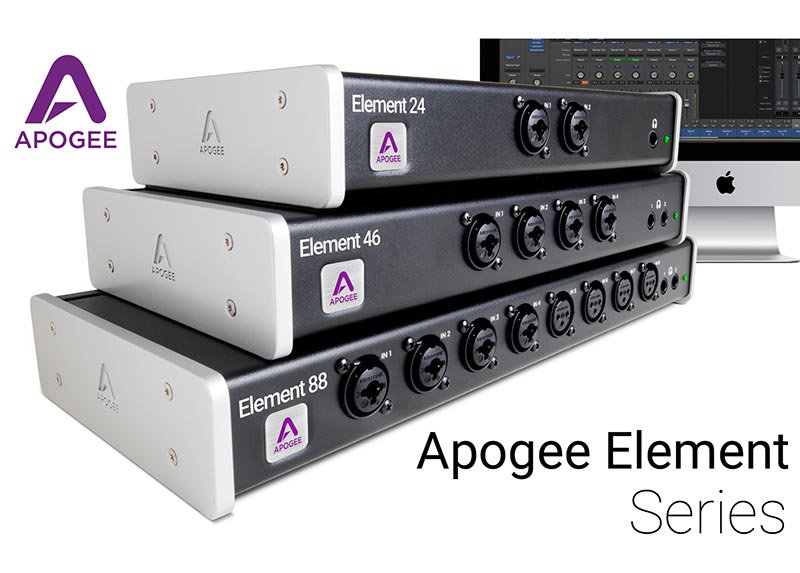 The Element series uses Apogee's proprietary Thunderbolt driver for 1.41ms round-trip latency when using Logic Pro X. As an added element, the series also features Apogee Groove's headphone output technology. This design claims to dynamically optimize sound quality for a wide variety of headphones, regardless of their impedance. Element evolves Apogee's simplified user interface approach by offering broader more customizable options that extend beyond the physical hardware. The configurable Element Control software for Mac lets users set up workflows that meet their needs and the Element Control for iOS App lets them control the Elements remotely over WiFi. Logic Pro X users can adjust Element I/O settings directly from their Logic Channel strips. And for those wanting more traditional desktop control, there's the optional Apogee Control hardware, featuring a Duet-like form-factor with eight assignable buttons and a master control knob.
"The streamlined physical hardware takes a very direct approach, allowing us to maximize the components that are most important to sound quality," says Betty Bennett, Co-Founder and CEO of Apogee.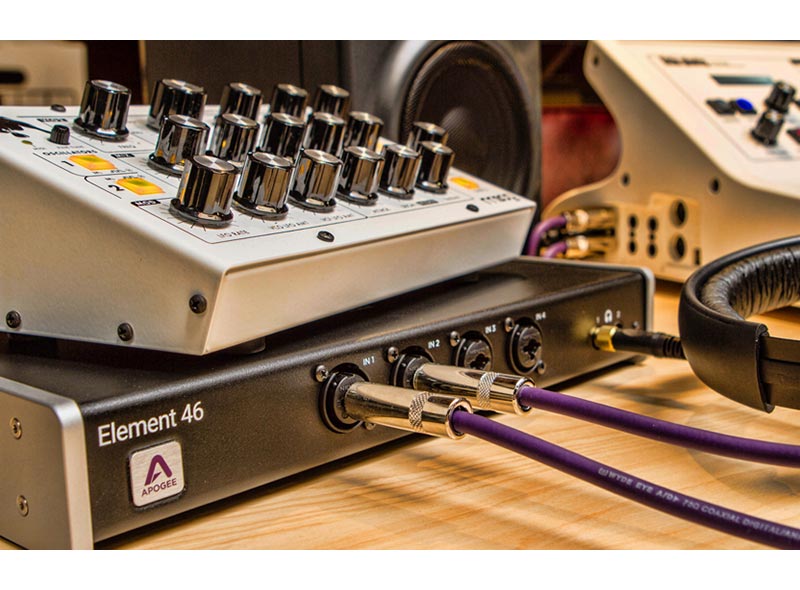 Apogee Element Series Features:
» Thunderbolt audio interfaces for Mac in three flavors:
— Element 24: 10 IN x 12 OUT
— Element 46: 12 IN x 14 OUT
— Element 88: 16 IN x 16 OUT
» AD/DA conversion for recording up to 192kHz/24-bit
» Mic preamps built-in, with selectable 48v phantom power
» Single port Thunderbolt connectivity to Mac for ultra-low latency performance
— 1.41ms round-trip at 96kHz with a 32 buffer setting
» New Element Control Software for Mac provides all control of hardware parameters including input gain, output level and low latency monitoring
» New Element Control Mobile App provides wireless remote control of hardware via iPhone, iPad or iPod touch
» Works with Apogee Control – Desktop hardware remote control accessory
» Multi-Unit Thunderbolt support – Connect any two Element audio I/O boxes directly to Thunderbolt ports on your computer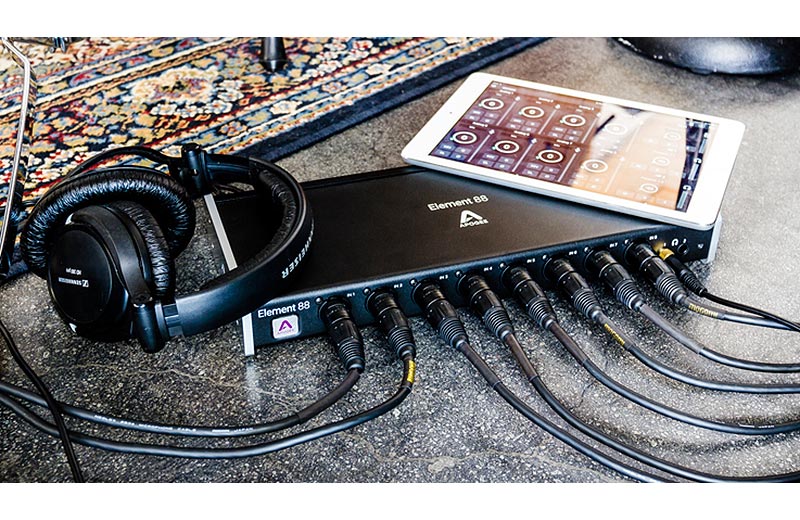 Apogee Element Series Price / Availability:
» Element 24 – $595 – Available November 2016
» Element 46 – $895 – Now Shipping Worldwide
» Element 88 – $1495 – Now Shipping Worldwide
» Element Control for Mac – Available as download from Apogee's website
» Element Control for iOS – Now Available for Free from Apple's App Store
» Apogee Control Hardware Remote – $195 – Available November 2016