Mackie has debuted the XR Series Studio Monitors, which comes in two models, the 8″ XR824 and 6.5″ XR624. Drawing inspiration from the Mackie HR Series monitors, XR features a smart logarithmic waveguide, that claim to provide acoustic alignment to deliver the right balance between articulate highs and midrange clarity. Both models feature a high-output 160W power amplifier and premium transducers including a Kevlar LF driver with proven fast-recovery from transients. And, unique to XR, Mackie has developed the new ELP Bass Reflex System which utilizes an extended-length, internally curved port that promises to deliver outstanding bass response and increased output capability.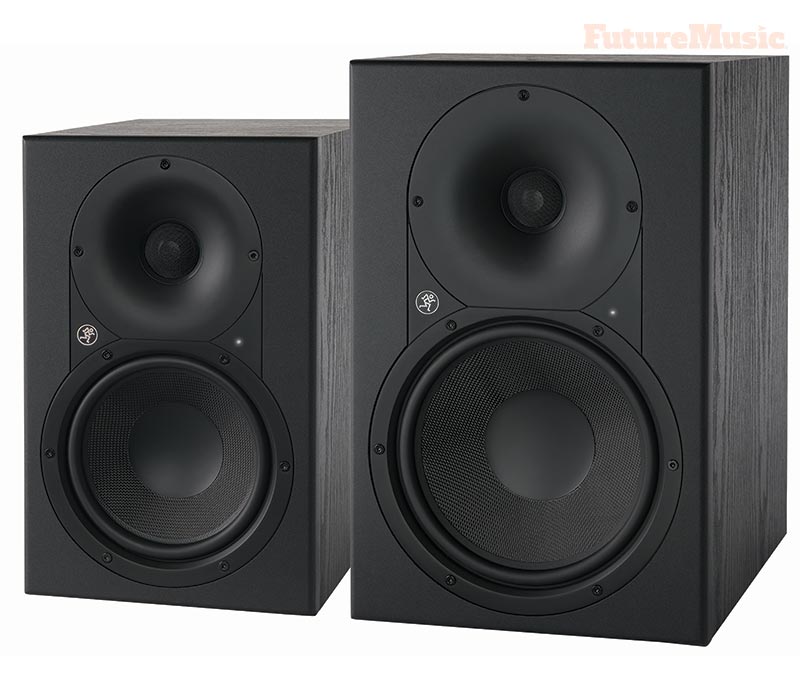 XR Series Studio Monitors can be sonically optimized to the specific mix environment, featuring user-controllable acoustic space tuning controls. There are three different acoustic space settings that adjust for monitor placements close to walls, in corners, etc. Plus, both high- and low-frequency EQ controls are available for final sonic adjustment to the mixing space. Other finishing features include an eco-friendly auto on/off functionality that senses when a signal is present and turns that monitor on or off, plus the inclusion of acoustic isolation pads for each monitor.
Mackie XR824 & XR624 Features:
» Logarithmic waveguide provides acoustic alignment for balanced sound across the entire frequency spectrum
» ELP Bass Reflex System engineered for zero turbulence, providing greatly increased output capability and extended low-frequency response
1" black anodized aluminum tweeter reveals the finest details and upper harmonics of your mix.
» XR824: 8″ Kevlar woofer offers fast transient recovery for incredibly accurate low frequency response
» XR624: 6.5″ Kevlar woofer offers fast transient recovery for incredibly accurate low frequency response
» Specially designed internal bracing adds stiffness for reduced distortion and enhanced clarity
» 160W bi-amplified Class-D amplification (100LF / 60HF)
» XR824: Frequency response: 36 Hz – 22 kHz
» XR624: Frequency response: 45 Hz – 22 kHz
» Optimize XR monitors for your sound and mixing environment
» Adjustable acoustic space filters maintain flat response in typical placement
» HF filter applies boost or cut to compensate for particularly dull or bright sounding rooms
» LF filter rolls of the low end to simulate smaller speakers for reference
» Attention to the detail
» Eco-friendly auto turn-off / turn-on
» Black wood grain finish for a classic studio feel
» Included custom acoustic isolation pad reduces unwanted resonance and improves bass response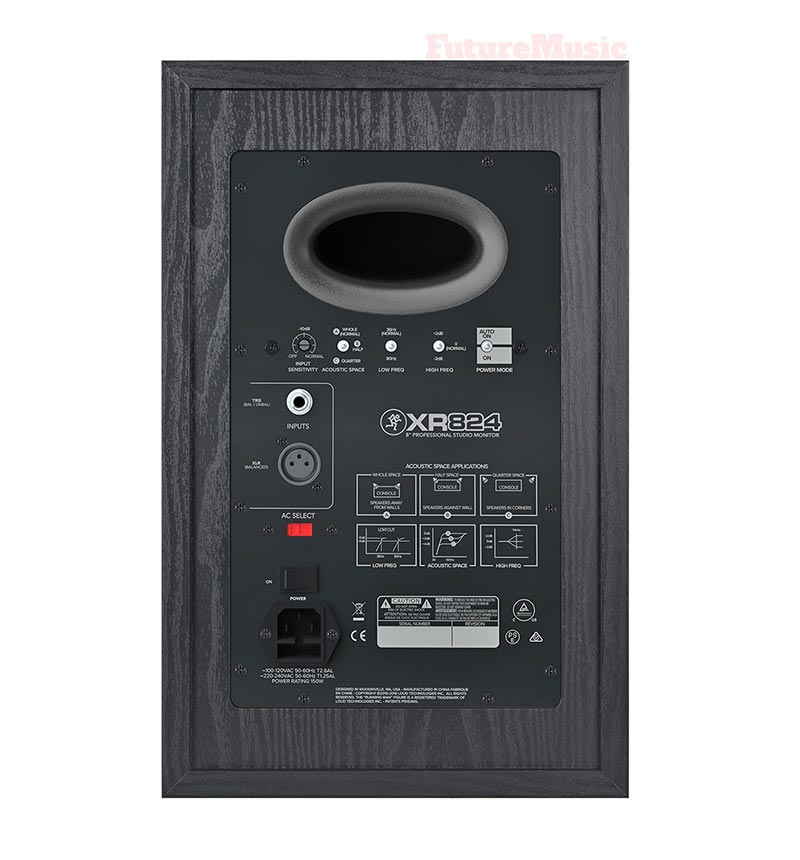 Logarithmic Waveguide
The XR logarithmic waveguide matches the high-frequency dispersion pattern to that of the woofer for a "seamless midrange transition." It also recesses the tweeter so that its active area is on the same axis with the woofer, providing acoustic alignment of high and low frequencies for the right balance between articulate highs and midrange clarity.
ELP Bass Reflex System
The ELP Bass Reflex System utilizes an extended length, internally curved design and eliptical, zero-turbulence exit providing extended low frequency response and greatly increased output capability. This design enables you to hear all the deep low end in every mix, even at high volumes without any "air noise" that plagues typical ports.
Room Optimization
XR monitors are easily adaptable to suit your mixing environment to ensure a flat frequency response with three adjustable filters.
Acoustic Space – Changes overall response to match most configurations.
HF filter – Helps match the monitor your particular room.
LF filter – Rolls off the low-end to simulate smaller desktop speakers.
Kevlar Woofer
XR series monitors are equipped with an extremely rigid, ultra-low distortion Kevlar woofer which maintains it's shape even under a high amount of stress. This provides fast recovery from transients and accurate, detailed low-end compared to typical woofer types.
Auto On/Off
The eco-friendly Auto On/Off puts the monitor in stand-by after a period of time with no signal and back on as soon as signal is present. The front-panel LED, set to a low brightness level, provides visual feedback keeping you informed on the monitor's status.
High-Density Foam Pad Included
Two hard surfaces that are touching (bottom of the monitor and top of your desk) tend to not sound very good when one is vibrating, so XR monitors come with a foam isolation pad to reduce unwanted vibration. This helps to optimize the low-end even further for the best possible accuracy and focused sound. The pad also allows for easy tilting of the monitor so it is always pointing at the correct angle.



The Mackie 8″ XR824 and 6.5″ XR624 XR Series monitors cost $629.99 and $519.99 respectively and individually, and will be available on November 1, 2016.

Mackie