Native Instruments has premiered Maschine Jam, the Berlin company's answer to Ableton's Push and Novations LaunchPad. The modern production and performance system claims to offer versatile workflow designed to swiftly capture and develop creative ideas using tactile step sequencing and touch-sensitive performance controls for the latest Maschine 2 software. Advancing the same hardware-software integration, Maschine Jam not only enhances music production with existing Maschine hardware, but also with DAWs, NKS-ready plug-ins, and the Komplete range of software and hardware.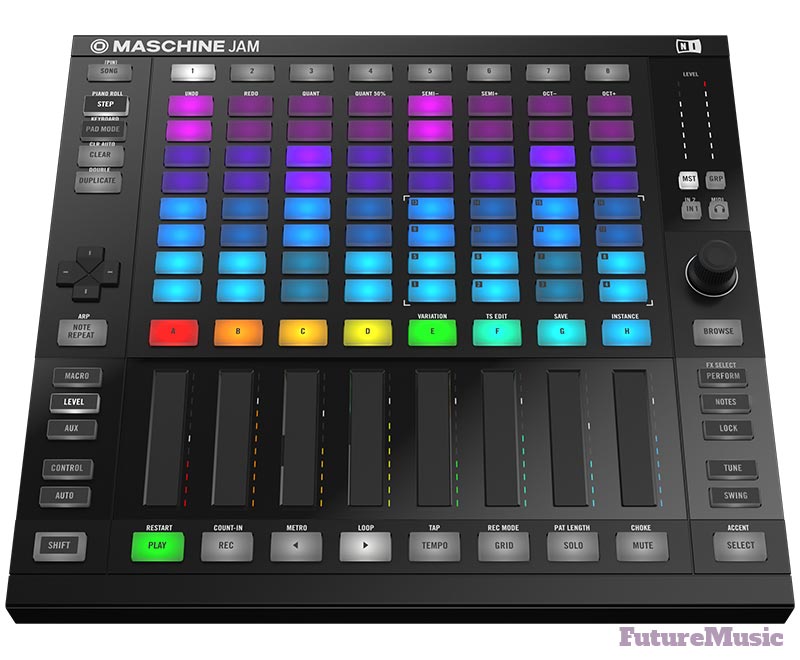 "Inspiration has always been the most energizing, yet transient moment in the creative process," says Mate Galic, CTO of Native Instruments. "Maschine Jam narrows the gap between idea and execution and introduces an innovative piece of hardware that draws from the power of software in a deeply integrated way. It will stimulate more creative experimentation, drive quick results and deliver the flow of a truly tactile digital instrument for advanced track building and performance."
Maschine Jam offers a unique set of hardware features that reinforces the creative process. Its workflow centers on an 8×8 multicolor click-pad matrix where producers and performers can experiment with arrangement possibilities using patterns and scenes. In Step Mode, the matrix becomes a multi-track step-sequencer for one, four, or eight sounds simultaneously. In Pad Mode, sounds are entered in real time, while Piano Roll Mode makes step-sequencing melodies in a wide variety of available scales possible. When the Variation Engine is enabled, inspirational beats and melodies are randomly generated based on customizable values and then modified on the matrix. A built-in humanizer adds natural rhythmic fluctuations to programmed sequences.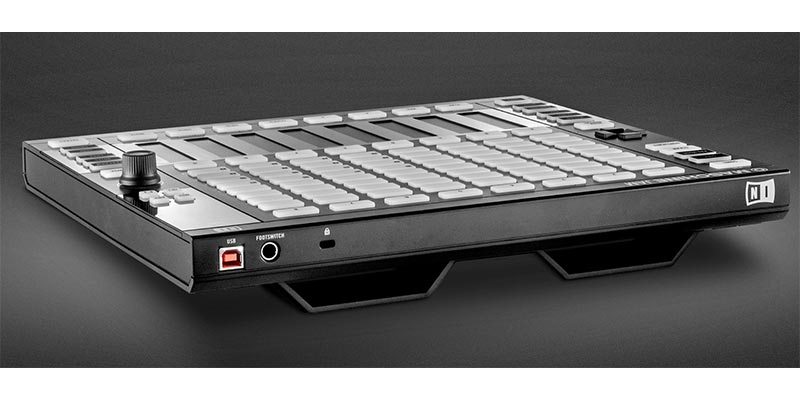 Native Instruments Maschine Jam Features:
» KEYBOARD MODE: Explore melodies and harmonies with the click-pads using Maschine's Keyboard mode. Just select your scale and chord values to start playing. The Arpeggiator can turn simple melodies into intricate melodic patterns.
» SKETCH-A-TRACK: Maschine Jam is the go-to instrument for building tracks with immediate, intuitive sequencing. Flesh out your ideas by constructing and re-constructing with patterns on the fly, and group them as scenes you can arrange from the ground up. When you're done, you can quickly import audio from Maschine into your DAW for further refining.
» NOTE SEQUENCING: Step sequencing not only works for rhythms, but also for melodies. Use Maschine Jam's powerful Piano Roll mode to program notes directly with the 8×8 click-pad matrix.
» CREATIVE PERFORMANCE FEATURES: The latest Maschine software delivers cutting-edge features that make Maschine Jam a creative powerhouse. Define values like scale and note length, and edit inspirational sequences created by the Variation Engine. Combine multiple instrument or effect parameters to control with the Smart Strips using built-in macros. And add depth and complexity to sounds using advanced motion-sensitive Perform FX with the Smart Strips to uncover all new sonic dimensions.
» SMART STRIPS: Eight dual-touch sensitive Smart Strips let you tweak up to eight parameters simultaneously. Play melodies and chords via note input, and shape sounds with Perform FX – all using two fingers per strip for unique results.
» D-PAD AND TOUCH-SENSITIVE ENCODER: Find samples, instruments, and effects fast using the D-pad and touch-sensitive encoder to navigate advanced tag-based libraries in Browse mode. Maschine software reacts to the encoder when touched to instantly display key parameter overlays.
» CLICK-PAD MATRIX: Trigger patterns and scenes with one-touch simplicity using the 8×8 click-pad matrix for instant jamming and arrangement sketching. You can also use the pads for step-sequencing or playing your sequences in Keyboard or Pad mode.
» DEDICATED LED METERS: Maschine Jam's Smart Strips are each fitted with multi-color LED level meters to show effect, volume, pan, aux, and layered Group macros parameters that you can map to the strips.
» LOCKING: Quickly mutate sounds to create extraordinary build-ups using the Lock feature. Take a snapshot of the current parameters with the Lock button, mess with your sounds, and press Lock again to return to the snapshot. Save your 'locks' and recall them anytime.
» IMPORT FROM iMaschine: Sketch out your tracks fast anywhere, anytime with iMASCHINE – the app for on-the-go music making. Sample, record, and arrange your ideas wherever you are, then seamlessly export to MASCHINE software and refine the sketch with MASCHINE JAM for the finishing touches.
» 64 multi-color, high-quality, illuminated step matrix buttons
» 8 Touch Strips with realtime multi color indication, multi touch (Smart Strip functionality)
» 8 multicolor group buttons and 8 multicolor scene buttons
» 31 backlit click buttons
» 1 touch sensitive push encoder
» 1 Backlit Directional PAD
» USB 2.0, 3.0
» Kensington lock
Maschine Jam's eight dual-touch Smart Strips feature an impressive set of functions unlocked with the free Maschine 2.5 software update. All-new Perform FX map one of several effects to JAM's touch strips. Each strip responds to simultaneous finger gestures to alter the motion, space, and dynamics of sounds in real time. The Smart Strips each feature multi-color LED meters to monitor the level of the assigned function, and can be used to alter macros, key instrument parameters, and even play melodies and chords with the unique Notes function. A powerful Lock function stores parameter snapshots that can revert back to their original settings or morph between multiple lock states.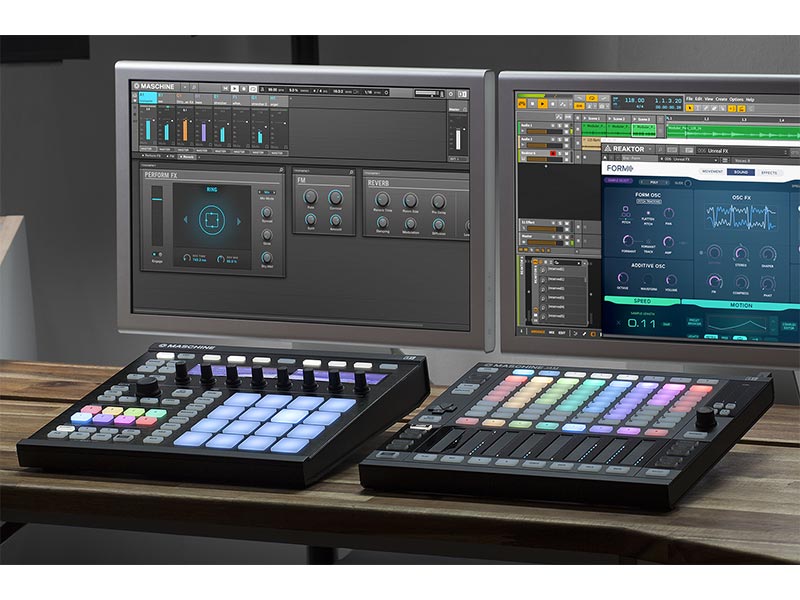 Maschine Jam includes a substantial repertoire of sound from Maschine 2 software and the Komplete 11 Select instruments and effects bundle – including NI's synths Massive and Monark. Along with the Maschine Drum Synth modules, version 2.5 of the Maschine software features a revised 9 GB library updated with all-new sounds and macro controls.

Overview
Workflow: Track sketching In Project View
Workflow: Using Perform FX with Smart Strips
Workflow: Playing notes With Smart Strips
Workflow: Step Sequencing
Workflow: Combining Maschine Hardware


Maschine Jam not only boasts united workflow across included sounds and instruments, but also creates a workflow complementary to existing Maschine hardware. In addition to browsing through the tag-based Maschine and Komplete sound libraries, full support for NKS-ready plug-ins makes native in-app browsing for third party software possible. Maschine Jam integrates seamlessly within any DAWs as a plug-in, and provides extensive DAW control as a dedicated controller in MIDI mode. A template for Ableton Live is included. It can also be custom-mapped to control any other MIDI capable software.
Native Instruments' Maschine Jam will be available for $399 / €399 / ¥49,800 / £319 / AU$549 at the NI Online Shop and at local retailers on September 29, 2016.

Native Instruments