Arturia is slowly building anticipation for the release of their new, all-analog MatrixBrute megasynth. The MatrixBrute, which was first slated to be released last spring, looks like it will be making a fall debut for about $2000. Arturia has been releasing some "tutorial" videos, showcasing certain attributes, including the filters, oscillators, effects and modulation capabilities.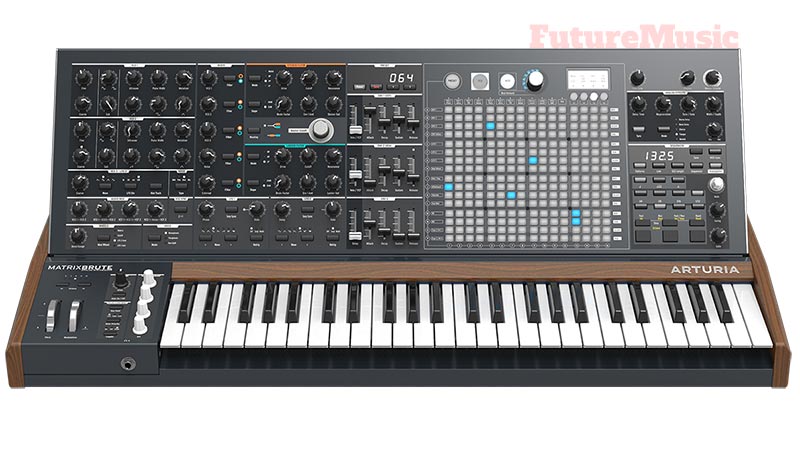 The French company has been creating quite a stir lately in the market with fresh, innovative products, including the Beatstep Pro, which our Editor-At-Large, Dan Brotman, described as "the most fun I've had with a sequencer in years." Arturia clearly put a lot of deep thought into the MatrixBrute, a product that is all about getting your grubby paws on knobs, buttons and faders, as opposed to a mouse. The "immediate hands-on experience of synthesis" and the provocative modulation matrix that allows you to create your own routings translates into one thing…big fun. A feature that has been missing from many new synthesizer offerings until recently.
Here are all the Arturia MatrixBrute videos released to date. We'll update this list as Arturia releases more.
MatrixBrute Episode 1 – The Filters
MatrixBrute Episode 2 – The Oscillators
MatrixBrute Episode 3 – The Modulations
MatrixBrute Episode 4 – The Analog Effects
MatrixBrute Episode 5 – The Sequencer & Arpeggiator
Arturia MatrixBrute Main Features
» Analog Matrix Synthesizer
» 256 Preset memory locations
» 2 Analog Exponential VCO's:
— Saw + UltraSaw, Square +Pulse width, Triangle + Metalizer, Sub
» 1 Analog Linear VCO/LFO
» Saw, Square, Triangle, Sine waveforms; LFO time divisions; Key track
» VCO 2>1 Hard Sync
» Audio Mod:
— VCO1>2 ; VCO1 < VCO3> VCO2 ; VCF 1 < VCO3> VCF 2 ; VCF1 < Noise> VCF2
» Noise Generator:
— White ; Pink ; Red ; Blue noise types
» 5 input Audio Mixer with Filter routing
» Steiner Parker filter with 12+24 db per octave modes ; Drive ; Brute factor; Low Pass, High Pass, Band Pass, Notch
» Ladder filter with 12+24 db per octave modes ; Drive ; Brute factor; Low Pass, High Pass, Band Pass
» 2 LFO's
— Sine, Tri, Square, Ramp, Saw, Random, S&H
» 3 Envelope Generators
— 2 Attack, Decay, Sustain, Release
— 1 Delay, Attack, Decay, Sustain, Release
» External Audio In
» 16×16 Matrix modulation panel
» 64 step sequencer
— STEP enable, Slide, Accent, Modulation
» Save and recall sequence patterns on the fly
» Analog Effects
— Stereo delay, Delay, Flanger, Chorus, Analog Reverberator
» Arpeggiator
» 12 CV / Gate Inputs/Outputs
» Audio Input, Line or Instrument level
» Stereo audio output
» MIDI and USB I/O
» Pedal inputs for Expression and Sustain

Arturia's MatrixBrute should be stores for the holiday season for about $2000 / €2000. Makes a great stocking stuffer!

Arturia