Image-Line has updated FL Studio to version 12.3. FL Studio is a complete Digital Audio Workstation (DAW) with everything you need in one package to compose, arrange, record, edit, mix and master professional quality music. FL Studio 12.3 introduces new plug-ins, plug-in updates and program features and workflow enhancements. FL Studio 12.3 is a free update for FL Studio owners.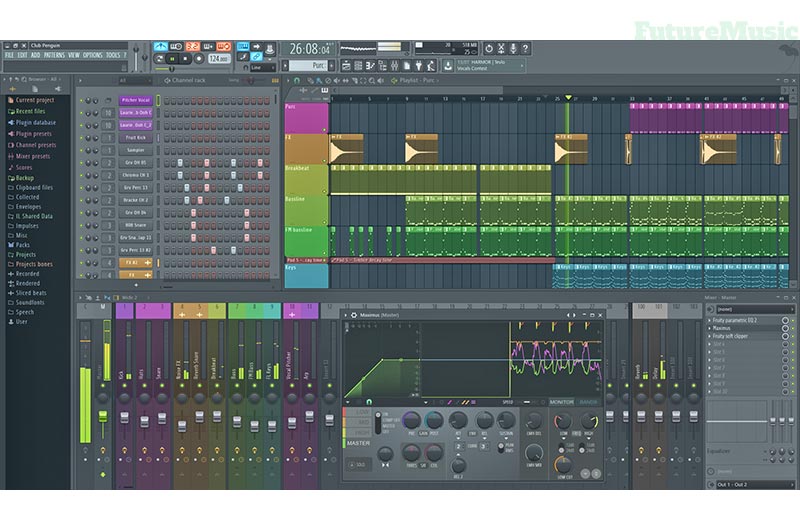 FL Studio 12.3 Enhancements:
» New Plug-ins
— Transient Processor. Enhance or suppress the attack transients and release of percussive and other transient sounds.
— Razer Chroma – Control Razer Chroma-enabled hardware such as laptops, keyboards, mice and headsets from FL Studio.
» Updated Plug-ins
— Gross Beat – Vectorial UI
— Fruity Convolver – Vectorial UI
— Fruity Limiter – Vectorial UI
— Love Philter – Vectorial UI
— Maximus – Vectorial UI
— Parametric EQ2 – Right-click band tokens to select Key (note frequencies)
— Patcher – New FX patches by WiseLabs, right-click the plugin window's top-right preset selector
— Sytrus – Vectorial UI + 73 nucleon presets
— ZGameEditor Visualizer – Completely revised with up to 25 layers and new visual FX
» FL Studio Features
— Real-time stretching – Sampler and Audio Clip 'Realtime > Stretch' mode allows real-time, independent tempo and pitch variations.
— Lock MIDI notes to Channels – Right-click a Channel Button and select Receive notes from. The Channel will now respond to that Controller regardless of what Channel is selected in FL Studio.
— MIDI channel through – Allows all MIDI Channels from a controller or external sequencer to pass to the plugin for separate control AND to record up to 16 separate MIDI Channel colors.
— Mute/Solo locking – Shift-Click Mute LEDs to lock them to their current state.
— Image-Line Remote feedback – Image-Line remote is an Android and iOS remote-control MIDI App. Image-Line Remote now updates controls to reflect changes to the UI in FL Studio.
— Type in values – Tempo and Mixer track selectors now accept actual values.
— Auto name option – The names of existing Channels aren't changed when dropping presets on them and the General Settings > Auto name is off.
— Restore previous state after solo – Under General Settings > Miscellaneous. Allows you to restore the Channel Rack, Playlist and Mixer to their state prior to a solo command, or to unsolo everything when it's off.
— Channel Rack height – Auto Resize: Set the height of the Channel Rack (Off, Min, Max).
— Channel Rack sorting – Menu option > Sort by: Sort the Channel Rack order by Mixer Track Number, Channel Name or Channel Color.
FL Studio is available in four editions: FL Studio Fruity ($99), Producer ($199), Signature ($299) and All Plug-ins ($737).

Image-Line