Dave Smith Instruments has announced the OB-6 Desktop, a module version of their six-voice analog synthesizer. Like the keyboard version, it contains a sound engine based on Oberheim's original SEM and features an all-analog signal path with discrete VCOs, VCAs, and filters. The one-knob-per-function front panel offers immediate access to almost all parameters.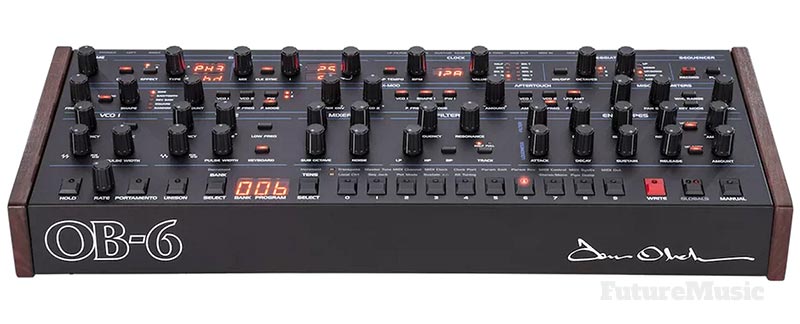 Both the OB-6 desktop module and OB-6 keyboard are a collaboration between Dave Smith and Tom Oberheim. The OB-6 takes the classic bold Tom Oberheim sound — with its true voltage-controlled oscillators, 2-pole filter, and amplifiers — and adds modern enhancements such as studio-quality effects, a polyphonic step sequencer, an arpeggiator, and more.
The OB-6 sound engine is inspired by Tom's original SEM, the core of his 4-voice and 8- voice synthesizers. It features two discrete voltage-controlled oscillators (plus sub-oscillator) per voice with continuously variable waveshapes (sawtooth and variable-width pulse, plus a triangle wave on oscillator 2). The classic Oberheim-inspired 2-pole, state-variable, resonant filter provides low-pass, high-pass, band-pass, and notch functionality. Voltage-controlled amplifiers complete the all-analog signal path.


Dave Smith Instruments OB-6 Desktop Specifications:
» OSCILLATORS
— Two discrete VCOs per voice
— Continuously variable wave shape (sawtooth and variable-width pulse, plus triangle on oscillator 2) per oscillator
— Pulse width per oscillator
— Hard sync: oscillator 1 syncs to oscillator 2
— Square wave sub-octave generator (oscillator 1) per voice
— Low frequency mode (oscillator 2)
— Keyboard tracking on/off (oscillator 2)
— Oscillator detune amount for increased tuning instability, from subtle to extreme
» MIXER
— Oscillator 1 amount
— Oscillator 1 sub-octave amount
— Oscillator 2 amount
— White noise amount
» STATE-VARIABLE FILTER
— Two-pole, resonant, filter per voice with low-pass, high-pass, band-pass, and notch functionality inspired by the original – — Oberheim SEM filter
— Bi-polar filter envelope amount
— Velocity modulation of envelope amount
— Keyboard tracking: off, half, full
» FILTER ENVELOPE
— Four-stage (ADSR) envelope generator
— Velocity modulation of envelope amount
» AMPLIFIER ENVELOPE
— Four-stage (ADSR) envelope generator
— Velocity modulation of envelope amount
» LOW FREQUENCY OSCILLATOR
— Five wave shapes: sine, sawtooth, reverse sawtooth, square, and random (sample and hold)
— Clock sync (internal or external MIDI clock)
— Initial amount
— Mod destinations: oscillator 1 frequency, oscillator 2 frequency, oscillator 1 and 2 pulse width, filter cutoff, filter mode, amp
» X-MOD
— Sources: filter envelope (bi-polar) and oscillator 2 (bi-polar)
— Destinations: oscillator 1 frequency, oscillator 1 shape, oscillator 1 pulse width, filter cutoff, filter mode, normal to bandpass filter
» AFTERTOUCH
— Source: channel (mono) aftertouch with bi-polar amount
— Destinations: oscillator 1 frequency, oscillator 2 frequency, LFO amount, amplifier envelope amount, filter envelope amount, — filter mode
» CLOCK
— Master clock with tap tempo
— BPM control and display
— MIDI clock sync
» ARPEGGIATOR
— Selectable note value: 16th note, 8th note triplet, 8th note, dotted 8th note, quarter note
— One, two, or three octave range
— Up, down, up/down, random, and assign modes
» SEQUENCER
— Polyphonic step sequencer with up to 64 steps and rests
» EFFECTS
— Stereo analog distortion
— Dual, 24-bit, 48 kHz digital effects, including: reverb (room, hall, plate, spring), delay (full bandwidth digital delay and — emulated bucket brigade), chorus, flanger, phase shifters, and ring modulator
— Delay sync
— True bypass maintains fully analog signal path when digital effects are off
» PERFORMANCE CONTROLS
— Full-sized, semi-weighted, 4-octave keyboard with velocity and aftertouch
— Backlit pitch and mod wheels
— Spring-loaded pitch wheel with selectable range per program (1 to 12 semitones up and down)
— Transpose controls for an 8-octave range
— Hold switch latches held notes on
— Polyphonic portamento
— Unison (monophonic) mode with configurable voice count, from one to all six voices, chord memory, and key modes
— Manual switch: when on, the front panel is live; what you see is what you hear
» PATCH MEMORY
— 500 user and 500 factory programs in 10 banks of 100 programs each
— Direct program access, including single-button access to the current set of 10 programs
» IN/OUT
— Left/mono and right audio outputs (2 x 1/4" phone jack)
— Headphone output (stereo, 1/4" phone jack)
— MIDI in, out, and thru ports
— USB for bidirectional MIDI communication
— Filter cutoff expression pedal input
— Volume expression pedal input
— Sustain footswitch input
— Sequencer start/stop footswitch input
» POWER
— IEC AC power inlet for internal power supply
— Operates worldwide on voltages between 100 and 240 volts at 50 to 60 Hz; 30 watts maximum power consumption
» PHYSICAL SPECS
— 20.75" L x 7.8" W x 4.4? H (52.0 cm x 19.8 cm x 11.2 cm)
— 13.0 lbs (5.9 kg)
— Walnut end panels
» The Kicker: "We've also added a poly chain feature so that any two OB-6s can be paired for 12-voice polyphony. That is a monstrously big sound," boosts Dave Smith
Dave Smith Instruments' OB-6 desktop module will be available sometime during the fall of 2016 for $2,299.

Dave Smith Instruments