G-Sonique has updated their Alien 303 VSTi for PC to version 2.0. After more than 7 years, G-Sonique claims the first version of Alien 303 has become synonymous as the go-to plug-in for fast and stable basslines for Psytrance, Trance, and all EDM styles as well as new kind of acid with its big sound.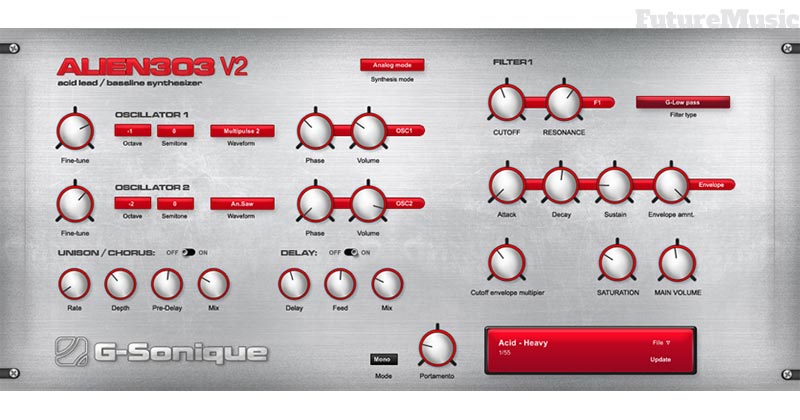 With version 2.0, the acid synth now comes with two oscillators, for fatter basslines, and you can select between two modes: Classic with stable tuning, and Analog, with slight detuning. Version 2.0 also bumps up the filter count, going from a single filter to nine.
Users can now select from 14 oscillator waveforms, rotate oscillator phases, choose semitones and more.
G-Sonique Alien 303 V2 Features:
» 2x Oscillator with following waveforms and modes: An.Saw, D.Saw, Saw HB, Saw DB, An.Ramp, D.Ramp, D.Square, Square, Pulse, Multipulse 1, Multipulse 2, Multisaw 1, Multisaw 2, Vintage saw with fine-tune, octave and semitone settings, phase and volume knob
» Analog or/ Normal (Digital) oscillator mode
» 9 types of filters (G-Low pass, Low pass, Vintage analog low pass, 303 Low pass, High pass, G-High pass, Bandpass, G-Band pass, Peaking) with Cutoff and Resonance knobs
» Amp and Filter envelope with attack, decay, sustain, envelope amount knob plus Cutoff envelope multiplier
» Unison/ Chorus effect: Rate, Depth, Pre-Delay, Mix knobs
» Ping-pong delay: Delay, Feed, Mix knobs
» Portamento knob, Mono/Poly mode selector
» Preset manager with 55 presets (22 Acid lead presets useable for all EDM styles, 33 Bass presets for Psytrance, Darkpsy, Goa trance, Hitech, Psycore, Trance, House, Techno, and all EDM styles)
» PC Only. System Requirements: Pentium III 1200 Mhz, 256 MB Ram, Windows 2000/XP/Vista/7, VST/VSTi compliant host (Cubase, Nuendo, Fruity loops studio etc. )
G-Sonique's Alien 303 V2 is available now for €18.90.

G-Sonique